Venus William's Privilege Tax Initiative Is Fighting Gender Pay Inequity
After experiencing a 'rude awakening,' Venus Williams took on the fight for gender pay equality.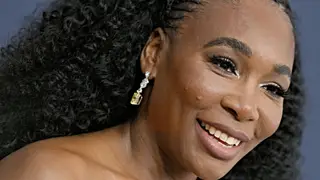 It's no secret that Venus Williams is one of the all-time greatest tennis players in the world and we've witnessed her breaking records since she was a teen. But she is also an entrepreneur, writer, designer, activist, aunt, daughter and sister. Yet, that hasn't stopped her from experiencing the harsh realities of the pay gap between men and women in America.
In 1998, at just 18 years old, she bravely picked up the torch to fight for equal pay in tennis at Wimbledon. Williams describes the time as a "rude awakening." In 2005, the day before she competed to win the Grand Slam for the third time, she met with the International Tennis Federation Grand Slam Board to discuss the gender pay gap within the sport. But it wasn't until 2007, when Wimbledon changed the rules, that Williams was able to receive the same pay as her male competitors.
She's continued her fight for gender pay equality off the tennis court. EleVen by Venus Williams is spearheading The Privilege Tax initiative—a movement dedicated to raising awareness and combatting pay inequalities. Venus teamed up with a coalition of retailers to give people the option to donate $1 when they purchase from participating companies. Proceeds go to Girls Inc., an organization improving the lives of all girls through initiatives that inspire them to be strong, intelligent and bold.
Bet.com sat down with Williams to discuss her brand EleVen, the initiative and her activism to support gender pay equality.
BET.com: Can you take us back to the moment when you developed your passion for gender equality and gender wage equality?
Venus Williams: I've always been a firm believer in equality for all and using my voice to draw awareness to this issue [of gender wage equality]. It was brought to my attention early on in my tennis career and I've worked to fight for equal pay ever since—I know it persists far beyond the tennis courts. . It's disheartening to know that [overall] women only make 83 cents to the $1 that men earn. I'm proud to be working with my lifestyle brand EleVen, alongside many other excellent brands like TB12, Tracy Anderson, IMG Academy, WTA Charities and more to spotlight this issue and give customers the option to donate $1 at checkout to benefit Girls Inc.
BET.com: In 2006, you called Wimbledon out for paying women tennis players less than men and created a change to the rules at the tournament! How did you feel holding them accountable, and how did you find the confidence and resilience to do it?
Williams: From a young age, my mom always encouraged me to stand up for what's right, even if it's an unpopular opinion. I always dreamed of winning tournaments like Wimbledon, but when I got there, I was struck by the inequality and felt compelled to help campaign for equal pay for the women on tour. Even though we've made progress in the sport of tennis, the lack of equality and equal opportunities for women is still a massive, global issue. The more we speak up about it and the more we educate others on how to solve the issue, the closer we will get to closing the wage gap.
BET.com: Why has EleVen led the Privilege Tax Initiative?
Williams: EleVen was created with the mission to empower women to be the best versions of themselves and help them push the limits of their potential, so it is the perfect platform for this initiative. Women are working longer hours and pursuing higher education - yet significant wage gaps between men and women persist today, especially for women of color. EleVen is on a mission to help close this pay gap and fight for equality for all women because we are passionate about helping women achieve all they are capable of and more, and that includes being paid what they're worth.
BET.com: The Privilege Tax Initiative was launched in 2021. What was your proudest moment of the initiative and how has its impact helped Girls Inc.?
Williams: The Privilege Tax initiative is in its second year, and it's been extremely rewarding and a wonderful opportunity to raise awareness around the pay gap between men and women at the grassroots level. It's an initiative we work on year-round because the issue of wage inequality is an issue that is prevalent year-round – not just during the month of March. Last year, the Privilege Tax initiative raised over $20,000 for Girls Inc of Greater Los Angeles and this year we hope to surpass that for Girls Inc's national organization. By coming together as a community for Privilege Tax, it allows us to shed light on this issue and take those steps toward closing the gap.
BET.com: What was it about Girls Inc. that has stood out to you as a charity and how can readers best support them?
Williams: Girls Inc. is an incredible organization that encourages all girls to be strong, smart, and bold, which naturally ties into EleVen's mission of empowering women to be the best versions of themselves. Through their direct service and advocacy, the organization equips young women with the skills to navigate through economic, gender, and social barriers and to grow up as independent individuals. Through our Privilege Tax initiative, our customers have the option to donate $1 at checkout with all proceeds benefiting Girls Inc.
BET.com: How do you feel that those who do not identify as women can support gender equality and gender pay equality?
Williams: They can help us raise awareness around this issue and advocate for women who deserve equal pay. Everyone has a woman in their life that is affected by this – whether it is a mother, wife, daughter, sister or friend. We still have a way to go to level out the playing field and every voice counts in this fight.
BET.com: Are there other ways in which EleVen supports gender pay equality?
Williams: EleVen was built on the idea of creating a community for women to feel and do their best in every aspect of life. Our mission is to continue to inspire women in all that we do to continually find their inner champion and be fearless in their pursuit of their best self.
BET.com: How does intersectionality play a role in the gender pay gap?
Williams: Women of color are disproportionately affected by the gender way gap. Women [of color] are often underrepresented in senior positions but are overrepresented in low-paying jobs, so increasing the minimum wage is a priority. There's an urgent need for transparency in our salaries.  I know what it's like to face biases based on gender and race. That is one of the many reasons why I'm so passionate about this initiative.
BET.com: I recently spoke to some women about the importance of salary transparency, especially for Black women. Do you believe salary transparency plays a role in gender pay equality?
Williams: Absolutely, it's important to be transparent about our salaries. Otherwise, [others] don't know how to better advocate for themselves. The responsibility should not solely fall on individuals, companies and organizations should do their part to find discrepancies in pay between employees in similar roles and across teams. Once you identify any gaps in pay, look at the maximum and minimum amount you're paying employees who are in the same role and figure out what it would take to close that gap, even if just by a little.
BET.com: What advice can you give women who want to fearlessly advocate for pay equality and equity?
Williams: I encourage all women to stand up for what they believe in, voice your truth and know your value. I was taught to stand up for what is right and not to be afraid to ask for what I want. If we don't ask, then we may never get – women should feel empowered to ask for what we know is fair! I want this campaign to be a reminder for all women that their power and potential are infinite. We all need to continue believing in ourselves, channel our inner strength and keep breaking down barriers!
Disclaimer: Responses were edited for clarity.