The Oral History of BET's 'Teen Summit'
Celebrate the 20th anniversary of this groundbreaking series which ran from 1989 to 2002.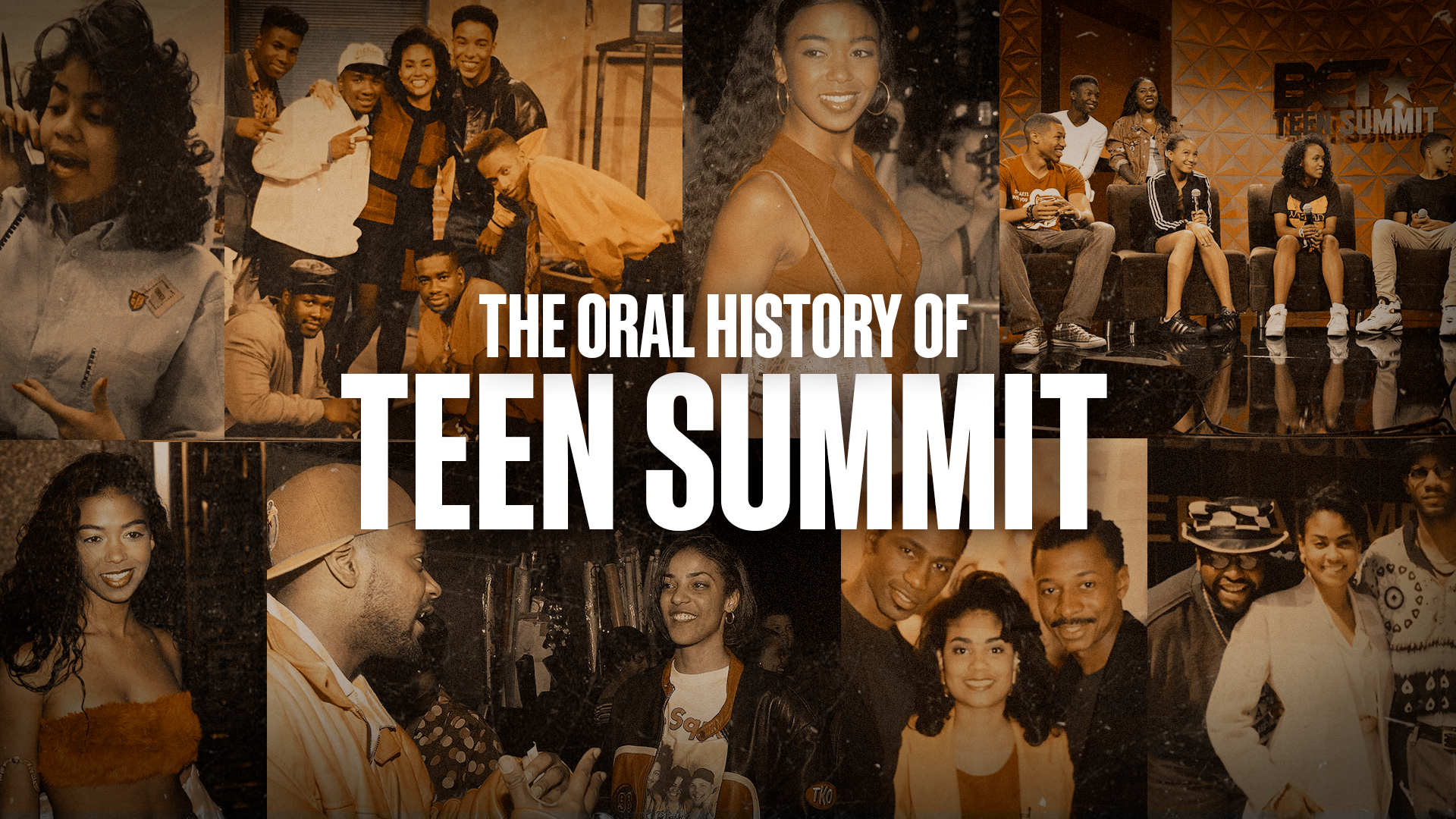 By the time 1987 rolled around, Black Entertainment Television founder Bob Johnson was looking to expand the young cable network's slate of programming beyond music videos from underrepresented Black artists and sitcom re-runs.
The following year would introduce audiences to BET News with Ed Gordon serving as anchor. Meanwhile, Bob Johnson's then-wife and BET chief operating officer Sheila Johnson wanted the revolutionary network to have a live-weekly show that spoke directly to Black teenagers titled Teen Summit. Sheila Johnson commissioned Deborah Tang, creator of BET's news division and executive behind hiring Ed Gordon, to find a producer for the innovative series that blended teenagers discussing hot button issues with live musical performances.
A former producer for Charlie Rose during the esteemed journalist's time at CBS News, Tang recruited veteran news producer and mentee Tony Regusters to serve as the series' co-creator. Beyond his previous roles working with affiliate networks ranging from CBS to Fox, Regusters was also a press secretary and speech writer for California Congresswoman Maxine Waters. Regusters was also more than perfect for the role considering his work on a weekly '80s series titled News Bag, where kids produced and delivered news from their viewpoint on Saturday mornings.
"Sheila Johnson wanted to do something for our kids, and she was the driver of the concept," explained Regusters. "She was the one that promoted it and convinced Bob that this was something that the network needed. It could be entertaining and educational. It could also showcase the intellectual capability and global world view of Black kids."
Getting the position following interviews with Tang and Sheila Johnson alongside a three-hour lunch with Bob Johnson, Regusters went to work. This started by reaching out to school boards across the DMV area, who sent him information about kids they thought would be appropriate to help build the series.
"I began meeting and talking with kids at BET for pizza and soda," Regusters said. "I asked them what they would like to see a show focusing on them to look like alongside programming concepts and ideas. So I asked them to help me design the show."
With the complete concept for Teen Summit locked in, Regusters began building out the logo, set design, and teen anchors known as "The Posse" while searching for a host. After viewing around 500 audition tapes, recent Temple University graduate Lisa Johnson Smith got the call to serve as host. After earning her degree in Broadcast Journalism, Smith had always wanted to work with teens and even participated in youth groups at her church. Regusters mentioned being knocked out by her tape.
"She was so poised," Regusters described. "She was old enough to be recognized as a young adult but young enough to serve as a bridge for the kids."
As the chosen host for Teen Summit, Johnson remembers a family-oriented work environment, with everyone taking an all-hands-on-deck approach as they approached the debut episode on September 20, 1989.
"It was fun as we all wanted to be there, and we were so hungry," said Johnson Smith, who went by Lisa Johnson before marrying NBA player Charles Smith sometime later. "We were so excited just to have a job. I was making nothing, and people thought I was making all this money. I loved every second of it. And I had some hands-on experience, but this was live TV every week? I'm booking guests; I called celebrities, we're talking to record companies, we're talking to all these people. We're getting all these contacts and have access to all of these people. It was unprecedented."
Though details about the debut episode are a bit cloudy, Johnson Smith remembers celebrated Black new anchor Carol Simpson as one of the guests alongside experiencing some growing pains.
"Everything that could go wrong in this episode did go wrong," said Johnson Smith with a laugh. "I relied on the teleprompter then, and it went out. Then the audio went out, and the lights even might have blinked. It was just a horrible experience. I'll never forget that in between the break, Simpson saw me as I was about to burst into tears, and she was like, 'Hold it together.' Eventually, every episode got better and better through trial and error."
Of course, the Teen Summit Posse grounded the series for its teenage audience. Made up of teenagers around the DMV area, many led various segments, led discussions, and worked behind the scenes in production. This includes celebrated poet and multi-hyphenated creative Wes Felton, who auditioned before landing a spot with the crew. Felton mentioned how the series set himself and other teens with the opportunity to learn and network.
"I was very locked in on taking advantage of the opportunities around me," explained Felton. "I always networked with artists and guests that came on there. I became friends with many of them and eventually earned a couple of professional opportunities because of these relationships. I did a lot of observation of the stage direction and camera crew. I was really invested in those elements because it ultimately grew into my real passion."
Tackling hard-hitting subjects, including drugs, teen pregnancy, incarcerated parents, and gun violence, among other issues with experts, Johnson Smith mentioned that no subject was off limits. Posse member Durik "Prince" Dajour had a background that was very much relatable to that approach. Also, a teenage father, Prince, sold drugs in his D.C. hometown before dropping out. A teacher, who saw him as a leader, suggested he audition.
"I used to bring my daughter with me to BET when I was filming and have different people hold my baby while I was filming the show," said "Prince" Dajour, who left Teen Summit to be an early host of BET's Rap City before returning as co-host with Ananda Lewis. The creative approach to production with Black teenagers and young adults was unprecedented.
"We were breaking ground that had never been stepped on," said Teen Summit producer Sita Lewis. "You take it for sometimes granted when you're living it, but now when you look back, you're like wow. Everyone you worked with became family forever across the board."
Fairly progressive for its time, Teen Summit was a safe space for both young parents and women in the early stages of their production careers, including Mercedes Funderburk, who now works for BET as the Senior Director of Talent Relations, and started at Teen Summit as an intern before graduating to production assistant.
"One of the ideas at BET that Bob Johnson had left the company with was to learn as much as you can while at BET," explained Funderburk. "Play as many roles and do as many jobs as possible at BET and make all the skills earn."
Regusters mentioned that music served as a trojan horse to attract teenagers Saturdays at noon. Getting the coolest artists of the day made the heavy conversations palatable. This included early performances from Tupac Shakur, Queen Latifah, Kriss-Kross, The Fugees, SWV, Redman, Tony! Toni! Tone!, Monica, Digable Planets, Xscape, Destiny's Child, Common, Missy Elliott, and many others. Even former posse member Mya had her first performance on Teen Summit.
"There are guests that made their first appearance on our show who are huge now," explained Johnson Smith. "There's too many to mention because we had weekly artists to perform. It's pretty cool to look back and see that and to have witnessed what they were versus who they are now."
Music journalist and television producer Belma Johnson replaced Johnson Smith with an episode about HIV where he got tested and revealed his results live on air. That episode earned BET its first NAACP Image Awards for Outstanding Youth or Children's Series/Special.
"I was just dating this woman for six months, and she had called me that morning to tell me that she, alongside her mother, was set to watch the episode," Johnson said of the woman who would later become his wife. "The head of programming at the network, Jeff Lee, told me that since BET didn't know the results, they were going to produce this whole 'What's Next For Belma' special, where I'd get counseling."
Eventually, Johnson replaced Johnson Smith as a full-time host and brought new energy to Teen Summit, such as holding the network accountable for playing malt-liquor ads during the show while live on air.
"They let me do the show the way I thought it should be done," said Johnson. "And it made things so authentic and compelling because people realize this is real, and you have to do it that way because they're teenagers."
Teen Summit reached a new peak of popularity once Johnson was replaced by "Prince" Dajour and Ananda Lewis. By then, "Prince" Dajour was already known as a Posse member, host of Rap City, and a popular radio personality in the D.C. area.
A San Diego, California native and Howard University alumni, Lewis worked with at-risk youth through the Youth Leadership Institute.
"The kids in my program were like, you have to go for that audition because you always tell us that life brings you great opportunities and it's your job to step up," explained Lewis. "Now you're not going to step up? They were calling me a hypocrite. I'm grateful that I went and listened."
Though BET was reluctant to choose Lewis due to lack of notoriety at the time, she got the hosting gig because her well-defined background and chemistry with co-host "Prince" Dajour were undeniable.
"Our ability to play off each other at the moment," explained Lewis about working with "Prince" Dajour. "We could just find ways out of things and into things. Our segues were so natural and perfectly set up just normally. Dajour is smart. He thinks on his feet well and notices things. So we had to balance not just knowing what we had to say but looking at our scripts in the prompter, understanding the show's run, and who was coming up next."
During their time at Teen Summit, Lewis and "Prince" Dajour interviewed everyone from Kobe Bryant to First Lady Hillary Clinton. Outside of being popular stateside, the series also found popularity in the Caribbean and African countries.
"Working with Ananda Lewis was cool," said Dajour. "A lot of people thought that we were brother and sister. I used to hear that all the time. We had great chemistry and dynamic, and we both did what we had to do every day, creatively, to make things happen in the most effective way."
During "Prince" Dajour and Lewis' time as co-hosts, Teen Summit went from a weekly show to a Monday-Friday daily show. Lewis said that they took the format for the weekly show and just multiplied it.
"On some level, it's kind of like how they say by the time you have one kid, you might as well have five," joked Lewis. "We had the program down, and you're going to cook anyway, right? So just make a little more. You just make it work."
Lewis left Teen Summit years later for a lucrative gig at MTV, while "Prince" Dajour stayed about a year before leaving. Before airing its last episode in 2022, Fran Toliver Edwards, Adimu Colon, Jay Cooper, Clinque Glendy, Marcelle Larice, and even A Black Lady Sketch Show and The Upshaws actress, Gabrielle Dennis served as hosts.
For over a decade, Teen Summit served three purposes — bringing topics important to Black teenagers to the forefront, an outlet for Black creative expression, and a platform that led cast and production to greater opportunities.
"'Teen Summit' was able to provide us a space, to have access to things and understandings and conversations that you didn't have access to in school," said Lewis. "Most of that has to come from the community, and we are the community."
---
Ural Garrett is a Los Angeles-based entertainment and tech writer documenting the intersections of pop and digital culture. Follow him at @UralG on Twitter.