LeVar Burton Celebrates His 66th Birthday With A Heartfelt Tribute From His Wife Of 30 Years: 'My Breath Of LIFE'
See how the couple dressed up for LeVar's big day!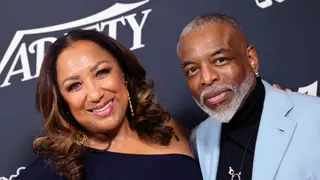 LeVar Burton celebrated his 66th birthday on Thursday (Feb. 16)! To mark her husband's big milestone, Stephanie Cozart Burton took to Instagram with a lovely birthday tribute.
"Guess who's turning SEXTY SIX today! My hubby, my partner, my North Star - my breath of LIFE," she captioned a lovely photo with her spouse. "Happy Birthday sweetie."
Dressed to impress in stylish evening attire, the lovebirds seemed to be in good spirits as they posed for the camera.
ICYMI: In November, LeVar expressed his love and admiration for his wife of 30 years with a heartfelt Instagram post that celebrated her birthday.
"Happy Birthday to the love of my life @stephaniecozartburton. A warrior goddess of the highest order, my ride or die," he wrote. "May we love and laugh forever... or until the wheels fall off, whichever happens first!"
FYI: LeVar Burton and Stephanie Cozart Burton married in October 1992. The pair share one child.