What's Responsible for the High Rate of Black Unemployment?
Experts weigh in on how to tackle the disproportionately high jobless rate.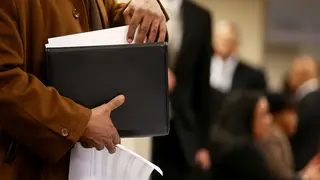 In the Baltimore district represented by Congressman Elijah Cummings, Johns Hopkins University is midway through a 20-year project to build the world's largest biotechnology park. The area in which it is located was once the site of several dilapidated houses. To make way for the project, the university relocated the people still living there to new, mortgage-free homes. Sweetening the pot, training and hiring local residents also were part of the arrangement.
If it sounds too good to be true, especially in a time when African-American unemployment rates are double or more the overall rate in every state in the nation, sadly it has been. As Cummings told BET.com, constituents are complaining that they're not only not getting hired, but also that many of the jobs are going to Latinos.
The reason for higher Black unemployment rates in the U.S. can be attributed to various factors, including a tradition of racial discrimination. But it's not always the case.
"I want you to understand, man, I think what they're doing is unfair. They're discriminating against us," one man told Cummings at a meeting held to explore why locals weren't getting jobs.
But to Cummings' dismay, many applicants couldn't pass the drug test, a requisite the man at the meeting found objectionable. In addition, he learned, too many prospective employees who actually made it to the training program failed the tests later. Even more disconcerting, the person in charge of the training program told Cummings, is that most applicants couldn't read at a fifth-grade level.
"It worries me. I came out of there totally depressed. But I also blame us as adults in society for allowing that to happen," said Cummings, adding that it's no longer possible for people like his own parents, who were unable to complete their educations, to get the kinds of jobs that enabled them to raise children to become successful adults.
"The kind of job my daddy could have gotten, they can't get anymore," he said.
Algernon Austin, director of the Race, Ethnicity, and the Economy program at the Washington-based Economic Policy Institute, agrees that the lower educational attainment rate among African-Americans plays a significant role in their current and disproportionately higher unemployment rates.
"As educational attainment increases, unemployment rates decrease," he said. "Another factor is age. Black workers are somewhat younger than whites, and younger people have higher unemployment rates."
Still, the racial component cannot be ignored. As Austin pointed out, African-Americans who've earned bachelor's degrees still experience higher rates of unemployment than whites who also hold degrees. The same is true of those who have earned high school diplomas, as well as high school dropouts.
But as NAACP President Ben Jealous points out, inadequate education is an undeniable factor.
"Too many schools in this country don't have the resources they need to provide kids with the education they need to succeed, such as high quality teachers and technology. Tuition has become much more expensive for higher education and within that is a new crop of for-profit institutions, many of whom are literally preying on students financially. Third, we still have too limited access to re-education of workers and many of our communities lack a strategy for ensuring that kids are being educated for the jobs that will be there when they get out of school."
Many students are seeking liberal arts educations when the real opportunities may lie in the science, technology, engineering and mathematics fields. The NAACP, Jealous said, has a program called "Finding Our Way Back to First," that focuses on the K-12 level to ensure that kids graduate from high school ready for college or a career.
"That's how we really have to be thinking about education in this country," Jealous said.
Both Cummings and Austin believe that the federal government also can play a pivotal role. Instead of focusing on cutting entitlements like social security, which Cummings fervently argues is something workers have earned, lawmakers need to turn their attention to job creation.
"It's important for our leaders to keep job creation as their number one priority and it should be something that they're talking about all the time," Austin said.
As the nation prepares to acknowledge the 50th anniversary of Martin Luther King Jr.'s March on Washington, he says that people need to also remember that the march was not just about freedom but also jobs and the call for the federal government to put people to work.
That might sound like an old-fashioned and even unrealistic notion when the government faces an unprecedented budget deficit but, as both Cummings and Austin point out, the nation's crumbling infrastructure is an opportunity to create millions of jobs.
"The most important thing people can do right now is to contact their elected officials and say, 'Hey, are you supporting things like infrastructure investments?' It has big bang for the buck because we have tremendous infrastructure needs," Austin said. "When you have roads and bridges that aren't falling apart, schools where roofs aren't leaking, broadband and electrical and water systems that are safe, that allows the nation to be productive into the future. So infrastructure investment today means higher productivity tomorrow, jobs today and economic growth in the future."
It's a win-win-win situation, Austin said, quoting a colleague. But, he added, gridlock in Congress is preventing it from happening.

BET National News - Keep up to date with breaking news stories from around the nation, including headlines from the hip hop and entertainment world. Click here to subscribe to our newsletter.
 (Photo: Mario Tama/Getty Images)