EXCLUSIVE: The Evolution of Ava DuVernay — From Black Creative To Trailblazer To Afrofuturist
The prolific director, producer, and writer details the vision behind 'Home Sweet Home,' 'Naomi,' and her career trajectory.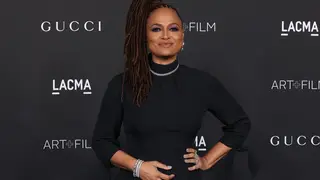 With series like Queen Sugar and When They See Us under her belt, you wouldn't be surprised to read that the forward-thinking creative has done the unexpected and entered into the reality TV space.   
Billed as a "social experiment," Home Sweet Home is the first unscripted series on DuVernay's resume, and currently airs every Friday night on Peacock. The show focuses on real families of different backgrounds and asks them to step out of their comfort zone to take on a lifestyle quite unlike their own.
It is a much-needed conversation as buzzwords like diversity, equality, and inclusion get batted around with not much change being executed. And thanks to the Academy Award-nominated filmmaker, Home Sweet Home lands at that sweet spot of genuine connectivity and bridges the gap between people from different walks of life.
Such is a day for the prolific multihyphenate. 
With Home Sweet Home out in the world, Ava DuVernay sits down with BET.com for an exclusive chat about what sets this series apart from others, shares her thoughts on the growth of Afrofuturism, and gives a sneak peek at why you should tune into her next works, Naomi and DMZ.
BET.com: Let's get right into it, Ms. DuVernay. What was the impetus to get into unscripted television? 
Ava DuVernay: Just because I could, right? We're in a time right now where, as artists and creators, there are opportunities to tell stories on all kinds of platforms and genres. I definitely wanted to exercise the new muscle and see if some of the things I care about could be told in that format.  I'm not big on reality shows. I don't really watch them, so I challenged myself to make a show that I would actually watch, and I am really happy with the outcome.  
BET.com: In a past interview, a friend of yours commented that we're in the "Ted Lasso" era, where kindness and creativity opened the door for another way to create shows. How did you consider casting for Home Sweet Home? How do you think those decisions give insight that can help evolve the current tropes we see on television? 
Ava DuVernay: For me, I didn't want to steep the show in conflict and chaos. I'm over it in real life, you know what I mean? And I'm really over it on TV. I find myself gravitating towards things that have a little more light within. We've all been through a crazy couple of years, so collectively, there is something about "lightness," "care," "hope," and "connectivity" that I'm really craving these days. [With Home Sweet Home] I wanted to make a show that leaned in less on those aspects and more into curiosity and community, and I think we've done a great job that others can take note of.  
As the creator of the show, each episode really set the tone for every decision we made and every family we chose. We weren't choosing families that were craving fame. We chose families that literally didn't want to do reality TV. These families had to be kind of convinced to do it, in order to have that real, genuine feel and were all interested in exploring a new journey. There were no bratty kids who didn't want to participate. There were no controversies that needed to be uncovered. It was just purely an exploratory experience for these families and all about growth.
BET.com: That's a good point to bring up. And in speaking of exploratory experiences — the recent DC FanDome event delivered some positive responses to two of your upcoming projects, Naomi and DMZ. What did you think of the reactions? 
Ava DuVernay: We were blessed to receive a lot of positive feedback. Both of these shows are based on graphic novels. On one hand, we learn about a young woman who has outer powers that affect her world, and the other show centers on an older woman who has an inner power that is interesting to learn more about.   
BET.com: For those just getting familiar with both of these stories, what hints or teases can you share that would make them curious to tune in? 
Ava DuVernay: Naomi is a young, Black girl who is a Superman stan. She absolutely adores the superhero, like how someone would say, J. Cole. She lives on our earth, so, in her world superheroes aren't real. She just loves the character. Eventually, she finds out that they are real and, in fact, she is one of them. She learns that she has identical powers as the alien from Krypton, must discover how to handle them, and work her way through the changes these powers make to her life.  
I thought this story was crazy, and when Brian Bendis and David F. Walker created it, I was really excited that they let me bring it to television. I hope people dig it [when it comes out]. With DMZ, our story is set in New York City in a short time into the future. Imagine that there was a civil war in the U.S., which isn't that hard to imagine. It isn't too outlandish to think about our country being split in two by political parties and people fighting each other.
This is the timeframe that DMZ takes place in, and there's a woman named Alma (Rosario Dawson) who has to go into this situation and battle for her son and her life in the midst of an abandoned, war-torn New York City. It's a really, really cool four-part limited series for HBO Max that I'm excited to share with anyone who'll listen [laughs].
BET.com: To add to that, you and Victoria Maloney are also working together on Dawn, which is one of Ms. Octavia Butler's most cherished works. What impact do you hope Dawn makes on those who have been excited about the growth of Afrofuturism?  
Ava DuVernay: Great question! [Afrofuturism] needs to exist on all the screens. Ms. [Octavia] Butler's work has been locked away for quite a while, and rightfully so. Her estate has been very judicious about who they've given access to. Up until just about two years ago, there wasn't much traction on Dawn, as none of her work had been adapted for the screen at that point. So, to be a part of the first group of artists who are able to create visual work from her novels and short stories is an honor.  
Victoria Maloney is an exceptional director and a fantastic writer. This is her baby, which I am supporting, and helping to shepherd this project over at Amazon. She's currently at work on a script now, which feels great to say, and with Charles D. King (founder, Macro) and I as producers, I feel like Dawn is going to be spectacular when it happens and I am excited to be a part of it.   
BET.com: The evolution of your professional career has been a wonderful journey to witness. It has coincided with some notable Black women like Channing Dungey, Pearlena Igbokwe, Alana Mayo, and more, joining the upper echelon of Hollywood's C-suite. Do you see your trajectory going in a similar path and becoming a major studio exec? 
Ava DuVernay: [Laughs] Oh, my God, that's hilarious. Not hilarious in a bad way, because it's a great question. It's hilarious because no one's ever asked me that before. I always love it when someone asks me something [that] I've never been asked. But, to answer your question, heck no [laughs]. I need to be free. I can't be inside the studio [system]. I am fortunate to have a production company and executives, but it takes a certain talent to be a great studio executive.
I am an artist first, so while I run my company and do things where I'm on 10,000 Zoom calls and meetings, the artist side of me would always overtake the executive side of me if it were to become a battle. So, no, I do not see myself running a studio anytime soon. I'm going to leave that to the people who could do it so much better than I could.
BET.com: OK, OK! Then, as an alternate question to that, how do you see the next 10 years of your career unfolding? 
Ava DuVernay: My prayer and hopes are that I'm here in 10 years, you know what I mean? I hope that I am able to just be consistent. When we think about our goals and our dreams, it's rooted in being bigger and having more. [But] I want to have what I [currently] have for a long time and grow from there. And so, I'm really focused on consistency and longevity, as opposed to gathering more or becoming a larger force.   
I'm satisfied, right now, and I want that to continue for a long time. So, that's my goal. When you look at so many of the things that Black folx are doing in our industry right now, we're making strides in ways that are bold, fantastic, and beautiful — but it is hard for many of us to see true longevity in the film and TV space. You see it in music, you see it with Clarence Avant, where many people are able to have a long career in music.  
But when it comes to film and TV, we don't have it. This group now that is making inroads in the business has the opportunity to do it, and I hope that we can.
The remainder of the 'Home Sweet Home' season will air only on Peacock beginning on Friday, Nov 12.  
New episodes will drop on the platform weekly on Fridays.
---
Kevin L. Clark is a screenwriter and entertainment director for BET Digital, who covers the intersection of music, film, pop culture, and social justice. Follow him on Twitter @KevitoClark.