Noah Lyles Questioned NBA Players As 'World Champions' But Was He Onto Something?
Opinion: The world's fastest man pushed back on the league being the world's best, much to their chagrin, but there may be something to what he said.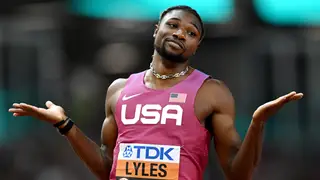 The United States continues to churn out some of the greatest track and field athletes, some of whom lately have shown an equally high level of comfort sprinting down a track as they do when it comes to running their mouths.
Team USA star sprinter Noah Lyles, who blazed into a gold medal at the World Athletics Championships with a 100m time of 9.83, created a bit of a social media kerfuffle with NBA players when he raised questions about whether NBA "world champions" are deserving of the "world champion" title after winning an NBA championship.
"World champion of what? The United States?" said Lyles after winning a trio of gold medals at last week's track and field world championships in Budapest, Hungary.
He added, "Don't get me wrong. I love the U.S. …  but that ain't the world. That is not the world. We are the world. We have almost every country out here fighting, thriving, putting on their flag to show that they are represented. There ain't no flags in the NBA."
The response from some of the NBA's best and brightest talent like Kevin Durant via Instagram, was swift.
While NBA players and their surrogates are quick to push back on Lyles' premise, here are three reasons why Lyles' position isn't so preposterous.
They Are Not Playing Around (The Globe) Y'all!
The most logical pushback from those who don't believe the NBA champion should be viewed as "world champions," stems from the fact that NBA teams don't play against the best international teams other than an occasional exhibition game in a game that all involved know won't count toward anything except bragging rights. So to gauge whether the NBA's best can beat the world's best outside of the NBA, is extremely difficult to get a feel for considering the scheduling logistical challenges.
Influx of Global Talent in the NBA Complicates Things
As stated earlier, the NBA is considered the best pro basketball league in the world. And because of this, the league usually consists of the best players. What we have seen in recent years, is the NBA take on a more global presence in terms of its impact players
The 2022-2023 season began with a record 120 international players on NBA rosters, marking the ninth straight year that a season began with at least 100 international players. Not only are international players filling out rosters, but they are also filling out their mantles with NBA awards, too.
The league's last three MVPs (Joel Embiid from Cameroon; and Serbia's two-time winner Nikola Jokic) were international players, which further complicates the argument about NBA teams being "world champions."
World champions are typically home-grown talent, excelling in their respective country before taking on the world.
In the NBA, you have players who come to the NBA after having played previously internationally, or from having grown up and playing in their home country before transitioning to playing in the United States.
The integration of the NBA with foreign-born players is great for expanding the game globally, but makes recognizing the NBA's best as a "world champion," not nearly as cut and dry as it is for, say, track and field athletes.
The Trade-Off Nobody Wants To Talk About
There's an aspect of this discourse that Lyles and other "world champions" are bothered by, more than they are letting on about.
It's about respect, success, and the attention being great should provide them for their athletic prowess. Whether they want to acknowledge it or not, that is what low-key drives this conversation.
Track athletes see themselves as the best in the world, and bring the receipts to prove it. NBA players, aided in many instances by international/foreign-born talent, win championships and will never leave North America to do so and are considered at the end of the day, world champions.
Lyles would later discuss how those who are charged with the branding of track and field, need to do a better job of highlighting the value of international success while drawing a distinction between that and what professional leagues in the states do.
Track and field can certainly use an image boost, especially from runners like Lyles who are among the best in the world.  Part of that requires drawing attention to the sport that doesn't necessarily have anything to do with the sport.
Calling out the NBA champs for not being real "world champions?" That's a smart, attention-grabbing start.
A. Sherrod Blakely is in his Michael Jordan year (No. 23) of covering the NBA, and is also a full-time lecturer at Boston University.