Black America Votes: Live Updates From The 2020 Republican National Convention
Tune in to BET's daily news updates and primetime coverage of the 2020 Republican National Convention August 24 – 27, 2020.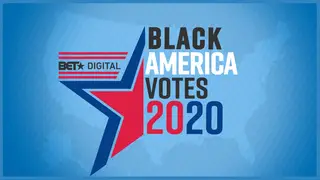 Trump Accepts GOP Nomination Saying He's Done More For African Americans

12 a.m. ET/9 p.m. PT: President Trump made note of how beneficial he claims to have been for the African American community while at the same time condemning riots and looting in American cities in his speech accepting the Republican renomination for the presidency.  But he did not mention names like Jacob Blake, Breonna Taylor, George Floyd and others who have been harmed or killed by police violence.
"...To bring prosperity to our forgotten inner cities, we worked hard to pass historic criminal justice reform, prison reform, opportunity zones and long-term funding of Historically Black Colleges and Universities and before the China virus came in, produced the best unemployment numbers for African-Americans, Hispanic Americans and Asian Americans ever recorded," Trump said during the hourlong speech in front of the White House in front of a crowd of 1,000 people who sat near one another, mostly without masks.
However, although the president has consistently made that argument, it has been the subject of much debate given how those statistics can be analyzed. Employment numbers for racial categories have only been kept since 1972, so it is actually unclear if those numbers are historic lows. Also, before the coronavirus pandemic the Black unemployment rate had remained roughly twice that of whites in America, according to federal labor statistics.
"And I say very modestly that I have done more for the African-American community than any president since Abraham Lincoln, our first Republican president," said Trump. But that can also be questioned because several presidents since Lincoln have enacted major policies that benefited African Americans. For example, Harry S. Truman desegregating the military and Lyndon B. Johnson signing the Civil Rights Act of 1964 and the Voting Rights Act of 1965.
He also claimed to have "done more in three years for the Black community than Joe Biden has done in 47 years," while repeating the inference that unrest in American cities has taken place primarily in urban areas run by Democrats.
"In the strongest possible terms the Republican party condemns the rioting, looting, arson and violence we have seen in Democrat-run cities all, like Kenosha, Minneapolis, Portland, Chicago and New York, many others, Democrat-run," Trump said, while saying his administration stands ready to take control of the violence, but must be called. 
"During their convention Joe Biden and his supporters remained completely silent about the rioters and criminals spreading mayhem in Democrat-run cities," Trump said.
He also acknowledged the family of former St. Louis police Capt. David Dorn, who was killed during an outbreak of looting that sprang out of demonstrations there in June. His daughters, however, opposed his wife, Ann, speaking at the convention.
Trump and his running mate, Vice President Mike Pence will now head into the homestretch of the election season against Democratic candidates Joe Biden and Kamala Harris. The Democrats lead Trump in polls by at least 10 percentage points, although Trump leads in funding. Harris spoke earlier on Thursday in a "pre-buttal" to Trump's speech focusing on the president's response to coronavirus, and standing with demonstrators upset by police violence.
"People are rightfully angry and exhausted," said Harris. "And after the murders of Breonna and George and Ahmaud and so many others, it's no wonder people are taking to the streets. And I support them."
-- Madison J. Gray
HUD Secretary Ben Carson Says Trump Is No Racist
9:55: p.m. ET/6:55 p.m. PT: Housing and Urban Development Secretary Ben Carson balked at notions that President Trump is a racist in his Republican National Convention speech on Thursday (Aug. 27).
Carson, who has been a defender of Trump and his programs over the past four years of his presidency said that Trump has been a racial uniter, despite being accused of racial rhetoric and actions.
"Many on the other side love to incite division by claiming that Pres. Trump is a racist. They could not be more wrong," said Carson, who sent consolation to the family of Jacob Blake, the Kenosha, Wis., man who was shot on Sunday (Aug. 23) by a police officer.
Carson also noted the meeting Trump had with HBCU presidents, which later spurred his signing of a bill that restored some funding for the schools. He also noted, as others have, what Trump has called the lowest ever rate of unemployment for African Americans. He also noted Trump's prison reform efforts and Opportunity Zones.
"At this moment in time, President Donald Trump is the man with the courage, the vision and the ability to keep [America] shining brightly," said Carson.
Former Marine Praises Jobs Training Program Instituted By Trump
9:20 p.m. ET/6:20 p.m. PT: Not all of those speaking at the Republican National Convention are politicians or wealthy businesspeople. One speaker, Stacia Brightmon, a single mom who had once experienced homelessness took the stage to praise President Trump and his daughter Ivanka for a program that she said helped her.
In the military apprenticeship program that she graduated from in Texas, she said that she got a new chance after having found herself unemployed.
"President Trump started the National Council for the American Worker and the American Workforce Policy Advisory Board," said Brightmon, a former U.S. Marine. "Together with Ivanka, he wrote policies that made it easy for states and companies to give opportunities to hardworking Americans like me."
She also credited the Donald and Ivanka Trump for launching Findsomethingnew.org, which is targeted at workers who need new jobs training.
Kamala Harris Tears Into Trump, Stands With Demonstrators
8:20 p.m. ET/5:20 p.m. PT: Democratic vice presidential candidate Sen. Kamala Harris did not mince words when she pre-emptively countered President Trump's acceptance speech at the Republican National Convention.
She said she supports the protesters in Kenosha, Wis., who were responding to the shooting of Jacob Blake on Sunday (Aug. 23), in which he was wounded by a police officer. The incident has touched off days of protests, which turned violent when two individuals were shot and killed by gunman Kyle Rittenhouse. He has been charged with their deaths.
However, she condemned the violence and looting that has taken place.
"We also see pain, hurt, and destruction in the aftermath of yet another Black man shot by police. Jacob Blake was shot seven times in the back in broad daylight in front of his three young sons," Harris said Thursday (Aug. 27). "People are rightfully angry and exhausted. And after the murders of Breonna and George and Ahmaud and so many others, it's no wonder people are taking to the streets. And I support them."
She said during her address that in a Biden-Harris administration the families of police shooting victims would "always have a seat at the table" in Congress and at the White House.
"Justice: let's talk about that because the reality is that the life of a black person in America has never been treated as fully human."
She also sternly criticized Trump over his response to the coronavirus pandemic, saying that he "failed" to show leadership and that the whole thing could have been prevented if he took any responsibility.
"President Trump got it wrong in the beginning," she continued. "And then, he got it wrong again — and again. And the consequences have been catastrophic," Harris said. "He was convinced that if his administration focused on this virus, it would hurt the market and hurt his chances of being reelected. That mattered more to him than saving American lives."
Protest Group Plans To Get Loud During Trump Acceptance Speech
6:45 p.m. ET/3:45 p.m. PT: As Donald Trump accepts the renomination of the Republican Party with a live speech from the White House lawn, a group opposing his re-election intends to disrupt the event with several events throughout Washington D.C. through the evening on Thursday (Aug. 27).
The group, called ShutdownDC said on twitter that they are planning a rally at Amazon founder Jeff Bezos' mansion, a virtual vigil in memory of people lost to police violence, a "Purpose Party" at Black Lives Matter Plaza and they will cap the night off with a Go-Go music concert and "noise demo" starting at 9 p.m. on 17th Street and Pennsylvania Avenue, one block from the White House.
"We're trying to drown out the racism and the hate that the Trump administration is putting forward and put forward a different vision for what our country and our community can look like going forward," ShutdownDC organizer Patrick Young told WUSA.
GOP Convention Heads To The Finish Line With Trump Nomination Acceptance Speech
5:00 p.m. ET/2:00 p.m. PT: The Republican National Convention moves into its final night in which President Trump will formally accept the party's nomination to run for four more years in the White House.
That follows Wednesday night in which the GOP put several African Americans in the spotlight to defend Trump's record, and telling audiences why they feel the president is the right choice for voters.
"During the Trump administration, business ownership among Blacks, Hispanics, and females have reached all-time highs," said Burgess Owens who is a candidate for a congressional seat in Utah and is a former NFL star. "Those same groups enjoyed record low unemployment and unprecedented prosperity... and we're just getting started."
To end the night, Vice President Mike Pence gave his acceptance speech for the party's nomination to continue his job. He said that the Trump administration has been supportive of the African American community, while saying Democratic presidential candidate Joe Biden would not offer the same benefits.
"The American people know we don't have to choose between supporting law enforcement and standing with African American neighbors to improve the quality of life in our cities and towns. From the first days of this administration, we have done both. And we will keep doing both for four more years in the White House," said Pence.
"Joe Biden says America is systemically racist," he continued, "and that law enforcement in America has a, quote, "implicit bias" against minorities. And when asked whether he'd support cutting funding to law enforcement, and he replied, 'Yes, absolutely.' Joe Biden would double down on the very policies that are leading to unsafe streets and violence in America's cities. The hard truth is... you won't be safe in Joe Biden's America."
BET's 2020 Republican National Convention Coverage
Thursday, August 27, 2020: Follow BET's coverage with our live blog for the latest updates from the Republican National Convention. We'll feature news about the event, speeches, performances and commentary from August 24 to 27. 
Each night, the convention will include speeches from Party leaders, real people and members of the Trump family. On the final evening of the convention tonight, it's the speech we have all been waiting for, hearing from President Donald Trump as he delivers his address from the White House lawn in Washington, D.C.
Also on the roster are United States Secretary of Housing and Urban Development Ben Carson, Senate Majority Leader Mitch McConnell (R-KY), White House Deputy Assistant Ja'Ron Smith, Advisor to the President Ivanka Trump, and criminal justice reform advocate and former federal prisoner Alice Johnson. 
BET.com will have all the news updates that matter to Black America so stay tuned each day and watch from the CBS News: Race To 2020 live feed above from at 9-11 p.m. ET each night.