Black-Owned Break-Out Fashion & Beauty Brands Of 2021
Ami Cole, Tier, and more!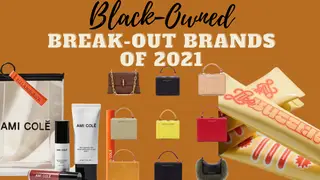 Last year amidst the pandemic that kept everyone mostly confined to their homes, the landscape of business changed for many companies—established and newcomers. According to a report from Digital Commerce 360, online retail sales increased 32.4% year over year in 2020 and are up 39% in Q1 2021, with many brands finding a way to cater to the new at-home lifestyle.
The past year served as a break-out year for many brands, landing them on must-have lists, acquiring major collaborations, selling out in minutes, and being worn by some of the most prominent celebrities and influencers. Noticeably there was an astronomical rise in the popularity of Telfar's shopping totes, also known as the "Bushwick Birkin," leaving everyone trying to get their hands on one of the famed bags. 
At the same time, the designer Telfar Clemens navigated the new demand. For some fans of the bag, since its release in 2014, the sudden hype was a headache, but for the new fans and the brand, it was a step in the right direction for Telfar to be accessible to everyone, a mantra weaved in the brand's ethos. A few other brands saw a meteoric rise in popularity throughout this year, much like Telfar in 2020.
Ami Cole

Ami Cole, a makeup brand created for women of color, was launched in 2020 by Diarrha N'Diaye, who felt there was a disconnect in the beauty industry. N'Diaye then pulled inspiration from her Senegalese and Harlem roots to create the change she wanted to see. The brand prides itself on providing clean beauty options for melanated skin. It features various products, including light-catching highlighter, skin-enhancing tint, and the most famous lip treatment in oil.

In an article on The Strategist, the lip treatment oil was dubbed the Telfar of lip gloss, with fans raving about the product, including stylist Mecca James-Williams and skin-care influencer Sean Garrette. The brown-tinted oil is packaged in a transparent bottle with a black cap, giving you a peek at the product every time someone takes it out to gloss their lips. N'Diaye has cultivated a community around her products, making sure the customer's wants and needs are visible in every product.

Brandon Blackwood

In 2020 during the heightened racial tension, Brandon Blackwood, designer of the namesake brand, designed a mini leather purse with engraved "End Systematic Racism" on the front. Following the virality of the activism-inspired bag, stars such as Kim Kardashian, Solange Knowles, and Lupita Nyong'o were spotted carrying them. 

Blackwood would go on to release the mini handbag in a variety of colors and prints. Capitalizing on the popularity of the dubbed ESR tote, he released two collections featuring an assortment, including sherpa, snakeskin, canvas, and suede.

The Spring collection led with a star-studded roll-out, while Blackwood opted for a mod-like eccentric runway show to debut some of the bags. Additionally, Blackwood designed a one-of-one red truck bag embellished with a McDonald's arch in collaboration with Saweetie for her McDonald's "Saweetie Meal."

Tier

Tier NYC was founded in 2014 by Nigeria Ealey, Esaïe Jean Simon, and Victor James— focusing on the ever-evolving nature of creativity and the use of fashion as a catalyst for self-expression. 

Over the last few years, the brand has thrived in the cozy lane, releasing modernized cargos and several monochromatic sweatsuits that could be paired with matching socks. However, this year Tier ventured into ready-to-wear with back-to-back collections featuring womenswear, kids, and even Tier Island, a vacation-esque collection. 

Theophilio

Contemporary clothing brand Theophilio was created by Jamaican-born designer Edvin Thompson in 2016, combining the nostalgia of his childhood with New York's progressive culture. While celebrating Thompson's cultural identities, the brand also puts sustainability and upcycling at the forefront of the brand's ideology. Throughout Theophilio's collections are a host of bold colors and odes to Caribbean culture, putting it on the main stage in fashion in a way it hasn't been seen before.

After a virtual show last year where Thompson's trip home served as a backdrop, he showcased his latest collection, "Air Jamaica" at SS22 NYFW. Following his culturally infused runway show, Theophilio landed at the forefront of fashion conversations when NASCAR driver Lewis Hamilton purchased a table for emerging Black designers to attend the Met Gala. Track star Sha'Carri Richardson and model Alton Mason attended and wore custom Theophilio looks. To close out the meteoric year, Thompson was awarded American Emerging Designer of the Year at the CFDA awards.

Washington Roberts

In 2011, the eponymous advanced contemporary brand was launched by Nigerian-born designer Washington Roberts. Roberts, who acquired his sewing skills from his grandmother, fuses inspiration from African culture with the modern feel of New York. With his use of geometric patterns and precise tailoring, Roberts creates effortless designs that are truly timeless and effortless for both men and women. 

This year the brand showed its latest capsule collection, "The Ongoing Collection: Capsule 1", inspired by Washington's grandmother. The collection was a progressive hybrid of ready-to-wear and modern athleisure, featuring stretch jumpsuits, leather bustiers, silk dresses, and tailored suits with many pieces covered in the brand's signature geometric print that mimics houndstooth. Washington Roberts has recently been worn by Insecure actress Yvonne Orji at the BET Awards.

Topicals

The brand first made noise during the protests for injustice for Black people in the wake of George Floyd's death, taking to their platform to give protesters advice on how to care for their eyes and skin if they came in contact with tear gas during the demonstrations.

Beyond using their growing platform to aid the fight against injustice, the brand's products have proven to be top tier. Topical's product line-up includes brightening and clearing serum and mist, a hydrating mask, and an all-purpose lip balm—all dermatologist approved. This year Olowe raised money for the budding business, ultimately raising $2.6 million shortly before her first birthday—making her the youngest Black woman ever to raise over $2 million in venture capitalist funding.