Father's Day Special: Why This Black Single Man Made The Decision To Adopt
After a two-year, taxing, complicated, and paperwork-filled process, this father has absolutely no regrets.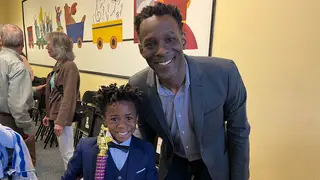 Edd Taylor was the first in his family to graduate college and build an impressive resume. He earned a Master's degree and a PhD in Cognition and Development in Education from the University of California, Berkeley. He is currently an assistant professor of mathematics education at the University of Colorado Boulder and is a leader in STEM education.

Established professionally and well respected in his field, there was still one thing missing from his life that he desperately wanted: fatherhood.
Fortunately, nine years ago, Taylor went through the arduous process of adopting a child. His son, Blake, was three weeks old at the time. For him, it was an opportunity to continue the legacy and love his family had already given him.

"My parents made a lot of sacrifices for me to be where I am…I feel like I need to pass that on," Taylor, 52, told BET.com. "I feel like I have a role in preparing us [African Americans] for the society we're living in as well as continuing this kind of richness."

Adoption is a lengthy, emotionally complicated process that involves volumes of paperwork, scrutiny by public and quasi-public agencies, batteries of interviews, and much soul searching. But Taylor says it was not a hard decision for him to make.
"Not that it didn't take a lot of thinking," he explained. "I thought about it a lot. Part of it is just timing. You start to get to a certain age and realize that I can find a partner at 55, but I can't start a family at 55. I also had an understanding of the kind of work that I did, the kind of flexibility that I had, and the kind of resources that I had were things [that could help me] as a single parent."

Now, nine years later, Taylor laughs at the fact that he's still single, and glad that he didn't wait for the right partner to come along.
As a single Black dad, Taylor, is a rarity in the adoptive space. In fact, the adoption of Black children is statistically disproportionate. Of about 4.5 million adopted children in the United States about 49 percent are non-hispanic White, while Black children make up only about 17.5 percent, according to 2016 data from the U.S. Department of Health and Human Services. The majority of nonwhite children are adopted by White parents at 73 percent while about 33 percent of adopted Black children go to nonblack homes.

Furthermore, defying the national stigma, 53 percent of all Black men in America have no biological children, according to data from the Centers for Disease Control and Prevention, and more than 51 percent of Black men have never married, according to data from the U.S. Census Bureau.

Situations like Taylor's in which a Black child is adopted by a single Black father are so rare that there are no current statistics measuring it. He is the first of his kind to adopt a child through The Cradle, a suburban Chicago-based nonprofit private adoption agency that assists many African American and transracial adoptive families. It does this through its Ardythe and Gale Sayers Center, named for the NFL Hall of Famer Gale Sayers, who has also adopted through the organization.
He says it matters which program a prospective parent goes through, and The Cradle helped him with the proper preparation, including classes, counseling, and support during what became a nearly two-year process to take custody of his son.
"The adoption process is long, and rightfully so," he explained. "You're taking someone to become a member of your family." But the organization also ensures that there is a support system set up. In Taylor's case it was a group of relatives who would back him up and be a part of raising his son.
"So through the process it's actually really helpful because you get…people confirming that they're going to be there for you," Taylor said.
Blake, now 9, has grown into a confident young man. Besides doing well in school, he is  pursuing his passions as a model and actor. His dad has worked hard to ensure that Blake has particular experiences that were not made available to him as a child.
"The kind of opportunities Blake has, opportunities I did not have, that my parents did not have, understandings that I did not have," Taylor said, "I was glad I was able to give him early on."
Helping To Create Families

The Cradle's Vice President of Community Outreach and Education, Nijole Yutkowitz said that Black men learning more about adoption will help match more Black families with Black children. And that is also helped by something Black families have already been doing for generations.
"As a culture, we value kinship," said Yutkowitz, who has also adopted through The Cradle. "Our mothers will take our sister's kid; our aunt will take our cousin's kid. We as people rarely go outside of our household to adopt a child who is not related to us, so we go into the community to kind of ease the fears of African Americans."

According to Yutkowitz, 40 percent of the families that adopt Black children through The Cradle are White. Two major factors determining this are the decisions of birth mothers and the hesitancy of Black families to adopt a child they don't know.

Because Taylor, as a Black single man, is such a rarity, Yutkowitz said, it opens new possibilities for similar men who make the decision to adopt, making his particular perspective especially important.
"It's fair to say that Edd has shifted the way Black men think about adoption in seeing that he is a Black parent who thought 'hey listen, I want to be a parent and it looks like I'm not gonna find that partner, I'm gonna move forward with this.' "
Ready To Adopt?
Other Black men have made inquiries with Yutkowitz about adopting a child on their own but have not continued the process. Nonetheless, Yutkowitz says going to adoption organizations in various states could help these men make that move.
"Single parenting is not for everyone," Taylor warns. "It takes a lot, but through the process, you know whether or not it's something that you can do. For those who are thinking it's something they can do, I would definitely encourage it. You don't know who's coming along, and you don't want to look back."

If you're thinking of adopting. Here are some excellent adoption agencies in various regions you can look into that can offer help to families of color:
Pact (Emeryville, Calif.)