Move Over Rihanna, Rick Ross Is Trying To Take Over The Beauty Industry
He's making boss moves with a new grooming line drop.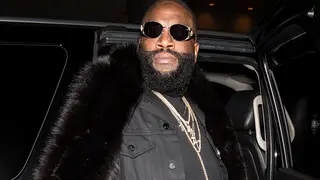 Rihanna's Fenty Beauty may have been one of best inventions of 2017, but Rick Ross is aiming to take over 2018 with his new line of men's luxury hair and beard care products. We guess he meant it when he declared "every day I'm hustling."
Beard Gang, the MMG mogul heard your prayers for a new way to help maintain your beloved beard. The news dropped just in time for the holidays under Rosay's partnership with Rich Hair Care. 
Ladies, you don't have to feel left out either. This isn't the Miami rapper's first time at the beauty rodeo — he kicked off his haircare aspirations back in 2016. 
Keeping with the brand's motto, "to make luxury affordable," Rick's got your grooming and beauty needs covered — from beard oils to shampoos and even moisturizers.
And the best part? These Rick Ross-approved products range from $3 to $25! The catch is that you'll have to wait until January 2018 for these to hit the shelves.  
OK, this news is lit! We're digging it — but fellas, what do you think?