Interview: 'Transformers: Rise Of The Beasts' Director Steven Caple Jr. Shares Why He Chose Notorious B.I.G.'s 'Juicy' For The Trailer
The director and lead actor Anthony Ramos also discusses the importance of being Black and Latino behind and in front of the camera.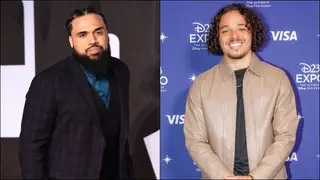 The new Transformers trailer has dropped, and the franchise is heading to Brooklyn this summer.
Transformers: Rise Of The Beasts takes place in 90s New York and Peru, with new characters taking center stage with Anthony Ramos and Dominique Fishback tapped to lead the film. Ramos plays the role of Noah, an ex-military electronics expert who serves as a father figure to his brother, with Fishback playing Elena, an artifact researcher at a museum who wants the best in her life but is held back by her boss, who continues to steal her work.
"He's all about taking care of the people he loves," Ramos shared about his character during the Paramount VR showcase.
"He comes from a lower-income home, so Noah's always hustling The one thing I love about Noah is his tenacity and his heart, and his will to never quit, in spite of all the crazy things life is throwing at him," the actor continued. "Then, it's amazing to see his journey when we venture out into the world when the humans meet bots, and things start to happen."
When asked about being a Black director at the helm of a major blockbuster franchise, Caple Jr. expresses it's been an "emotional" ride.
"You came straight out the gate with that one [laughs] — it's been an emotional ride," Caple shared in an interview with BET.com.
"It's been two years now — Anthony and I talk about having this type of opportunity but also understanding it's our time. For us to be in this position where we can tell a story about our culture, our people, and see ourselves portrayed on the big screen blending in with these vast genres is special. There are not too many people on the actor or director side to be in this position on this scale and scope, and we're doing our best to carry this weight. No matter how many times [Anthony] and I look at each other on set, tired and all, we realize we're able to do something special and for a reason. We created something special, and it feels great to be in this position — super honored and blessed."
In terms of how the seventh installment will elevate the franchise, Ramos feels the new characters, especially with Black and Brown people in leading roles, will play a factor.
"We have new elements and characters, with Black and Brown people in the lead roles," he said.
"Things have expanded, and with me being from New York, where the story is set in Brooklyn, this feels like it's for all my homies in the projects. [Steven] and the creative team allowed us to tell a story in a major franchise like [Transformers] in a part of New York that doesn't always get highlighted in this kind of way. The series saw Shia LeBeouf and Mark Wahlberg as the lead, and now it's me. It was Megan Fox, Nicola Peltz, and now Dominique Thorne. This film incorporates the Beast wars, the Terrorcons — it's going crazy."
In the new trailer, you can hear Notorious B.I.G.'s classic record "Juicy" in the background, and Caple Jr. shares that it was a tough choice because they had a few other options in mind.
"The movie takes place in the 90s when the album Ready Or Die was released, so that's why [Juicy] was the perfect record to choose. His voice and what he meant in that era and time captures much of what we're doing in the film. Fishback, who originally is from Brooklyn — her character and Ramos's character have a lot of big dreams and hit glass ceilings but ultimately become the heroes saving the world discreetly as that's how the Transformer laws are. You have these average folks transforming into something huge and special we didn't know existed, so the record was a right move — it was our anthem on set, so we played Biggie or Anthony was singing [The Tempations]."
Although Caple Jr. didn't reveal the other song choices for the trailer, the director shares that audiences may hear one of the alternatives in the following trailer promises it will be "just as a fire" and pay homage to New York.
When asked who they would love to see appear in a future Transformers film, Caple Jr. shares he would love to have Mahershala Ali voice one of the characters.
"While we have many surprises that we haven't shared yet, and we have a strong dream cast, Mahershala Ali has a great voice and is on my bucket list of actors to work with. He has the tone of a strong voice actor, but there are so many people, and we're still casting. We have Peter Dinklage from Game Of Thrones in the film, and he's killing it. We have a lot of names we haven't announced yet that are in the movie."
In response to which Transformer robot brings the heat in the upcoming film, Caple Jr. shares Pete Davidson's character Mirage "brings the heat," and fans will want to see more of the Autobot spy in future movies with Ramos sharing Liza Koshy's character Arcee is "pretty badass."
The film is slated to be released in theaters on June 9th.
Take a look at the trailer below.
---
*This interview has been edited for length and clarity
Ty Cole is a New York-based entertainment reporter and writer for BET.com who covers pop culture, music, and lifestyle. Follow his latest musings on Twitter @IamTyCole.