EXCLUSIVE: Drew Sidora Opens Up About Her Marriage + Reveals The 'RHOA' Co-Star That Gave Her The Best Business Advice!
The reality star shares the inspiration behind her latest business venture, 'Drop It With Drew.'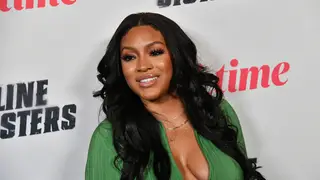 One storyline fans are seeing unfold is her marriage life with husband, Ralph Pittman, which seems to be a work in progress each week as viewers tune into Bravo.
In an exclusive interview with BET.com, the reality star shares that marriage isn't what she thought it was, but her and her man are committed to "keep doing the work."
"You know, it's interesting because marriage isn't what I thought it was," she said.
"I thought it was like Cinderella like a happily ever after and so we thought that's what it was going to be. My parents who have been married for like 60 years made it look so easy. I'm in a situation where we have children, we're moving to a new city — life is happening and people are growing as well as changing. It's hard because sometimes you're like, do I need to stay in this marriage or am I better off by myself? Then I think to myself when two people commit and you keep committing to each other, what can we do to fix this? You're switching counselors to find the right one — but we're committed and I think that's what keeps people together. It's not that it's perfect because I'm not perfect and God knows he's not perfect [laughs] — we keep doing the work. He's really trying though, like truly is trying."
When asked where she and Ralph are at this point in their marriage, she tells BET.com they are in a "good place," and shares how they resolved an argument they had before her Watch What Happens Live! appearance.
"We're in a great place," she expressed.
"We were going at it before I went to New York because I wanted him to come with me as it was my first time in the clubhouse. [Ralph] brought himself a first-class ticket and everything — he was on the flight. We then got into a little argument about some business stuff and it was really bad as it went left — you guys have seen our arguments where we can talk, it can be a little disrespect, and then it went left. Next thing you know, he canceled his flight and didn't end up coming. I felt a little abandoned. It felt like, you were not supporting me. All in all, I went to New York and it was an awesome experience. I did amazing things and I think it was better he didn't come. In some regards, I was okay. When I got back home, we spoke about it, got to a better place, and our communication was on point. He ended up apologizing and I understood where he was coming from. Now things are great — that's literally marriage. Anybody that is married or wants to get married — that's one on one marriage. Nobody ever explained it to me like that. You can literally want to divorce someone one day and have a complete understanding, communication, and the person can understand you — all you really want is to be heard."
With eight years under their belt, the actress explained it's still like a "crash course."
We had to get an update on marriage counseling with Dr. Ken, to which Sidora shared how Ken has given her the advice to "trust the process" but also tells BET.com how she and the therapist have "went at it," sharing there were moments she had to "fight to be heard" as a woman.
"Marriage conseling has been great," she shared.
"Dr. Ken has said certain things like trust the process because me and him have gon at it — forreal. Dr. Ken is still a man and with him being from the east coast — in some regards, he understands Ralph. Sometimes we buttheads on that because I really have to fight to be heard as a woman still. I will say he has apologized to me on some things — he owns his part. Everything hasn't been perfect, but I believe in his process. He's told me to trust him and watch — I've been lowkey side-eyeing him and literally had to text him about how he was right as me and [Ralph] communication has been better. The tools he's provided are working. This is the most growth we've ever had where like — I don't want to get too excited. I'm still a little hesitant. This is going better than I thought and better than last year. Ralph is much more patient and he doesn't "stab" me so hard. He's softened up a little bit — I'm hoping it's consistent and a year from now, I can say he's been better."
Learning as a couple will be a never ending process. Sidora tells BET.com she had to learn to stop seeing her husband as the "opps" and trust his love is real.
"I had to stop looking at Ralph as the opps and trust his love is real for me," she said.
"Sometimes I felt like our relationship was like Mr. and Mrs. Smith — like is he really for me? I also had to gain more confidence in myself and own that. He was telling me about myself — how I can hold grudges and cut people off — I had to sit with that. I don't see how I hold grudges and that's one thing we don't see eye to eye on, even though the girls did share that with me like is everybody lying to me? I'm owning that maybe I do hold grudges, and I should work on that. For him, I had to learn he's a Black man and there are struggles I will not understand as a Black woman. I had to accept he is for me and he loves me. Some of the constructive criticism comes from a place of love, even if it doesn't feel that way. I think what he's learning is how to express himself and communicate lovingly — there's a way you need to talk to your wife. There's a way you need to be sensitive in your approach — you cant just say whatever you want because you're Ralph and you're an Aquarius and you're from the East Coast. I think he's learning how to better listen and communicate to me instead of diminishing me. As humans, we already deal with confidence issues, career, financial, and mental health."
It looks like they are getting to a great place. As the singer shared an update about her relationship with her hubby, she also provides advice to couples who may be going through the same thing — therapy. `
"Get a good counselor," she shares.
"A good counselor is a important as you have to find someone that works for you. Don't be afraid to shop around — people view Ralph and I as serial marriage counseling fiends. It's important to shop around to find someone good to help counsel your marriage — someone who works for the both of you that is neutral."
This season, we see a grand gesture from Ralph for Drew take an interesting turn which left the Step Up actress in tears. The Game alum shares that there's a moment showing Ralph in a great light and feels "some type of way" production hasn't aired it as of yet.
"There's one thing the fans didn't get to see this season he did and I feel some type of way — I'm not gonna lie," she expressed.
"He brought me a brand new truck and he delivered it to me. I think I'm going to post it on my instagram. Maybe they'll show it, but I'm telling it because it was beautiful. He went all out and had the owner of the dealership there with a red bow on it. He pulled up in the car that I wanted — top line and I was in tears. It was beautiful. I'm sad ya'll didn't get to see it. I will say he's always surprising me — he's someone who loves to surprise and it changes. He's popped up on me in Chicago, surprises me with jewlery and brought me the dream house I wanted. He even brough my mom a brand new truck."
Awww, we love that for her. When asked about having children, Sidora shares she's in the process of talking to someone about "fertilizing her eggs" and has thought about surrogacy with Ralph even possibly reversing his vasectomy down the line.
The biggest hot topic has been Sidora's latest business venture, Drop It With Drew. The actress  goes on to defend her fitness program in this interview as the 'RHOA' ladies have discussed the singer having a mommy makeover to which Drew questions which cast member on the season hasn't.
"First and foremost, they want to come for me to get work done — I've talked about getting work done," she exclaimed.
"Name someone on this cast who hasn't had work done? I'll leave that there. They cannot come to me because I've openly talked about it and some of them need to be a little more transparent about their body journeys. Secondly, I still believe they can join the program and learn what's about — they need to sign up on the website as we are starting a new session June 12th with a following sign up after the fourth of July. They need to support me and last time I checked, they all have not had straight up A+ businesses. Some of them had water in their hair products I believe and some of them didn't that good A+ rating in their restaurants. I'm tired of them coming for my baby — this is a passion project. [Drop It With Drew] was not intended for me to make money — they wanted me to be the face of it. I felt I wanted to lose weight so it's a real and true authentic journey for me that was for me. I became passionate because I was losing weight, feeling great, and met people were losing weight — coming off of medications and diagnosis were changing. People had so many testimonies that had me in tears where I realized it's not about me. I didn't realize I had an impact and I'm helping people — none of us are the post children for the gym, we just want to be healthy."
The reality star shares that she's looking to expand the company after being approached by a team that has "built some amazing, well-known global brands" where they will dabble into mental, physical, and spiritual health. She also revealed the initiative will turn into an app soon. The actress continued to share that despite the shade, she's received so many signups for this next round.
Sidora also provides tips for those who are looking to start their fitness journeys.
"You have to tap into yourself and ask why you aren't motivated," she said.
"Figure why you're okay and comfortable staying in the same routine. You really need to get into yourself and say how you no longer want to live this way — you want to attract and manifest more in your life whether it's love, wealth, confidence, or whatever that may be. Whatever might be a boulder in your life, you need to attack that and mentally get strong first — the physical won't be easy. That's why [Drop It With Drew] is morseo attacking the mental component that a lot of programs don't even address. It's a community where we talk about those things — we're going to be open and honest with one another while gaining friendship, love. You're going to have a community and cheerleader of supporters where you won't pick up that french fry — we hold each other accountable. What's so bomb is there's a whole crew of us. We have fun together — women flew out to Atlanta and we had a whole weekend celebrating."
Entrepreneurship can't be stressful and sometimes you can make mistakes along the way — something Sidora actually says is the best part for her.
"Making mistakes because I didn't grow up having all this knowledge of health so by making those mistakes, I can learn," she expressed.
"Even with the website, I had to get on the phone with our web designer and tech manager to understand the functuonalities and how it works. Now, it won't happen again I can promise that [laughs]. You're never going to hear the website is down again. I done got better, learned, and it won't happen again. I don't beat myself up as a failure — I count it as an opportunity.
The ladies of Atlanta always have a business venture up their sleeve, and it's great to ask for help as you continue to build. Sidora shares she received the best tip from Kandi Burruss about business.
"Hands down, Kandi Burruss — we can all agree," she shared.
"We can all agree that she's built many businesses and she was the one person besides Kenya Moore on how to make my businesses better — after she threw her shade [laughs]. She was a big sis about — all of us had to go through it and she showed me how to maneuver. I've been taking her advice.
Each year comes growth and Sidora reflects on how she's grown from first season to now, which she expresses she now wants to build deeper relationships with the women and not holding grudges.
"You can see last season where I didn't have a problem having beef with the women I didn't get along with," she shared.
"This season, I was open with learning how to talk it through and gain understanding — throwing an olive branch to sit down and talk about our issues. As the fans saw with Sheree Whitfield and I did to get to the other side during this season and really continue to build a friendship — for us to get through it, it's shown growth in me to even want to do so. I like Sheree — I think the way to build a good relationship is to go through something with someone and really who their real character is and learn how to get through that. I'm glad we were able to do that, especially Kenya and I. I will also say the fashions as I had to get back to Drew Sidora. People met Drew Sidora last season — I didn't try to come perfect because it was COVID and you're going to get this COVID wig. I feel this season you're seeing me getting back to Drew Sidora and my career — my weight loss journey, it's a process. I don't like getting vulnerable and letting people see me when I'm not exactly my best — that was uncomfortable for me but I'm glad I got through it because I love me. People have seen me in the roles that I've played and no one really got to know me as a person — a friend, a wife, and I was wanting to share that side of me."
She continued, saying she would like to "change the narrative of marriage" and is hopeful she and Ralph will be in a "genuine" better space come next season. She mentions they are "very layered" and wants people to see all of the layers of Mr. Pittman.
While we see how the season continues to unfold, Sidora shares that she's back in the studio — currently signed to Cory Rooney and after receiving love from the fans after dropping her snippet on Instagram, she's been "pouring her heart out" into the music which she shares is "weeks away" from releasing.
*This interview has been edited for length and clarity
Ty Cole is a New York-based entertainment reporter and writer for BET.com who covers pop culture, music, and lifestyle. Follow his latest musings on Twitter @IamTyCole.