A$AP Rocky Shares His Skincare Regimen; Features Products from Fenty Beauty
The Harlem rapper shared that he keeps his skin glowing with several products from girlfriend Rihanna's popular skincare line.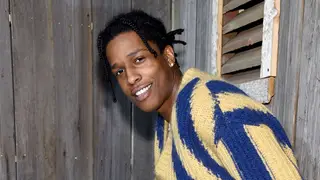 A$AP Rocky is a handsome man. With glowing chocolate skin and a dazzling white smile, it's no wonder the "Fashion Killa" is the face of so many beauty and fashion brands.
He is currently the pitchman for the popular fragrance Gucci Guilty and recently shared with The Sunday Times that he uses a combination of products to keep his youthful glow. While he refused to go into absolute detail, saying, "I've got to keep a couple of those a secret," adding. "Not everybody got the swag with the sauce." He did say that he uses a combination of Gucci and Fenty Beauty skin care products.
In the interview he shared that his life is "kind of a dream come true right now." The 34-year-old rapper is father to a 1-year-old son, RZA with Rihanna and the couple is expecting their second baby this year.
A$AP Rocky was part of the Fenty Beauty launch in 2020. In an earlier interview this year with GQ, Rocky shared that he has always had a fascination with the Gucci brand, with his first exposure being from his Harlem roots. "Absolutely. That's exactly what it was. Just Dapper Dan. I think everybody's introduction in the hood to luxury brands was because of Dapper Dan. The way he would put it together in the '80s was different."
In the Sunday Times interview, he also admitted that he deals with insecurities when it comes to public events — saying, "I'm like anyone else, I can be shy from time to time" — Rocky continued, "But if there's a chance to flash these pearly whites I'm doing it." [LINK]
"I'm not about to sit here and say I'm dapper every day. I'd be lying to you. I'm down with tracksuits. I'm definitely rocking the dad swag."