Here's Why Chrissy Teigen Got Blocked by Donald Trump
She finally broke him.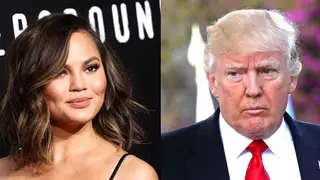 It's no secret that President Donald Trump isn't a fan of those who disagree with his many problematic policies and views, but he seems to have a special disdain for those who express their disgust for him on his favorite social media site: Twitter.
Chrissy Teigen is the latest public figure to learn this after she revealed on the social networking site that he blocked her.
The model took a screenshot on Tuesday morning of the POTUS's profile notifying her that she's been blocked from reading his deepest thoughts that he so notoriously documents 140 characters at a time.
"After 9 years of hating Donald J Trump, telling him 'lol no one likes you' was the straw," she captioned the post.
Yep, it seems as Trump has a pretty easily penetrable ego, as that's literally all it took. Here's the unapologetic tweet that apparently pushed Trump over the edge with the outspoken model:
The infamous "final tweet" that Teigen sent was in response to Trump's July 23 post where he expressed how "sad" it was that some Republicans don't go out of their way to protect him.
Watch Chrissy and her hubby, John Legend, talk about gun control in the BET Breaks video, above.