Reverse Racism? Twitter Is Freaking Out Over This Image From New Series 'Barbarians Rising'
People are upset again.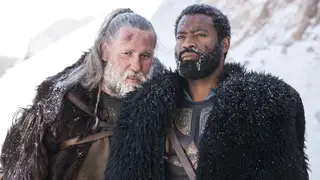 The History Channel has been on a roll lately with the highly praised reboot of the mini-series Roots, and now the network is making headlines again for its newest documentary series, Barbarians Rising, focusing on the fall of Rome. In the most recent episode, Hannibal of Carthage was depicted as a Black man and white self-proclaimed history geniuses are shouting "historical inaccuracy."
African-British actor Nicholas Pinnock portrays Hannibal in the docu-series, a famous Carthaginian who was a pain for the empire. After becoming a general at 26, he brought together barbarian tribes to stop Rome's imperial rise. His ultimate goal was to invade Rome, but he didn't quite get there.
The debate about Hannibal's race has been an ongoing subject of discussion for years and is still a hot topic to this day.
Some white history buffs took to the comments under the video to share their disgust with the casting. "Hannibal Barca was NOT a 'black African' and this is 100% historical fact," one commenter wrote. "This type of liberal trash and purposeful changing of history is why Disney owns a large share of the History network and their Mickey Mouse club show anchors."
Take a look at the episode below:
Watch T.I. talk about his role on another History Channel success, Roots, in the video above.