Could This Woman Become Washington, DC's Next Mayor?
City council member Muriel Bowser is in a dead heat with Mayor Vincent Gray to win the Democratic primary.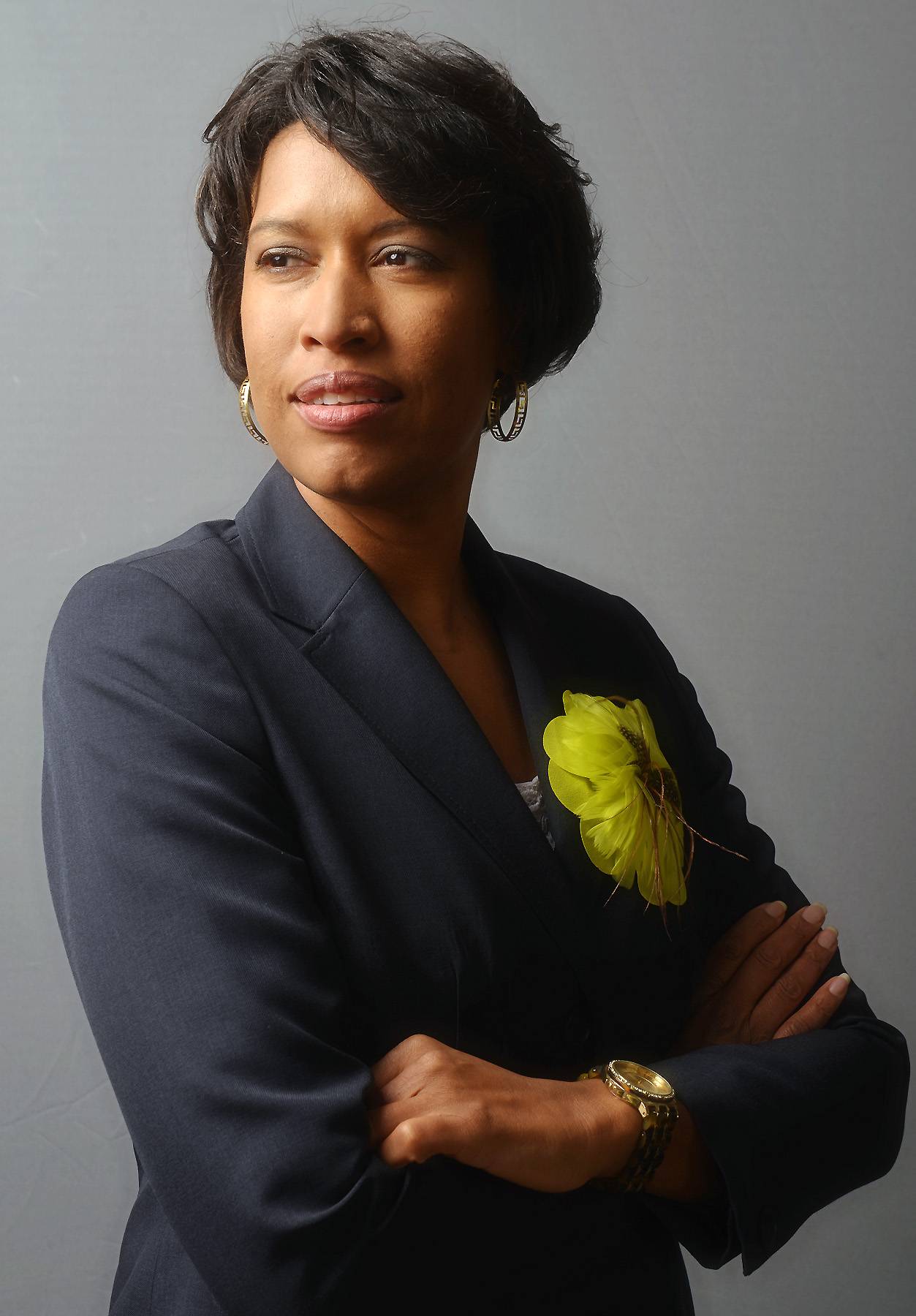 (Photo: Marvin Joseph/The Washington Post via Getty Images)
It's Primary Day in the nation's capital and voters are heading to the polls to determine the fate of incumbent Mayor Vincent Gray. It's also April Fool's Day, but the fact that city council member Muriel Bowser is in a dead heat with Gray for the Democratic nomination—and could win—is no joke.
Although he has denied any wrongdoing, Gray's tenure has been tainted by a federal probe into whether he knew about a $668,800 illegal shadow campaign that helped him win in 2010. The city is blooming economically, but Gray's scandal—and those surrounding members of the city council who have pleaded guilty to felonies—has many D.C. voters looking to make a change.
Bowser, 41, was elected to the D.C. Council in 2006, filling the seat held by Adrian Fenty, who was elected mayor that year. He was defeated by Gray four years later. Now Bowser hopes to do return the favor by toppling the incumbent.
She has been a council member for seven years, representing a largely middle-to-upper-income neighborhood. During that time, she has pushed to establish a board of ethics, chaired the council's Committee on Economic Development and the Transportation Planning Board of the Metropolitan Council of Governments. She also sits on the board for the Washington Metropolitan Area Transit Authority.
Bowser, The New York Times writes, "has cast herself as a bridge between the gentrified Washington of condos and French brasseries and longtime residents worried about being priced out of the housing market and passed over for jobs."
She believes the allegations against Gray are stalling the city's growth. In a campaign video, she says, "Corruption has robbed us of our focus, our momentum, our need to think big and act swiftly."
Gray and other critics, including fellow council members also seeking the city's top job, say that Bowser lacks the leadership skills required for the position. "Not ready. Not right for D.C." is one Gray campaign slogan used to highlight her lack of management experience and a legislative record.
But Gray also recognizes the threat she represents. He recently recruited former mayor Marion Barry, who was famously caught smoking crack cocaine in an FBI sting, to publically support his candidacy.
"You know I know about how the U.S. attorney works, don't you?" said Barry at a press conference to endorse Gray. "You know I know their tactics. But I do know this. In America you're supposed to be innocent until you're proven guilty."
In addition to representing "a positive new way forward," the editors wrote, she has citywide appeal to all demographics across the city.
"That is a credit to the power of her vision and the strength of the campaign she has organized and run," the endorsement reads. "Those are promising harbingers of how she would lead the city."
BET Politics - Your source for the latest news, photos and videos illuminating key issues and personalities in African-American political life, plus commentary from some of our liveliest voices. Click here to subscribe to our newsletter.