Study: Black Americans experienced 1.6 Million 'Excess Deaths' Compared To Whites Over 22 years
Heart disease, cancer and COVID-19 were the main drivers of the mortality rate disparity, blamed in part on structural racism.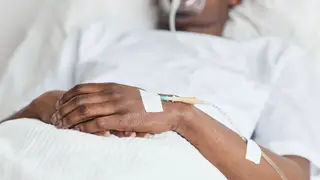 A decade of progress toward ending the mortality rate disparity between Black and White Americans stagnated before it suddenly declined by 2020, according to a study in the medical journal JAMA published on Tuesday (May 16).
Using Centers for Disease Control and Prevention data from 1999 to 2020, the researchers found that Black Americans experienced 1.63 million excess deaths compared to White Americans. Those excess deaths among Black people represent a cumulative loss of more than 80 million years of life compared to White people.
The CDC defines excess deaths as the difference between the number of deaths expected and the actual number of deaths in a given period.
During the more than two-decade period covered in the study, the Black and White mortality rate gap declined from 1999 to 2011 before it plateaued, then increased.
"After a period of progress in reducing disparities, improvements stalled, and differences between the Black population and the white population worsened in 2020," the authors write, pointing to structural racism as a contributing factor for the reversal.
The researchers found that the disparity in mortality rates begins early in life, from infancy through childhood.
"This excess mortality occurred in a period of life of highest vulnerability and warrants new dedicated public health initiatives targeting early childhood health," the authors write. "After childhood, the excess deaths and years of potential life lost became evident in early adulthood and generally increased with age."
Heart disease in Black women and men, and cancer in Black men, were the largest drivers of differences in excess deaths. In 2020, deaths from COVID-19 accounted for the highest excess age-adjusted mortality rate among Black men and second that year to heart disease among Black women.
Race, which the researchers underscored is a social construct, doesn't explain the mortality rate disparity.
"People aren't born predetermined that their life expectancies are going to be shorter, but by where they live, the exposures that they have, the way the medical care system treats them simply because of their race," Dr. Harlan Krumholz, an author of the study with Yale School of Medicine, told CBS News.
Krumholz added, "These are preventable deaths and it's just up to us to configure society in a way that's responsive to the needs of this community and can recognize our obligation to eliminate these disparities."
The researchers issued a call to action, saying that the huge mortality rate gap warrants a revisiting of how policymakers approach the work of eliminating health inequality.
"A wealth of prior work, however, points to the contribution of structural racism, unmet social needs, and systemic bias as root causes," the researchers wrote.