25 Moments That Moved Hip Hop Culture Forward
These significant happenings progressed from street corner gospels to one of the most important forces that impact the world.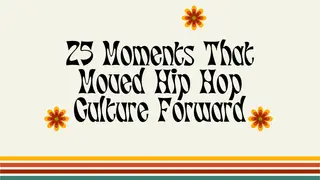 Aug. 11, 1973, marked the beginning of hip hop's journey from block parties and park jams to its current place as the most impactful entity worldwide.
Next year, 2023, marks the culture's golden anniversary, and while this list of important moments is by no means definitive, it highlights the much-needed conversation to honor the past and add to its greatness as time goes by.
Hip hop has genuinely changed the lives of millions, shifting cultural norms and remaking the sounds of tomorrow using the voices of today. And while it all has its place, hip hop artists, characters, and those narratives that respected the foundation have as much a story as any great novel.
The pride for these 25 moments that moved hip hop and the culture forward isn't to be taken for granted.
Run-DMC's "My Adidas" Birthing the Big Brand Co-Sign

Hip hop went from priding itself on thinking big to being about big business when Run-DMC told 50,000-plus fans to champion their favorite three-stripe shoe, Adidas. The moment, which gave the group a potential endorsement deal, not only made for one of the first hip hop classic moments at Madison Square Garden — it also resulted in a then-unprecedented $1 million signing of the Queens' trio to Adidas. 

Without this moment, artists like Jay-Z, 50 Cent, Megan Thee Stallion, and others would be delayed in fine-tuning the art of the big brand co-sign.

LL Cool J's FUBU "Coo" With Gap

Neither Gap's creative team nor execs realized how much LL Cool J is the "future of the funk," regarding rap's then-budding global pop culture dominance. In 1999, the now-recently inducted member of Cleveland's Rock Hall of Fame had been a trendsetter via Puma and Kangol. 

But when he slipped in some free advertising for FUBU — an independently Black-owned brand — in a Gap commercial, he was directly responsible for a 300 percent increase in sales. He proved just how hip hop and Blackness can make everything more extraordinary.

Ed Lover, Fab 5 Freddy & Dr. Dre Debut 'Yo! MTV Raps'

Yes, certain places around the country got their hip hop fix through The Box, but everyone who loved music had MTV. In becoming a then-new generation's voice, MTV answered David Bowie's famous call-out with a show of effort with Yo! MTV Raps. 

The explosion of gangsta rap had made hip hop too loud to ignore, and in 1988, the series was hosted by Fab 5 Freddy, Ed Lover, and Dr. Dre and became must-see-TV for anyone outside the big cities who wanted to be down with the culture.

Chuck D and Kurtis Blow Form Hip-Hip's First Official Union

Hip hop culture has developed into a full-on business 50+ years since it started in the Bronx, but many artists are still getting jerked. Rap is a job, but many players involved aren't reaping the benefits that should come with the title. Things like retirement funds, health insurance, and more aren't in most MCs' riders. 

However, rap icons Chuck D, Kurtis Blow, and KRS-One are working to change that via The Hip-Hop Alliance. It's rap's first official union, founded to ensure that artists, engineers, managers, and producers can get healthcare, a retirement plan, fair commissions, and other fair wages. It's the first of its kind, and this is huge. It's about time because hip hop culture wouldn't exist without the people who created it.

Hot 97 Transitions to Rap

There are people still old enough to remember how chaotic Hot 97 was before it played hip hop. It played a lot of electronica, as house wasn't popular then, and Top 40 hits here and there. The station had no real identity, but eventually, it transitioned to what was known as an urban format. 

It started playing hip hop and R&B with emerging DJ Funkmaster Flex and Yo! MTV Raps hosts Ed Lover and Dr. Dre as early hosts. Later, Hot 97 also brought us radio icons such as Angie Martinez, Wendy Williams, Cipha Sounds, Mister Cee, and more. 

With the slogan "Where Hip-Hop Lives" as its lead, it lived up to that with groundbreaking personalities and moments that solidified Hot 97's reign as one of the most impactful media tools in hip hop history.

Q-Tip Meeting J Dilla in 1994

The day Q-Tip first heard Slum Village is one of those kismet moments that probably shifted the earth's axis. How the story goes, Tip was at Lollapalooza with his group, A Tribe Called Quest, in 1994 when someone handed him Slum Village's demo. After being impressed by the music, he eventually met J Dilla, the beatsmith behind the sonics. 

Q-Tip and J Dilla formed a production collective known as The Ummah, including Tribe's Ali Shaheed Muhammed and sometimes Raphael Saadiq and D'Angelo. Together they led the charge in creating some of hip hop and R&B's most landmark music for the likes of Janet Jackson, Busta Rhymes, Whitney Houston, Keith Murray, Michael Jackson, and more.

2 Live Crew Acquitted in Obscenity Trial

Parental advisory stickers have an altogether separate origin story. But when a Florida judge ruled that a rap album was legally obscene, 2 Live Crew took up the cause for the culture — and won. As Nasty as They Wanna Be, the group's third album of lewd lyricism over Miami bass beats, garnered attention from a federal district judge who ruled it obscene in the spring of 1990. 

Florida record store owners selling 2 Live Crew CDs were subject to arrest, setting off an actual obscenity trial that Luther "Uncle Luke" Campbell and his posse lost. With artistic expression in hip-hop (and all music) at stake, the 11th U.S. Circuit Court of Appeals eventually overturned that decision, paving the way for the likes of Cardi B's "WAP" 30 years later.

The Fresh Prince of Bel-Air Debuts on NBC

Yo! MTV Raps deserves all its flowers for bringing hip hop into suburban spaces in the late '80s. But come September 1990, Will Smith's hip hop hijinks got "flipped, turned upside down" and televised weekly on a Quincy Jones-produced NBC sitcom. Everything from Martin to Living Single to Issa Rae's Rap Sh!t owes an aesthetic debt to The Fresh Prince of Bel-Air. 

Aside from serving as the launching pad that eventually landed Smith an Academy Award three decades later, this fictionalized narrative of manager Benny Medina's hood-to-Hollywood wonder years made mainstream America as comfortable with hip hop as the Fresh Prince's non-threatening radio hits.

808s & Heartbreak Drops, Letting Hip-Hop Go Emo

Covering a 20-year span as a three-part documentary, jeen-yuhs: A Kanye Trilogy still contains no footage of an unsung figure in the narrative of Ye's life: his ex-fiancée Alexis Phifer, the muse behind his forlorn fourth album, 808s & Heartbreak. 

Dealing with the emotional fallout of their six-year, on-and-off relationship come to an end, Kanye West cued up the Auto-Tune to record an album destined to influence Drake's entire career, as well as future trap artists wearing hearts on their sleeve: Juice WRLD, XXXTentacion and a whole genre's worth of emo rappers.

TLC's Biggest Hits Advocated For Safe Sex Practices

"Ain't too proud to beg," "Baby, Baby, Baby," or "Creep," the hits are endless when it comes to the greatest American girl group of all time, TLC. At the height of the AIDs epidemic in the early 1990s, TLC captivated fans by attacking the narrative of oversexualized women, captivating them with lyricism, and challenging women to control the narrative of safe sex. 

Using condoms as props, TLC made safe sex easy to discuss and pioneered cultural responsibility for artists.

OutKast's "The South Has Something To Say" Moment

In 1995, at the height of East and West Coast rap beef, the second annual Source Awards took place at Madison Square Garden in New York. It was also the syndicated night that rap duo, OutKast, introduced a new music giant to the table, Southern rap. 

Accepting the award for Best New Group over a rambunctious New York crowd, André 3000 projected loudly, "The South has something to say," and those empowering six words catapulted Southern rap into mainstream attention, generating success and acclaim outside of the Mason Dixon line.

DJ Kool Herc's First Block Party

An 18-year-old Clive Campbell, better known as DJ Kool Herc, birthed a new sound that would captivate the world. DJing at his sister Cindy Campbell's "Back to School Jam," in the rec room of their apartment complex in the South Bronx. 

DJ Kool Herc spun hard funk records inspired by Jamaican drums and James Brown while focusing on the "get-down" part, in which dancers caught the beat. His innovative style created a cultural shift, making him the father of the world's most popular music genre.

'Wild Style' Becomes Hip Hop's First Blockbuster Film

Wild Style, directed and produced by Charlie Ahearn in 1983, is credited with being the first hip hop film. Celebrating the art of graffiti and its introduction to hip hop culture, the movie featured living legends such as Fab 5 Freddy, The Rock Steady Crew, Queen Lisa Lee of Zulu Nation, and Grandmaster Flash. 

Celebrated as capturing the early essence of the culture and is one of the most influential films of the music genre.

Lawrence Ervin Montague v. State of Maryland Decision

The arrests of Jeffrey "Young Thug" Williams, Sergio "Gunna" Kitchens, and many others in rap are being held accountable in a court of law over the lines in their songs. In late 2019 and 2020, the State of Maryland ruled in favor of the Court of Appeals that rap lyrics in songs related to accused parties "heightened probative value" and are "admissible as substantive evidence" when bearing a close nexus to the details of an alleged crime. 

Having drawn some concern from rap fans and first amendment advocates like Stacey Abrams, this scary moment shows how powerful and polarizing hip hop has become in the country.

Cardi B's Best Rap Album Grammy As A Soloist

Not only did Cardi B win the first Grammy of her remarkable career at the 61st Grammy Awards, but she also made history by becoming the first solo woman artist to win Best Rap Album for her debut Invasion of Privacy. 

That night, the Bronx native who broke the mold with her non-traditional journey to stardom proved there's room for everyone in hip hop culture.

Rocksteady Crew Opening 'Flashdance'

Hip hop was often called a trend during its early days, but when audiences watched the Rock Steady Crew performing moves in Flashdance, it shifted the culture forward. The movie was a worldwide box office smash, becoming the third-highest grossing film of 1983. 

Thanks to everyone being in their bag with the moves, breakdancing would go on to influence the world, now becoming an official Olympic sport.

The New Music Cartel Era of Rap Discovery

Date: Jan. 10, 2008  The media and music games were changing and moving into digitized spaces. Print publications and record labels lost footing to blogs and audio changes like MP3s. 

In 2008, these two worlds would converge with seven of the biggest names in hip hop blogging, like Voltron, to create the New Music Cartel. 2DopeBoyz, OnSmash, Miss Info, DaJaz1, YouHeardThatNew, Xclusives Zone, and the blogfather of them all, NahRight, would become the new gatekeepers of hip hop media and song. 

They would break acts like Kendrick Lamar, Curren$y, Jay Electronica, and more before the mainstream did. In the process, everyone showed how important being culturally vital would help in hip hop going viral.

Chance the Rapper Wins Grammy for Best Rap Album

For Chicago's Chance the Rapper, he was already innovative from the day his school-suspension-inspired mixtape, 10 Day, came out on DatPiff. He would follow critical acclaim with more acknowledgment, eventually making history as the first hip hop artist to win a Grammy for Best Rap Album without selling physical copies of his music. 

Following the independent blueprint of others like E-40, Curren$y, and Tech N9ne, Chano added his flair to it by showing other rappers how to monetize their craft through touring, merchandising, and brand partnerships. Still unsigned to a major label, the kid from the 79th has re-shaped how the business of hip hop remains true to the creator.

The Murders Of 2Pac and The Notorious B.I.G.

Dates: Sept. 13, 1996 | March 9, 1997  

25 years have passed since Tupac Shakur and Christopher Wallace were killed in Las Vegas and Los Angeles, respectively, and marked the end of a violent chapter in hip hop's history. 

The real-life and manufactured issues between these two men and their camps sparked a fracture that reverberated throughout the hip hop community, forever changing all who experienced it. 

Their still unsolved murders keep their legacies full of hope by fans, family, and friends worldwide, and the moment cemented just how important it is to keep the culture (and the people within it) alive.

The End Of 5 Pointz NYC

A graffiti mecca for artists, a staple of the strength of hip hop in its native New York City, and a pillar of the culture — the 5Pointz building in Long Island City, Queens, was a shrine of pure inspiration. With interest from across America and worldwide, famous artists such as TATS CRU, CORTES, Stay High 149, SPE, Dan Plasma, and more included their instantly recognizable tags for all to see. 

The former industrial complex was considered a historic landmark by hip hop, but its demolition on Nov. 19, 2013, marked a tragic night for hip hop and art.

Kendrick Lamar's "Control" Verse

When you have 50 Cent yelling from courtside about how dope your verse is, you know you've managed to make some noise. Kendrick Lamar was already on a tear in the underground scene, so when he made it into superstar status, all eyes were on how he would wrest the crown from perceived rap challengers J. Cole and Drake. 

On "Control," a standout song from Big Sean's Hall of Fame, the Compton lyricist delivered a monumental verse, featuring him sending hotlines at all his peers, including the aforementioned Cole, Drake, and Sean, as well as Pusha T, Mac Miller, and others. 

It separated Lamar from being a chart-focused artist and made his story adaptable as the sound of hip hop continued to evolve.

Megan Thee Stallion's "Protect Black Women" Performance on SNL

During her Saturday Night Live debut in 2020, Megan Thee Stallion kicked off her set with a powerful message, performing her hit song "Savage" before a striking backdrop that displayed the words "Protect Black Women." 

Halfway through the track, the sound of gunshots rang out. The backdrop then switched to images of broken glass before showing text and playing audio from Malcolm X's famous 1962 Los Angeles speech — "The most disrespected…unprotected…neglected person in America is the Black woman…" — and a recording of activist Tamika Mallory condemning Kentucky's Attorney General Daniel Cameron's handling of the Breonna Taylor case. 

Meg punctuated the potent segment with her message, pleading with viewers to protect and love our Black women and stand up for Black men. The unapologetic performance made headlines and underscored the critical need for influential hip hop artists to continue speaking out in defense of Black girls and women on a global stage.

Three 6 Mafia Wins Oscar

When Three 6 Mafia won the original song prize for "It's Hard Out Here for a Pimp" from Craig Brewer and Terrence Howard's Hustle & Flow, Memphis was definitely in the building to put some liveliness into Hollywood's biggest night. 

For the culture that has always been adorned in gold, taking home a golden statuette for rap would set the stage for icons like Questlove to continue that legacy of excellence.

Lauryn Hill's History-Making Grammys Sweep

History was in the making when Lauryn Hill arrived at the 41st Grammy Awards in 1999. The hip hop icon came to the event with 10 nominations on the heels of her debut solo album, The Miseducation of Lauryn Hill, which had sold more than 3 million copies at the time and been crowned the most critically-acclaimed project of 1998. 

And she left as the first woman to receive 5 Grammys and the legend behind the first hip hop recording to win Album of the Year. Cue that unforgettable photo of Hill cradling all five of her gleaming trophies, a beacon of what was to come for future generations of women in hip hop.

Karl Kani, Dapper Dan, Walker Wear, FUBU Created Hip Hop Fashion

Today's streetwear culture is a multi-billion dollar industry where legends have reshaped how people define style. But before Supreme, Palace, and Stüssy, you had architects like Karl Kani, April Walker, Dapper Dan, the Shirt Kings, FUBU, and more making pure magic.

If you think about how many other fashion designers like Telfar Clemens, Virgil Abloh, Kerby Jean-Raymond, Fe Noel have been cut from the hip hop cloth, and you'll realise just how much swag we've put out since 1973.