Crazy In Love: Idris Elba Gushes Like We've Never Seen Before About His New Woman
Is he finally ready to give up his f**kboi ways?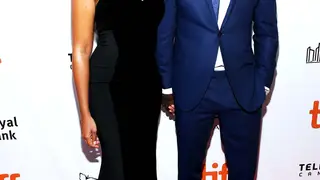 Idris Elba is officially off the market and he's not playing coy with his relationship status this time around.
The A-lister recently had his girlfriend, Sabrina Dhowre, by his side while walking the red carpet and, according to theJasmineBRAND.com, spoke about their new love and even shared how she surprised him for his 45th birthday.
"My girlfriend basically turned a room in the house into a studio... I'm not joking," he said. "For two months, she turned the whole place into a studio. It was really, really special — it touched me."
Usually, high profile celebrities tend to keep their romantic lives private for a while, but the Dark Tower actor explained why he chose to go the opposite route.
"I just think when you're a public persona, it's OK to be who you are," he said. "But I don't think you need to overly flaunt it. But at the same time, when you're happy and you're in love and whatever that is... It's actually a really good, liberating feeling. Like, 'Yo, this is what I'm with' and blah, blah, blah..."
Idris and Sabrina met on the set of his new film The Mountain Between Us and have reportedly been dating for seven months now. That's not a long time, but one thing's for sure: he's claiming this one in a way we haven't seen him do in the past. Elba has been married twice (secretly), linked with famous women from Naomi Campbell to K. Michelle (who wrote a whole song about her unrequited love) and was recently engaged (maybe) to a makeup artist named Naiyana Garth. The couple even had a son, Winston, all while keeping their relationship pretty much under the radar.
So, what's different about this one? Of course, she's beautiful, but so were all of Elba's honeys. Whatever it is, our bae may have gotten Clooney'd this time. Sad face!
Recap their romance with BET Breaks, above.