Interview: Oakland Underground Rap Legend Mystic Gets Candid About New Music, The Death of Digital Underground's Shock G
November 1st marks the beginning of 'Hip Hop History Month,' but when it comes to female emcees it's 'Hip Hop Herstory'.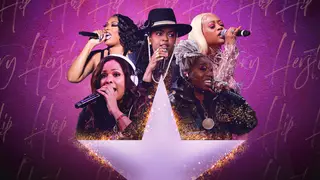 Affectionately known as DU Goddess during her time with Digital Underground, Bay Area-native Mystic became a household name in underground rap circles following the release of her debut album Cuts for Luck and Scars for Freedom featuring popular single "The Life." That doesn't even count some of the high-profile collaborations from artists including Maroon 5, Yasiin Bey, and among others.
Exhausted with music industry politics, she took an extended hiatus to focus on her education. This included a Bachelor's in Interdisciplinary Studies and a Master of Science in Comparative and International Education from the University of Oxford.
Educating children across the Bay Area alongside joining various national and internal social causes, Mystic would return to music as an indie artist with 2014's Beautiful Resistance through her own label Beautifull Soundworks. This fall, she released a new project entitled Dreaming In Cursive: The Girl Who Loved Sparklers, which will be accompanied by a three-part film entitled A Black Love Trilogy. Inspired by the late bell hooks, the project is full of beautiful odes to love and womanhood through standout tracks including "Butter (Green Light)" and "Always Love (Always).
Speaking with BET.com, Mystic explains how she's balanced life as an emcee, educator and activist.
BET.com: Congrats on the recent release of the video for "Butter (Green Light)" from your Dreaming In Cursive: The Girl Who Loved Sparklers released in late August. One of the most interesting interludes on the album is the "Alive and Free" track where you discuss being put in a box as a woman. What's been your journey in fully discovering yourself as a woman and emcee?
Mystic: Life is a journey period, right? It can be tracked through my art, but also just in my private life, you know, as a really a child, a young woman who experienced trauma, I think in many ways that impacted what my journey into womanhood was and has been. But the journey into womanhood is not bound to any particular time, I still continue to grow as a woman. And so, but a huge part of that journey, has been about healing and has been about the kind of empowerment that comes as we learn to love ourselves and embrace the totality of who we are, and that we don't need to fit in one particular box. As a woman, we are multifaceted as our men, as our folks who don't identify in that binary. And so it's been that journey of falling in love with myself over and over and over.
In connection with being an artist and the journey to becoming an artist. My mother raised me as a single parent and she always had me in the arts from the time that I was a small child. Whether it was acting in the theater or I was in ballet, or even as a  gymnast, I really, really fell in love with words. I did not grow up with a television, so it was a lot of book reading in my house. My mom and I would write poems back and forth. And so moving from poet to mc, which is not always a successful journey for everybody we know, right? That also was this journey of coming to understand that my art really should reflect my life and should really be about my experiences not making up stories that don't have anything to do with me. Imagination is key in hip-hop culture. For me, it's always been deeply, deeply personal.
I'm able to explore my trauma, my healing, and how I interact with the world, and also to imagine new ways of being myself as I'm sharing whoever I happen to be at that moment. But I think that there's a continuum about me as a woman and as an artist that is really evident over the course of my albums.
BET.com: With that said, How do you feel about the current state of women in Hip Hop?
Mystic: We have more women at the top of the charts than we have ever had in Hip Hop. So I honor and support that and I love that. I love that you have women in Hip Hop who are really engaging, it seems as both artists and as business women while empowering themselves. I love that and that's a full stop period. In addition, I would love to see more balance, right? We have Rapsody, Sa-Roc and Mumu Fresh who I absolutely love. We have some other artists who are super dope and artists that come from the underground, but on the top echelons and in the commercial sense, we do not have balance in the representation of us as women. I really hope that Dreaming In Cursive and the videos that will be released as part of A Black Love Trilogy will help to add to a different kind of exploration of what it means to be a woman. We are beautiful and diverse and we're different. So shout out to all the women who are out there. I think I tend to be an artist who is more about my sensuality than my sexuality as a woman who's an artist. So I think there's room for that and there's a necessity for that as well.
BET.com: Digital Underground founder Shock G passed last year. Can you recall the moment you found out and your relationship with him up until his passing?
Mystic: Shock was my brother and my mentor and my leader, and he saw the loving light in me when I was still a broken Black young woman. He put me under his wing so to speak and brought me into Digital Underground. We cannot know who I would be in terms of my healing or my success as an artist without him being present. He's just that important of a person. He really encouraged me to claim myself and be whoever I wanna be. I don't need to define myself for the industry. He was incredibly proud of me for stepping back from the music business to go to school.
It was like I had this freedom where I was willing to walk away from my record deal, my booking agent and my lawyers and my everybody to hold onto my love of the art and also to go get some knowledge to serve more children here in East Oakland and around the world. When you have family, sometimes you talk a lot and sometimes you don't talk a lot. But, the love was always there. I hadn't talked to him for probably a year when he passed. I actually found out via text message from somebody else who's in our crew that said, Shock G is dead and I was devastated.
We did not expect Shock to die and become an ancestor when he did - we thought we had more time. But part of the reason too, it was so hard for me is that my father died from a heroin overdose. He always really tried to protect me from any drug use because he knew what I went through and how hard it was for me when my father died.
BET.com: You are also involved with Revolve Impact's #SchoolsNotPrisons initiative at the request of famed writer and activist dream hampton. Can you talk about your relationship with hampton and your decision to join this initiative?
Mystic: The reason that I was brought in for that initiative was because of dream. dream and I have known each other for a long time.  I came out and did Black August stuff in the early 2000s.  I go where I'm called and I've always done that. She knew about my commitment to children and my love for youth and justice. Then Mike De La Rocha from Revolve Impact was a huge fan of mine and my music was part of his university experiences. dream recommended me and I was originally brought to perform and be part of a youth roundtable. I ended up being a co-facilitator for the rest of the youth roundtables and doing a couple more performances.
We're talking about schools, not prisons, for a lot of young people, their schools feel like prisons. When we say schools, not prisons, we're talking about young people who have been in juvenile. It's like, schools can prepare them for prison as part of sitting in those youth round tables. To have young people offer their ideas about how they can be better supported and not have their bodies monitored or not have their hair monitored or what they need their food to look like so that it's healthy is important.
We are in the process to have more juvenile centers closed. So it allowed me to learn a lot. I was also deeply impacted by going into prisons through that. Some of our greatest voices are behind prisons.