Tense Debate Between Abrams, Kemp Shows Continued Political Conflict in Georgia Gubernatorial Election
If the rematch between Stacey Abrams and Gov. Brian Kemp was going to calm down any, this is about as calm as it gets.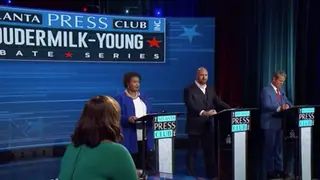 If anything was made clear by the 2018 Georgia gubernatorial debate it was the tense political friction between challenger Stacey Abrams and incumbent Gov. Brian Kemp. Since the result of that election and throughout 2022, that friction has not let up.
Both candidates, in the middle of their rematch for the governor's office, faced off with Libertarian candidate and podcast host Shane Hazel, on Monday night (Oct. 17) to hammer out the issues in their platforms. Those issues ranged broadly from the Chinese Communist Party purchasing land in Georgia to minority business opportunities and gun rights.

In the hour-long debate given by the Atlanta Press Club, the candidates were asked questions by moderators and also asked questions of each other. Race played a major role in exchanges with Abrams who is vying to become the first Black governor of Georgia and the first Black woman governor in U.S. history. Kemp was questioned on voting rights.
Brian Kemp, Abrams said early in the debate has "assiduously denied access to the right to vote…we need a governor who believes in the access to the right to vote and not in voter suppression, which is the hallmark of Brian Kemp's leadership."

In his response, Kemp boasted of creating Georgia's online voter registration system. "So for someone to say that we have been suppressive in our state when we've seen turnout increase over the years including with minorities like African Americans, Latinos and others is simply not true."

RELATED: Stacey Abrams Says She's Confident She's Got the Black Georgia Vote Behind Her

Kemp linked Abrams to movements to defund the police, which he suggested would leave Georgians less safe. He said while he had more than 100 sheriffs endorsing him, Abrams had none. Abrams responded that she has been a longtime supporter of law enforcement, from her time in the state legislature. "Unlike you, I don't have the luxury of slogans to describe my position on public safety," she said after describing her two brothers' experience with the justice system and racial profiling. "I believe that we need safety and justice. Like most Georgians I lead a complicated life where we need access to help, but we also need to know that we are safe from racial violence."

Kemp continued with his criticisms of Abrams. "No sheriffs are endorsing her statewide because of her stances on wanting to defund the police, eliminate cash bail and serving on the boards of organizations like the Marguerite Casey Foundation, that supports and gives grants to organizations that are promoting the defund the police movement." Abrams, however, refuted that, saying that she does have the support of sheriffs, advocates, crime victims, and others.



Kemp's record on racial equity and minority owned businesses was highlighted. In particular, Abrams questioned how Kemp planned to close the gap between purchasing and contracts with Georgia offered to non-minority owned businesses versus minority owned businesses, the closing of that gap  Abrams noted would take a century to do. Kemp did not specifically refer to any particular program he has undertaken to close that gap.
"We have the lowest unemployment rate in the country for African Americans," said Kemp, which is true based on what has been reported by the Economic Policy Institute, but its map also shows many states that did not report Black unemployment figures. "We're also in the top ten of the states for Black entrepreneurship in the state of Georgia…we will continue to work with all of those entrepreneurs in the days ahead and working class Georgians."

For his part, Hazel, who hasn't polled anywhere near as highly as Abrams or Kemp, remained steadfast on the libertarian platform of eliminating income and property tax, ending bureaucracy, and accusing both Democrats and Republicans of living off of both. Hazel hopes, at least, that the Libertarian Party will force a runoff much the same as they did in the 2020 U.S. Senate Race between John Ossoff and David Perdue, where Hazel was also the Libertarian candidate.

Hazel criticized Abrams' record on voting access as superficial. "Although you will push for people to have access to going to the polls and voting," said Hazel, "you're not pushing ballot access. This is a huge oppression for people like the third parties, people who want to get their people on the ballot. We have what, I think 20 percent Democrats, 20 percent Republicans in the state of Georgia? That leaves 60 percent of people in Georgia unrepresented by ballot access laws that both of them support."

An Atlanta Journal-Constitution/Georgia News Collaborative poll released last week showed Kemp with 51 percent support and Abrams with 41 percent. About six percent of those polled were undecided while Hazel had two percent support. However, early voting began on Monday, which favored Abrams so heavily in the 2018 race that she came very close--losing to Kemp 50.2 percent to 48.8 percent or a margin of less than 55,000 votes.