'Thor: Ragnarok' Review: We All Win When This Family Feuds
The third installment of the franchise opens Friday.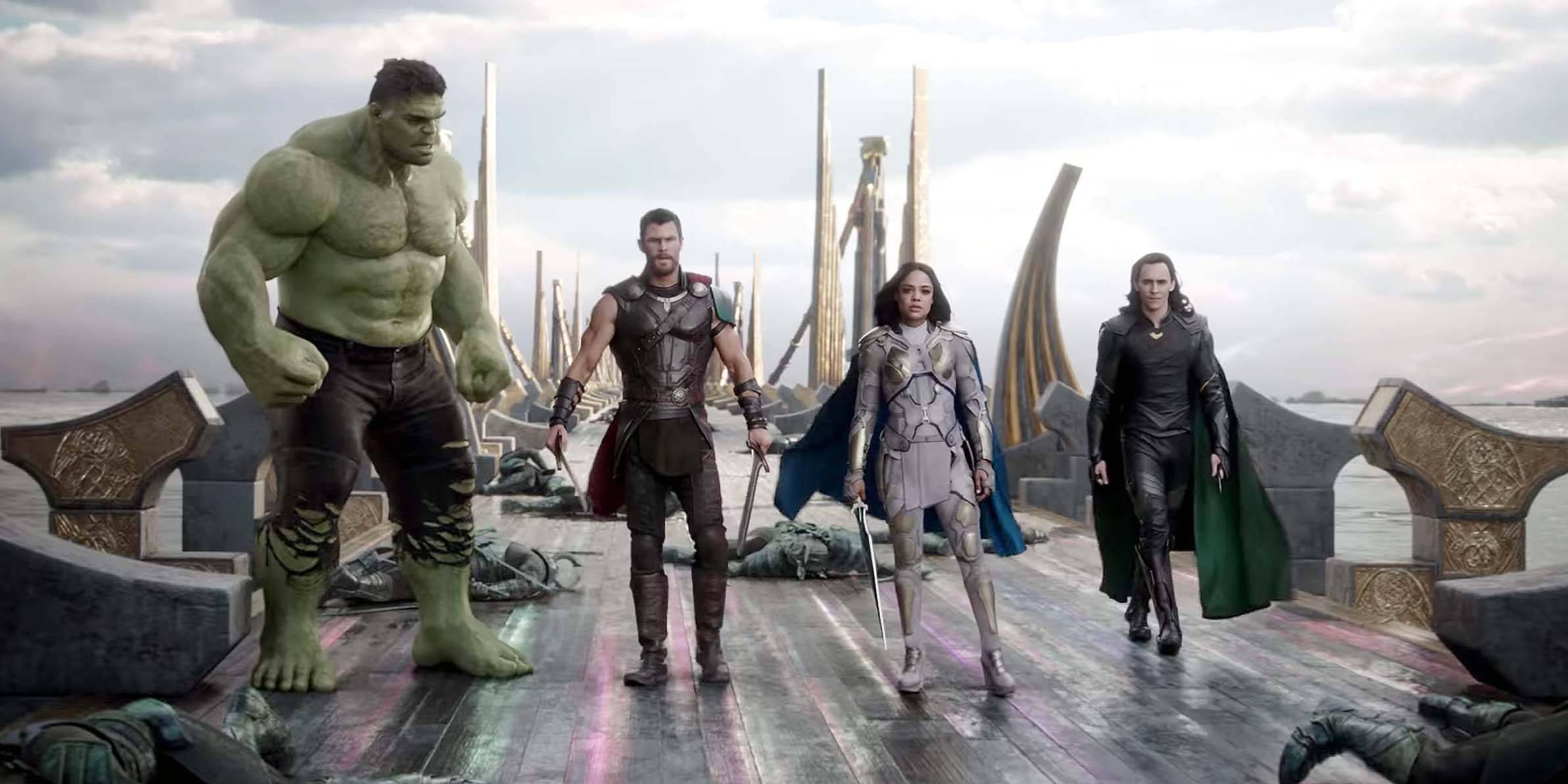 Thor: Ragnarok director Taika Waititi knows about bad comic book movies. The 42-year-old double-threat played Hal Jordan's best friend, Tom Kalmaku, in 2011's emerald enema, Green Lantern. But judging by what he's done with the third installment of the Norse god's on-screen saga, he learned what NOT to do on the set of that disaster.
As a newbie to the Marvel Cinematic Universe, Waititi proves to be an apt pupil, seeming to have studied everything that has worked in prior MCU films like The Avengers and Guardians Of The Galaxy while adding some key tune-ups to this well-oiled machine. Ragnarok feels like its name, swelling with the sounds and textures of an '80s rock opera set among the stars. It's Flash Gordon's and Heavy Metal 's smarter, younger sibling who went to school abroad and learned how to drunk-text in several languages.
From the jump we are treated to Chris Hemsworth's evolution as Thor into a witty and worldly hero who no longer takes himself too seriously. (How can you when you hail from a world called Asgard anyway?) Thor is captured, suspended by chains with his trusty hammer Mjolnir nowhere in sight. His captor is monologuing about the impending end of his world, Raganarok, and how to prevent it. And as soon as Thor hears the magic words, he takes a play out of Natasha Romanoff's spy book and turns the tables. His confident and comedic escape also nods to similar hijinks we've seen pulled by both Iron Man and Star Lord without the conceit of either. 
When Thor returns to Asgard, the same family feud that has plagued him since the first film went into extra innings, except there are new players. After he and his mercurial brother Loki finally track down his father, Odin, in Midgard, they are confronted by their long-lost sister Hela, goddess of death and rightful heir to the throne of Asgard. Hela is formidable on several levels. Not only is she a skilled fighter who will drop a house of flying daggers on your head, but she also literally and figuratively knows where all the bodies are buried in Asgard's bloody and storied history. As the layers of her king's assent to dominance are peeled back, Odin's imperialism is exposed and his people are left to pay the price.
After watching Hela crack Thor's hammer like a stale biscotti, Loki quickly surmises that her name is well deserved and tries to make a quick exit, but their escape back to Asgard is thwarted by their failure to secure an exit buddy. The Bifrost proves less forgiving than Finding Nemo's East Australian Current and the brothers Odin go tumbling onto the battle world of Sakaar, while Hela knocks on the front door of Asgard with brass knuckles.
On Sakaar Thor finds himself at the mercy of Valkyrie, an exiled mercenary drinking away her PTSD, and the Grandmaster, who oversees his Contest Of Champions. Thor finds out that he is to face their grand champion, The Hulk, who has kept Dr. Banner subdued in the sunken place for the past two years while he hands out fresh fades like Greg The Barber. The ensuing battle with Thor is everything fans hoped for and crystallizes an internal quandary that Thor has been having since he lost his hammer the first time: What is the true source of his power?
Thor: Ragnarok renders its predecessors in this trilogy obsolete. The first Thor introduced us to a brooding man-child brimming with entitlement singularly focused on assuming the throne of Asgard. The Dark World was a thematic mess that only served as a bridge to the wildly more popular Avengers. It is in a group setting that Thor was allowed to thrive, emerging as the most reliable combo of magic and muscle where science seemed to have run amok in one way or another in the rest of his teammates. And though he seemed preoccupied at times with "worthiness," Thor played well with others and uses that skill to motivate a reluctant team of "Revengers" to join him in saving Asgard from the impending doom.
Ragnarok excels as Marvel's literal game of thrones, where questions of power and fealty are woven into timeless themes of domination and deceit, but balanced with color, levity and nonstop action. Waititi extracts the best from an amazing cast, rescuing Idris Elba's Heimdall from his status as an overqualified doorman to playing a key role in the liberation of Asgard. Tessa Thompson's Valkyrie is every woman your mama warned you about but couldn't resist anyway, projecting the pain of her past in every glance. Mark Ruffalo's Hulk is refreshingly self-aware despite his grammatically efficient speech, and his chemistry with Hemsworth feels like a buddy movie inside a movie. Waititi even joins the fun as the quixotic rock warrior Korg, who helps Thor to survive his trials on Sakaar.
And while survival is central to the core of this story, Ragnarok subverts the narrative a bit, making us question at times if Thor's people actually deserve to be saved. As we've come to learn with his peers Tony Stark and Steve Rogers, there is a bit of karma to go around in this group of reluctant heroes. Empires and industries are rarely conceived without the seeds of blood and betrayal, and even gods are privy to very human failings. Nevertheless, we all win when this family feuds, and Thor: Ragnarok is in a world of its own.