White House Press Secretary Karine Jean-Pierre Separates From Longtime Partner
She announced the separation in an interview with Vogue saying, 'I'm a single mom.'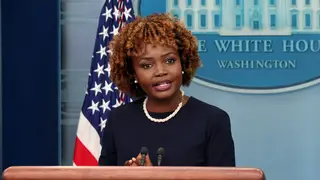 White House press secretary Karine Jean-Pierre has separated from her longtime partner, former CNN anchor Suzanne Malveaux. The couple made no significant announcements, but in a new profile for Vogue Magazine, Jean-Pierre stated, "I'm a single mom who is co-parenting this amazing kid," adding, "Our number-one priority is her privacy and to make sure we create an environment that's nurturing."
According to The Daily Beast, the couple met in 2012 and adopted their daughter shortly after. Their daughter is now nine years old.
The article also noted that Jean-Pierre's quality of directness—blunt, with a touch of compassion—is her currency at the briefing podium.
She noted that she follows the advice of her Haitian mother, "Keep your feet planted on the ground and your spine stiff."
Last year, Jean-Pierre took her mother to a state dinner. "When my mom met President Biden, she cried," Jean-Pierre says. "She cried, and he opened up his arms, and she put her head on his chest."
For her hectic workday at the White House, Jean-Pierre arrives at 7 a.m. and has her first in-person meeting at 8:15 a.m., with Jeff Zients, White House chief of staff, told Vogue, "While she's humble, she's got confidence in views that might sometimes run against where the team is heading," he says. "I always pause because she's probably onto something.