Walmart Celebrates the Next Wave of Black Entrepreneurs and Artists
Find out what inspires these talented "Black & Unlimited" creatives and how their art is being used to enhance these unique Black-owned brands.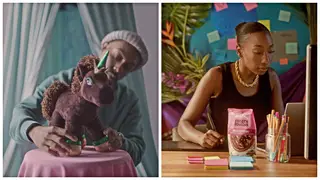 In a market where burgeoning artists and creatives must hustle to get exposure, Black creators remain marginalized and must work that much harder to stake their claim and get eyes and dollars on their work.
Walmart, one of the country's largest retailers, recognizes this challenge. Last month, BET put the spotlight on the inaugural Black & Unlimited Digital Development Program, a collaboration with Issa Rae's HOORAE Media. Now Walmart BHM Next Wave helps provide the next generation of Black creatives with the means to amplify their voices by bringing them together in pairs to create a one-of-a-kind project that will double as advertisement for these brands.
Through the Next Wave project, Black creatives and business owners help each other as well as gain national exposure for their work and businesses via Walmart's media platforms. Next Wave is Walmart's acknowledgement throughout the year to Black creatives that collaboration is essential in removing the barriers that keep talented, deserving artists from reaching their potential. Each piece of art created to support these Black-owned businesses becomes a shoppable advertisement for the brand itself, resulting in conversation and growing interest amongst customers.
"I'm proud that 100 percent of our team comes from a minority or multiethnic background, so my goal is to make sure that as much of that economic benefit as possible stays within the community that we focus on," said artist Ibraheem Basir. "'Black and Unlimited' is a reminder of how diverse Blackness itself is."
Here's a look at two of the many gifted artists chosen to be in this year's Black & Unlimited Digital Development program and the business owners they support.
Adrian Octavius Walker

Adrian Octavius Walker was born in St. Louis but has made Chicago his home. He is a senior art director for Getty Images and freelances in his own time. His work focuses on still photography and sculpture art that captures the nuances of the African American experience. Walker is considered the next wave because he boldly uses his platform to spark discussion about the cultural impact of Black life in America with the hope of examining what brings society together and what tears us apart.

Walker is inspired by April Showers, founder of Afro Unicorn, a lifestyle brand that includes party supplies, accessories, toys, apparel, and more. Showers intentionally uses the imagery of the Black unicorn to inspire women and girls of color to recognize they are unique, divine, magical beings who should love the skin they're in and embrace their natural hair. An established real estate agent and insurance business owner, Showers was inspired to start Afro Unicorn after a conversation with a close friend who referred to her as a "unicorn" for her ability to balance her two business ventures, her children, and a bustling personal life.

"I'm really excited to work with [Showers] because my daughter is a huge fan of unicorns," Walker said, who included his daughter and her best friend in his photos for Black Unicorn. "And the fact that she has unicorns that look like her made this project even more worthwhile."

Lyne Lucien

Brooklyn-based Lyne Lucien is an award-winning artist whose work is inspired by her upbringing in Haiti and the complex details she witnessed among the communities in her home country. She named her business La Lucien and has worked as a photo editor and art director for New York Magazine, The Daily Beast and Architectural Digest. Her tech clients include Google, Facebook, and Instagram, where she currently serves as a creative producer.

Lucien was inspired by Ibraheem Basir, founder of A Dozen Cousins, a natural food brand inspired by traditional Creole, Caribbean, and Latin American recipes. Growing up in Brooklyn, NY, Basir leaned on his fond childhood memories when starting his business and wanted to be paired with an artist who could understand that food is more than an experience for eating. He chose the name "A Dozen Cousins" because, by the time his eldest daughter was born, he had 11 nieces and nephews who were all part of the family that comes together for dining and fellowship.

"It's important for me to be in this space because I get to represent not just people who look like me but are culturally aligned with me," Lyne said. "Even though I don't speak for everyone [who is] Black, I want my voice as someone who is from the Caribbean... to be heard." I think Black & Unlimited is two things: someone who is curious and acts on it, and someone who wants to use their vision to better their communities."