Is A Series About The Beginnings Of Black Panther's Wakanda In The Works?
This is incredible!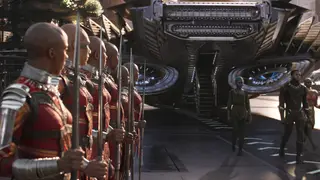 Marvel's Black Panther continues its winning streak at the box office, cleaning up left and right as it rightfully deserves. However, as the masses gradually arrive at the theaters in droves to see the record-breaking film, it lends the question: What if the story of Wakanda was extended beyond one film?
This burning question motivated super fan Eric Hamilton to somehow put this idea into the hands of the powers that be. He ingeniously created a petition to support this sentiment, and he's pushing for Netflix to take charge on the project.
In the description for the petition, Hamilton explained that the film gave Black audience members an opportunity to see a vision of the continent of Africa that is often ignored. He even did his research by showing that based on Marvel's other more recent Netflix shows, there is a pretty likely chance that this could serve as a massive success for the streaming service.
"Telling the back story of Wakanda would be a game changer. How did Wakanda become the most technologically advanced country on Earth?" he asked. "From the technology to the artistry coupled with the rich African traditions, the fans demand more. The Black Panther fan base would love to see a Wakanda series on Netflix. This series would expand the depth of the Marvel universe and we feel Marvel/Disney would enjoy creating and adapting these stories as much as we would love watching them."
Many seem to share Hamilton's sentiment, as the petition has, thus far, raked in more than 2,100 signatures at the moment of typing.
The idea has also become a movement on social media with the hashtag #WakandaSeries gaining steam, already.
Would you be here for this?