Structural, Environmental Racism May Speed Aging In Black People
The researchers show the harmful impact of living in disadvantaged communities in a racist society.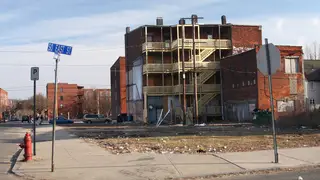 Black Americans age faster than their white counterparts due to structural factors that include environmental racism, according to a new study published Wednesday (July 5) in PLOS ONE.
Living in poverty and enduring racial discrimination contribute to this premature biological aging process known as "weathering" and are linked to chronic illness, such as hypertension, and the early onset of dementia, the researchers found.
Additionally, exposure to PM2.5 air pollution, a dangerous fine particulate in the air, disproportionately harms Black Americans and contributes to the acceleration of aging. A similar finding was observed recently in New York City days after toxic smoke from the Canadian wildfires blanketed the area in June.
According to STAT News, this new study builds on emerging research that links accelerated aging, measured by DNA methylation (DNAm), to low socioeconomic status in terms of income, education and wealth. The researchers are the first to show how an individual's community can contribute to racial disparities in the aging process, even after controlling for individual socioeconomic status.
A lack of longitudinal DNAm data is a major limit of this study, the researchers said. "Availability of DNAm outcomes at only one timepoint precludes analysis of trajectories of biological aging and assessment or causality," they write. The study's authors said the same limitation exists in the field of social epigenetics, the study of how your behaviors and environment can cause changes that affect the way your genes work.
It's also unclear whether researchers would find the same outcomes as this study in different neighborhoods with other racial and ethnic groups, Emily Shantz, a University of Waterloo Ph.D. candidate who studies health geographies, told STAT News.
Researchers based their finds on a retrospective cross-sectional analysis of 2,960 non-Hispanic Americans (82 percent white and 18 percent Black) age 50 or older, drawn from the Health and Retirement Study. They compared the participants' ZIP codes, DNAm data and surveys in the analysis of how neighborhood and environment contributed to aging disparities.