Does the White House Understand the Value of an HBCU Education?
Congressional Black Caucus members say HBCUs need more support.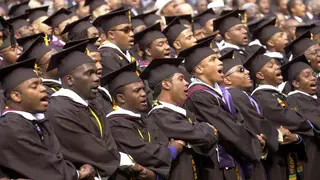 Supporters of the nation's historically Black colleges and universities were roiled this week when plans to temporarily shutter South Carolina State University were revealed. Troubled finances have been an enduring struggle for HBCUs, but despite their challenges, they have for more than a century been a safety net for generations of African-American students who, without them, would not have a shot at higher education.
After their meeting this week with President Obama, several members of the Congressional Black Caucus expressed mixed feelings about whether he and his administration value these vital institutions. Obama, who many noted attended Ivy League schools, was particularly critical of the low graduation and high loan default rates that currently plague many of them.
It's a sensitive topic for Black lawmakers, several of whom attended HBCUs and have up close and personal knowledge of the challenges that African-Americans have experienced over the years in the pursuit of a college degree.
"[The president] expressed the concern that there are some schools out there — HBCUs specifically — that take the money, put kids in debt and then they don't graduate them, which puts them at a big disadvantage in terms of the future with no degree," said Louisiana congressman and Morehouse Man Cedric Richmond. "I think many people only want to look at output. Nobody looks at the input and what they're starting with. They're taking kids who are largely Pell grant recipients, largely first generation [college students], largely kids who come in needing remedial courses, kids who come from pubic school systems that have failed them and then they graduate great students."
Illinois Rep. Danny Davis, who, along with just about every member of his family, graduated from an HBCU, said he believes the president was tough on the graduation and low repayment issues, but also expressed strong support for the institutions and did not "diminish" them in any way.
"I got the impression he was saying they need to shape up their game and make sure their students got the academic as well as other kinds of support they need in order to graduate," Davis said.
More than one lawmaker who spoke to BET.com said that HBCUs have done a remarkable job given their challenges, including inequitable resources and a disproportionately high number of students who depend on loans and grants. The latter was made more difficult in 2011 when the Department of Education made a change to the eligibility requirements for the Parent PLUS loan that has cost HBCUs more than $150 million and impacted hundreds of thousands of Africa-American students. New more favorable regulations for the loan program will be implemented in July.

To be fair, the HBCU discussion was limited in both time and scope, but according to New York Rep. Yvette Clarke and other members, there needs to be a much more extensive conversation that should be ongoing and include HBCU leaders.
"We've been working with them on the Parent PLUS loans and there's a sense that [the administration] doesn't really understand the magnitude of the odds stacked up against them," said Clarke. "So I was concerned about what the president said because it kind of feeds into the narrative about the value of these institutions, whether they're equipped to educate our students and what the cost is for doing so."
Clarke suggested that much of the misconception about HBCUs comes from the fact that many of the institutions are not getting the level of support they both need and deserve from the federal and state governments.
"Over time that wears on their ability to maintain the types of standards or even advance beyond a certain level in order to meet the new rigors and opportunities for employment and for graduation, quite frankly. It's not as simple as he would explain it or any of us would explain it. It really takes a task force on HBCUs to really address this issue," Clarke said.
She also questioned whether the administration has "the same level of appreciation for what these institutions have done and could do in the future given the right support systems."
Rep. Marcia Fudge, a former CBC chair, agrees that funding inequities have been very detrimental, particularly for land grant institutions, which receive significant funding from the U.S. Department of Agriculture. Using her home state as an example, she pointed to Ohio State University and Central State University, an HBCU, and questioned whether the disparity may be by design.
Given the differences in their sizes, they wouldn't receive the same level of funding, Fudge said, but "you still have to look at making sure you've provided the resources they need to succeed," which is not the case with the Black schools.
Fudge, an Ohio State grad, also resents the implication that HBCUs alone are failing Black students, which she suspects is a narrative being pushed by the Education Department.
"It was clear to me that some of the information he has is probably from a narrative he's getting from someone else that's not very accurate. Both he and the secretary have said in the past that there are HBCUs that are failing our children," Fudge said. "That may well be true, but if that is in fact the case they need to shore those [schools] up or they need to close them and not use them against us as we try to fight for resources for other schools."
The notion that the president may not be getting the right advice was a recurring theme. One lawmaker who didn't attend the meeting and spoke to BET.com off the record said that there's an "elitist attitude that is dangerous."
"He doesn't seem to get that the reason why they have such a low graduation rate and a high loan payback rate is because people ain't got no money," the lawmaker said, adding that the Student PLUS loan issue has been painful. "I think the thing that bothers me, too, is that our kids are going to be locked out. If they don't have the Black schools and they're not letting them in the white schools, where are they going to go?"
Fudge credited the president with acknowledging that there are some good HBCUs, but "I would also suggest that there are as many private and for-profit schools who fail our children in a much larger way and nobody talks about them. Why single out HBCUs?"
Georgia Rep. Hank Johnson, a Clark Atlanta University graduate, believes it's "misguided" to compare the graduation rates at HBCUs to majority institutions' rates because of their inherent differences, missions and challenges.
"Out of that misguidance, there's an insensitivity to the unique aspects of educating the population that those schools try to educate. I think we need to have further dialogue on it and we didn't really get a chance to do that because there was no time for back and forth. But that's an issue that we need back and forth on," Johnson said.
Comparing "apples to oranges," Richmond concurred, is unfair.
"I have a different take on it, especially as a public school graduate who went off to Morehouse and succeeded," he said. "I think HBCUs are a nurturing environment and their goal is to take all of those diamonds in the rough and polish them. It's just a different role, scope and mission."
BET Politics - Your source for the latest news, photos and videos illuminating key issues and personalities in African-American political life, plus commentary from some of our liveliest voices. Click here to subscribe to our newsletter. 
(Photo: Erik S. Lesser/Getty Images)