Without Black People, There Would Be No Hip Hop
This month learn how impactful our Black history has been on the world.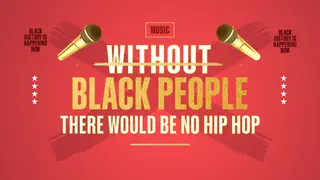 For the past several decades, hip hop culture has become a multi-billion dollar industry that's influenced various worldwide aspects of mainstream pop culture. However, what would the world look like if Clive "Kool Herc" Campbell and his sister Cindy Campbell didn't host the first parties representing the culture in 1973 at 1520 Sedgwick Avenue?
For this year's Black History Month celebration, allow us to share just how much we'd all miss out on without Black people to make history look cool.
Without Grandmaster Flash, There's No Turntablism Culture

Kool Herc and Cindy Campbell's rec-room parties inspired a generation of pioneering turntablists through his ability to extend the instrumental moments of records more commonly known in hip hop's lexicon as "The Break." 

This gave birth to DJs like Grandmaster Flash and his group of MCs The Furious Five, that without their contributions, would not lead to the groundbreaking Sugar Hill Records release "The Message."

Without Rock Steady Crew, There's No Breakdancing Culture

It ain't a party without dancing. Kool Herc called his dancers who attended his rec-room jams "break-boys" and "break-boys" leading to a new dance properly known as break-dancing. 

Without this inclusion as a tenet of hip hop culture, the world would not have experienced the Rock Steady Crew, which included iconic breakdancer Crazy Legs, and be able to witness the then "passing fad" become an Olympic sport in 2024.

Without Run-DMC, There's No Mainstream Rap

The 1980s represented hip hop's shift from underground to mainstream. This included Run-DMC, the first group within hip hop to achieve a Gold-certified album through their Run-D.M.C. debut on Def Jam Records. Without the group's release King of Rock or their history-making Platinum plaque, the culture would not have exploded into homes across America and become the most popular genre in the world.

Without MCs, There's No Major Brand Partnerships

Run-DMC's third album Raising Hell not only featured the groundbreaking Aerosmith collaboration "Walk This Way," but inspired a legacy of corporate branding deals in hip hop through "My Adidas." 

Without the ode to the classic three-stripe shell toe sneaker company, big brands would not have been as motivated to reach into new markets through endorsing hip hop culture. 

Without Black Artists, There's No Graffiti in High Culture

Initially associated with New York's early punk scene, hip hop turned graffiti into legitimate high concept art. From Jean-Michel Basquiat (under the name SAMO) to Skeme and Futura 2000, street art became massively sought after, which without them and others, auctioneers and collectors would be without beautiful Black culture from around the world. 

Without Black Women MCs, Diverse Issues Go Unaddressed

DJ Kool Herc had the creative skills but Cindy Campbell's management smarts created many opportunities that would set hip hop up to be a significant industry. That doesn't mean that women didn't also control the crowd. 

The first rap group to ever get a record deal, Funky 4 + 1, had MC Sha-Rock who is considered the first female emcee. Without her inclusion in the culture, the next generation of women in hip hop from Roxanne Shante and MC Lyte to Ms. Lauryn Hill and Megan Thee Stallion would not be breaking barriers and electrifying audiences everywhere. 

Without Hip Hop Movies, There's No Black Cinema Breakthroughs

Cinema exploring hip hop became all the rage as the culture reached new apexes in the mainstream. The 1983 documentary Style Wars explored what would become the earliest standard for understanding hip hop culture alongside Wild Style, which was released in the same year. 

Those films were followed up with movies that without Black people would not have influenced Hollywood, pop culture, and impacted the box office, such as Straight Outta Compton.

Without N.W.A, Public Enemy & Others, Police Brutality Issues Go Overlooked

Socially conscious hip hop might have started with "The Message." However, acts like Public Enemy, Ice T, and N.W.A became highly political in tackling issues like the War on Drugs, gun violence, and police brutality. 

Without their voices and others like Kendrick Lamar and Rapsody, movements such as Black Lives Matter wouldn't have the soundtrack to speak for oppressed voices around the globe.

Without Black Fashion Brands, There's No Diversity On The Runway

It's one thing to get sneaker and apparel endorsements, it's another to create those brands. Hip hop's entrepreneurial spirit gave rise to classic clothing brands including Dapper Dan, Karl Kani, Cross Colours, Walker Wear, and F.U.B.U. 

And without Black designer to create works of art, artist-fronted fashion brands like Sean John, G-Unit, Off-White and Telfar Clemens would not be around to add some trends and pizazz to pop culture. 

Without Black People, There's No First (Hip Hop) Black President

The 44th President of The United States Barack Obama was known for being the first in U.S. politics to build a bridge between politics and hip hop culture. His effortless cool and collaborations with rap superstars like Jay-Z and Kendrick Lamar endeared him to a younger voter base. 

Without Black people, the efforts of DJ Kool Herc, Cindy Campbell, and other masters of hip hop, America and the world wouldn't witness history and seeing the first Black president.