La La Anthony Explains Why She Went Topless on 'Power'
She wanted to clear things up "once and for all."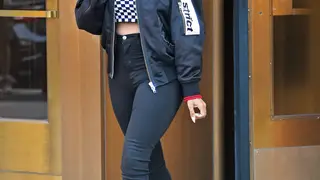 La La Anthony isn't one who usually bites her tongue and on the Breakfast Club this morning, she remained in character.
Right as the interview started, the topic of "La La's ta-ta's" was brought up, of course by Charlamagne Tha God. The pending discussion was about La La's recent topless scene she did on Power. Since a lot of people had been hitting her up about it, she decided to address the episode "once and for all."
"Let me say I was happy I was in Italy when it came on," she said. "I'm glad I wasn't as aware of all the talk that happened. I saw it. Here's the situation, and I'm glad we're talking about this, I want to address this once and for all. First of all, the problem is people don't know how to separate La La from LaKeisha. That's my character on Power, my character on Power is currently in a relationship with Tommy. When you're in a relationship with someone, you have sex with them. You take your top off, you don't have sex fully clothed – 50 [Cent] showed his stuff! At some point, it's gonna come to everybody. I'm no different. I'm an actor."
Yaaasss, girl! The fact that this is a controversy is pretty, um, dumb?
Anyway, the conversation subsequently goes deeper as Anthony expresses her excitement in how much her character has grown. She even admitted she thought her character was going to be killed off, but was delighted when that didn't end up being the case.
Also during the interview, La La Anthony discussed her forthcoming book, her fashion line and other ventures she's working on. And oh, yeah, of course she addressed her relationship with Carmelo. Check out the full interview below.