Love & Hip-Hop's Shanda Denyce Is Being Accused of the Pettiest Crime Ever
Liars and scammers.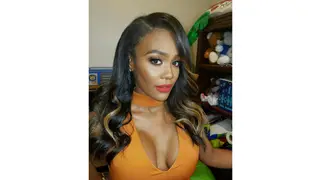 Shanda Denyce from Love & Hip-Hop: Hollywood has been making headlines for being involved in the love triangle between her husband, Willie Taylor, and his side chick. Now, however, the narrative's shifted a bit as she's being talked about for a different reason: stealing.
An aspiring stylist reaching out to The Shade Room and shared a story on how the new reality star allegedly conned him and stole his clothes.
"Shanda Denyce ended up stealing my entire styling collection, all my clothes, purses and shoes," he wrote. "I thought I could trust her to hold on to everything so that on my multiple drives to LA, I wouldn't need to keep carrying clothes back and forth but if I [had] known then what I know now, I wouldn't have left a sock with Shanda Denyce in her home in Santa Clarita."
The stylist said that once he reached out to Shanda for an explanation and to retrieve his items, she flipped the switch and even started ignoring him.
"After I noticed a couple of Shanda's business deals falling through, I hit her up to retrieve them and once her sweet talking b******t was not working on me anymore, she became very condescending and avoiding my texts and calls," he said. "Also pretended to be too busy to meet me when I'm driving from Bay Area to retrieve my belongings."
The stylist said the final time he contacted Shanda, she told him she would mail her clothes back to him, but instead of doing that, she blocked him. 
To make matters worse, he said soon after, he noticed the reality star wearing the items, showing them off on her Instagram page, and even on episodes of the show.
Watch BET Breaks above to see the latest cast member to join in on the drama.