Review: X-Men: Apocalypse: When Will Storm Get the Respect She's Entitled?
Alexandra Shipp takes the torch from Halle Berry in this CGI extravaganza.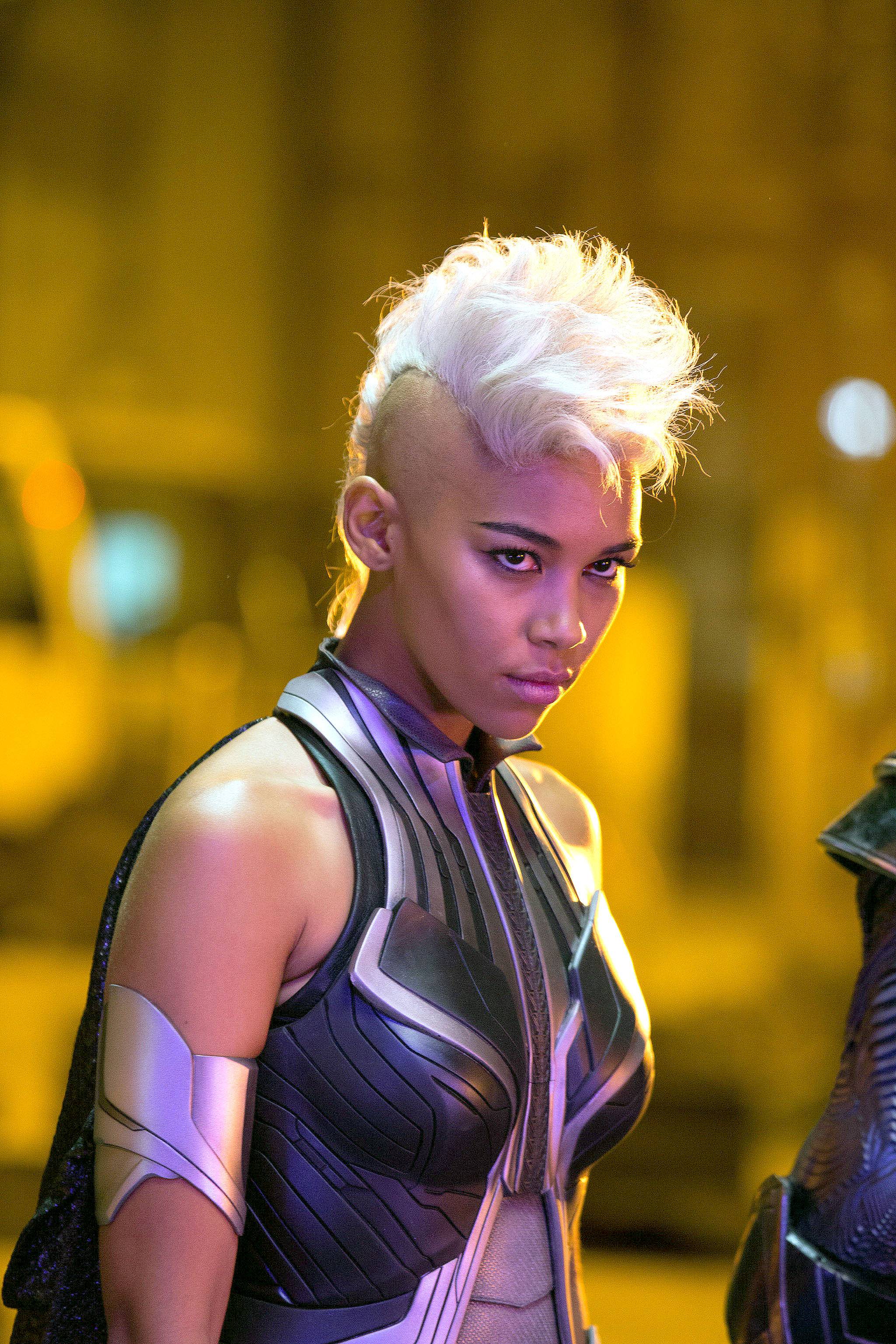 Hollywood is sucking every possible storyline out of comic books.
Not even six months into the year, there have already been more superhero films released than I care to remember. X-Men: Apocalypse, in theaters tomorrow, is the ninth film of the X-Men franchise. Expect the usual: flying objects, operatic score, infestation of CGI, predictable good-versus-evil and Hollywood crossing fingers for a box office hit. Sure, X-Men: Apocalypse is grander than all of the rest, but, to put it in a cliché befitting this film, bigger doesn't always mean better.
X-Men: Apocalypse focuses on a mutant from ancient times who's returned to reclaim a world that humans polluted. His name is Apocalypse and he's unstoppable — with a deep voice and headdress that would make a Las Vegas showgirl jealous. Apocalypse recruits other X-Men characters — Storm, Psylocke, Archangel and Magneto — by increasing their powers. In dramatic skirts, perfectly contoured face and eye color(s) to die for, Apocalypse prepares to destroy the world (I know, a storyline we have seen a billion times over). When the other X-Men, Professor X's crew, gets a dose of his plan, they rally to defeat him. Yeah, same old drill: good superheroes versus bad superheroes. Unlike the original X-Men films, which included backstories that humanized the characters and focused on outsiders who were disenfranchised, these later versions are similar to The Avengers: a common civil war of the superheroes.
X-Men: Apocalypse, directed by Bryan Singer, implodes for two hours and 27 minutes with flying metal and twirling sand that looked more like Twister on steroids. Singer's CGI extravaganza makes you long for the days when sets were built versus endless green screens. Singer goes as big as he's ever gone, but much of the film relies on a soulless villain, Apocalypse. This is a character who might work for comic books, but villains who walk slowly, talk in a deep voice and destroy anything with a raise of the hand or a blink of the eye are a visual mess in theaters. There is no action or heart. Apocalypse is a statue with magic, played by the seriously talented Oscar Isaac, who is clearly under utilized. Next to Doctor Doom in Fantastic Four, Apocalypse is one of the worst superhero villains in recent years.
X-Men includes solid acting from Michel Fassbender (Magneto), Jennifer Lawrence (Mystique) and James McAvoy (Professor X). If there is anything that redeems the film is the familiarity of these characters that roots back to most American's childhoods. Each actor carries the characters' persona and swag quite well, but some are left in the CGI dust, like Storm. 
Question: When will Storm get the respect she's entitled to? The first Black woman comic book character to play a major or supporting role at DC or Marvel is one of the most iconic characters in comic book history. She first appeared in the X-Men comics in 1975 and is central to the storyline of the series. This time around, Storm is portrayed by the beautiful Alexandra Shipp, but similar to Halle Berry's Storm, the character is disappointingly minimal. 
Storm, who controls the weather, was a leader of the X-Men and Professor X's right-hand person in the comics. This 2016 version of Storm is even more irrelevant than Halle's version (rumor has it, after Halle won her Oscar in 2002, she wouldn't sign on for the X-Men sequel unless they made Storm a larger character — they tried). There is no meat to her story and she has no more than 20 lines in the entire two hours and 27 minutes. It's a major disappointment that Storm is once again downgraded to a D-list character. If DC Comics saw the buying power of Black Panther having its own film, Marvel needs to wake up to the impact and following of Ororo "Storm" Monroe.
While not the worst version of the X-Men franchise (I'm still wounded by X-Men: First Class), it certainly proves that the apocalypse might be near for X-Men.
X-Men: Apocalypse is in theaters today.
Watch Hugh Jackman compare an X-Men character to Jay Z in a throwback clip from 106 & Park, above.