Sexting While Black: You Won't Believe Why This Kid Was Unfairly Charged With Child Porn
Levar Allen, 17, is a victim, not a criminal.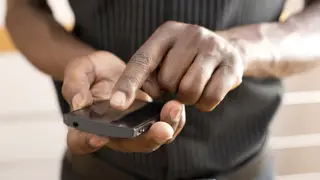 For one young man in Bossier City, Louisiana, exchanging nudes with a fellow classmate started a chain of events that exposed deep-rooted racism and bigotry in his own community. Levar Allen, a 17-year-old student, athlete, and beloved member of his community, exchanged nude texts with a 16-year-old classmate, and is now being charged with contributing to the delinquency of a juvenile and possession of child pornography. It is a shocking sign of institutionalized racism in the community, and has a young man's future hanging in the balance.
The three-sport athlete was flirting with the female classmate through text, and she sent him a nude video, he sent one in return. When the girl's parents found out, they called the police. Allen is being charged even though the young lady is the one who initiated the contact and the two are only a year apart in age.
When asked if race played a role in Allen's arrest, Lt. Bill Davis, a white member of the local law enforcement told KSLA-TV, "I have nothing to say about that. It doesn't matter your race, what your religion, what your ethnicity, don't do child pornography! Plain and simple." Davis said this, despite the fact that in the eyes of the law, a 17-year-old and 16-year-old consensually sending sexual videos to one another is not child pornography. It seems the only rule Allen broke was being a young Black man in the Deep South. 
Louisiana state law does have some precedent in cases like this. It states that anyone under the age of 17 found to be sexting with a person of that age can be charged with a misdemeanor. But it is rarely prosecuted. So while the charges are legally possible, it is absolutely ridiculous that because Allen and the young woman were taking part in a common practice among sexually active teens, he may be facing a criminal record. Allen and his mother have already had to scrape together $4,000 just to try and save him from the ridiculous charges.
As a seeming victim of modern day Jim Crow, Allen is at risk of becoming just another Black man who is locked up on trumped up charges because he was born in the South. He is being made an example of, not just by the female classmate's white parents, but by law enforcement as well. 
It is moments like this that prove how far America still has to go when it comes to race relationships. Hopefully, Allen will be exonerated and be able to continue his life as a normal teenager.