With Relaxed Weed Laws Rolling Through The Country, Are Black Entrepreneurs Finding An Entry Point?
Economic barriers have been a hindrance for Black business people who want to enter the legal cannabis trade, but that could be changing.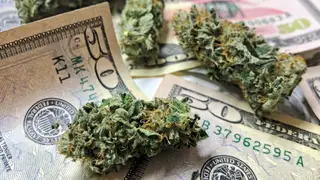 For decades now, "420," a synonym for the date April 20, has been a celebration of marijuana culture in all of its forms. The tradition has grown from the mere consumption of cannabis by weed enthusiasts to the growth of the cannabis industry which has garnered the attention of up-and-coming entrepreneurs.
The Brightfield Group, a prominent cannabis research firm, estimates that legal marijuana sales are projected to be over $31.8 billion in annual sales by the end of 2023. By 2028, experts predict that sales will almost double to $50.7 billion. While the cannabis industry is projected to continue its massive growth,  Black marijuana business owners make up less than two percent of the sector, according to the National Cannabis Roundtable.
Rhavin L. Klein, the founder of Sixty-Four and Hope, a premium cannabis dispensary in South Central Los Angeles is one of the people trying to find that entry point, but it's been a struggle.
"Around 2017, there was an opportunity afforded to a group of us with an organization that wanted to help back us in opening a dispensary," Klein told BET.com. "Personally, growing up in South Central Los Angeles, I have always been affected by the war on drugs when it comes to cannabis. I've had  family members, friends, not me personally who were affected. I also got bused out in the third grade, so I slept in South Central, but I was in Brentwood and Palisades.
"So I was around non Black people that were doing the same sh*t and was doing it freely. Where as you know, people that look like me, couldn't do it that freely," he continued. "So I got to see both sides of the tracks. And it was something really important to give way to when the city supposedly wanted to give back and right the wrongs of those areas that were heavily policed by creating the social equity program."
In 2020, the American Civil Liberties Union conducted a study that highlighted the disparities between Black and white arrests for marijuana possession. According to the study,  between 2001 and 2010 over 8.2 million marijuana arrests were made with 88 percent for simply having marijuana.
That data revealed that "Blacks are 3.73 times more likely than whites to be arrested for marijuana" although each group consumes it equally. Also, $3.6 Billion is spent each year to uphold marijuana laws that perpetuate the antiquated ideals of the "War on Drugs." This reality, along with financial hurdles and racial bias presents almost insurmountable challenges for Black cannabis entrepreneurs to enter the industry.
Just as Black people have historically been arrested and imprisoned for marijuana more than any other group,  now that cannabis is a thieving business, they also deserve greater capital invested in their emerging cannabis startups by local and state governments.
While local state programs and initiatives can invest resources for up and coming entrepreneurs, the red tape of bureaucracy, racial bias, and economic benchmarks were just some of the obstacles that Klein had to overcome.
"The city of Los Angeles dragged their feet," Klein said, describing the red tape it took including having to be attached to real estate, having the capital to secure real estate, being in a certain ZIP code or having a misdemeanor related cannabis charge, and an income under $46,000 in a particular year. "It worked out in my favor, because I got in a really bad car accident. I was bedridden the following year so I happened to qualify.  What if I would if I was working my butt off that year? I would not have been eligible to apply," Klein said.

Battling The 'War On Drugs'
Wanda James has nearly 15 years of experience in the cannabis industry. As one of the founders of Simply Pure in Denver, Colorado, along with her husband Scott Durrah, they are the first Black, veteran marijuana license holders in the country. Their vision is to remove the stigma associated with cannabis and to advocate for Black ownership in the sector.
"[We] got involved in the business to make an impact because of mass incarceration," James told BET.com. "My brother served a 10 year sentence, four years incarcerated. And of those four years, he picked cotton every day, 100 pounds of cotton every day to purchase his freedom for the crime of having four ounces of cannabis on him and this was back in the 90s.  After my brother was released from prison and he told me about this, I was shocked, because I've never known anybody to go to prison for cannabis, because here in Colorado, none of my white friends have ever been arrested."
"We learned about mass incarceration and the issues surrounding the Black and Brown communities, and 800,000 people a year being arrested for simple possession," James continued. "We wanted to get involved so that we could talk about cannabis and make a difference and we did that 14 years ago. That's all we've been doing dnd we've never stopped."
James believes that Black people should enter the cannabis business but entrepreneurs must be well-informed because of certain tax penalties that severely impact the industry. She believes that full-legalization of marijuana on the federal level is critical for Black cannabis business owners to have long-term success.
"It's important for Black people to get into the business but we need to be very careful about it," James explained. "We need to fight for full legalization. Without it, it's almost impossible to get a business started and to be profitable because you are taxed in the same way that Al Capone was taxed. Basically, the federal government removes all of your profits from your business in the same way that they did with Al Capone. So if we can't get you for murder, we'll get you for tax evasion. That's what the 280 E tax penalty is all about. Everybody in cannabis is under the guise of the 280 E tax penalty, so it makes it very difficult to make money."
One state that is seeking to address the racial disparities in the cannabis industry is New Jersey. The New Jersey Economic and Development Authority( NJEDA) announced the establishment of a Cannabis Equity Grant Program,  which launched the application for its Phase 1 Joint Ventures Grants on 4/20.  
Phase I of the program will allocate $6 million in funding to 24 "entities that have a conditional or annual license, have obtained site control over their real estate, and have municipal approval." These grants of $250,000 each are the largest of their kind in the nation. The Cannabis Equity Grant Program is focused on supporting businesses and communities that were disproportionately impacted by the "War on Drugs."
Tai Cooper, NJEDA's Chief Community Development Officer said that the initiative will offer opportunities in the cannabis sector to those who were previously denied access.
"In December 2020 through the passage of the CREAMM Act (Cannabis Regulatory, Enforcement Assistance, and Marketplace Modernization Act), my home state of New Jersey legalized the distribution, sale, and adult recreational use of marijuana," Cooper told BET.com.
"Following the passage of the CREAMM Act, New Jersey's recreational cannabis sales reached an impressive $116.5 million during the third quarter of 2022 alone, while the number of cannabis-related arrests dropped from 30,000 to 244. This is amazing progress, but despite these successes, we now face a new challenge.
"We're witnessing people across the country going from being locked up to being locked out of this lucrative industry. This situation inspired me to work with my colleagues at the NJEDA to do something. This is the reason why we created the Cannabis Equity Grant Program offering the largest social equity grants in the nation."
"As a native of Newark, New Jersey, I've seen firsthand what the unfair War on Drugs took from communities and families, especially Black and Brown families," Cooper continued. "Cannabis entrepreneurship offers an opportunity to return wealth to the communities that were harmed by the 'War on Drugs.' It also presents an opportunity for these communities and individuals to build wealth. Gov. Phil Murphy, for whom I work, is committed to building a stronger and fairer New Jersey and we can't do that if we don't correct past wrongs."
Editor's Note: This story has been updated.