Jodie Turner-Smith Files For Divorce From Husband Joshua Jackson
They got married in 2019 and share a three-old daughter.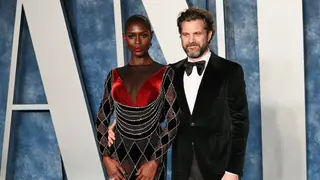 Jodie Turner-Smith and Joshua Jackson are ending their marriage.
On Monday (October 2), news broke that Jodie had filed for divorce from Jackson at the Los Angeles Superior Court after three years of marriage. They are parents to a 3-year-old daughter that she is seeking shared custody with, as reported by PEOPLE.
According to TMZ, their separation date is September 13, and Jodie cited "irreconcilable differences" as the reason for the dissolution of her relationship with Joshua. They do not have a prenuptial agreement, and Jodie requests no spousal support for her or Joshua.
After meeting in 2018 at Usher's 37th birthday bash in New York City, the former love birds had a whirlwind romance. Three years later, she opened up on Late Night with Seth Meyers about their relationship. "When I first met my husband, we had a one-night stand… we're in a two, three-year one-night stand now."
In August 2019, the duo was rumored to be married when they appeared to be picking up a marriage license in Los Angeles. That month, they also went Instagram Official, then walked the red carpet together for the premiere of Jodie's starring role in Queen & Slim.
In December 2019, PEOPLE confirmed they exchanged vows.
"We were in Nicaragua. It was very beautiful, incredibly romantic. We were walking down the beach, and she asked me to marry her."
"There was like a preamble. There was a lead-up to it. I did not know [about it beforehand], but she was quite adamant, and she was right. This is the best choice I ever made."
In April 2020, they had their first child, Janie. That month, Jodie also talked about her relationship with Joshua and the qualities she admires about him.
"I think it's really beautiful to be with someone who is so supportive and so loving. We're so similar in so many ways. We're like mirrors for each other. And I just really love that human being," she told PEOPLE.
TMZ reports the couple unfollowed each other in September 2022, but they walked the Oscar's Vanity Fair after party red carpet together.