Oberlin College Cancels Classes After Series of Campus Hate Crimes
Oberlin College cancelled classes and rallied for understanding after a KKK sighting near the school's Afrikan Heritage House.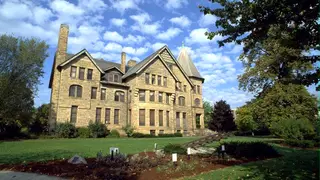 Students and faculty of Oberlin College are trying to find peace and understanding after a series of 15 reported hate crimes plagued the campus these last four weeks. 
Administrators suspended classes on Monday and rallied following a KKK sighting near the school's Afrikan Heritage House. There has previously been disturbing reports of fliers placed around campus containing racist, anti-Semitic and homophobic language and swastika graffiti.
Oberlin College security and Oberlin Police Department are investigating the crimes. 
"Since the beginning, there's been anger, frustration, sadness and fear, but we've been working toward a concentrated effort toward change," said Eliza Diop, 20, a politics and Africana Studies major who serves on the college student senate and is a resident of the Afrikan Heritage House, which offers programs focused on the African diaspora, according to the college's website.
Oberlin College is a small liberal arts college in Oberlin, Ohio, with almost 3,000 students. An emergency meeting among the college's officials was immediately called after the report.

In lieu of classes, college administrators asked students, faculty and staff to "gather for a series of discussions of the challenging issues that have faced our community in recent weeks," a statement on Oberlin's website said.

"We hope today will allow the entire community — students, faculty, and staff — to make a strong statement about the values that we cherish here at Oberlin: inclusion, respect for others, and a strong and abiding faith in the worth of every individual," the statement said.

Read the full story here. 
BET National News - Keep up to date with breaking news stories from around the nation, including headlines from the hip hop and entertainment world. Click here to subscribe to our newsletter. 
(Photo: Courtesy of Oberlin College)