Report: John Legend And Chrissy Teigen's Marriage Is On The Rocks
The couple have apparently been "fighting non-stop" for months.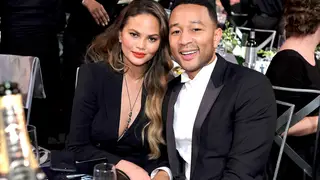 When you see John Legend and Chrissy Teigen on social media, they look like the perfect couple. Traveling the country, constant selfies, bonding over their disdain for Trump and even booty shots — but all may not be well for one of America's favorite couples.
According to In Touch Weekly, John and Chrissy are having "real marriage problems." (Ummm, what marriage doesn't?) A "close source" said, "They have been in marriage counseling for the last six months." Reportedly, Chrissy has been dealing with excessive drinking and postpartum depression. The insider claimed they are fighting "non stop," but "they're trying very hard to make their marriage work."
Legend, 38, and Teigen, 31, married, after four years of dating, on September 14, 2013 — that's right, today is their wedding anniversary. Their daughter, Luna Simone Stephens, was born on April 14, 2016. If these reports are true, we hope the couple can work through their issues. We love their love!
For more John Legend, watch the BET Breaks video above.