Interview: Open Mike Eagle Discusses Working With Diamond D On New Album and Remembers MF Doom
The emcee recently released his newest ode to hip-hop, 'Component System With The Auto Reverse'.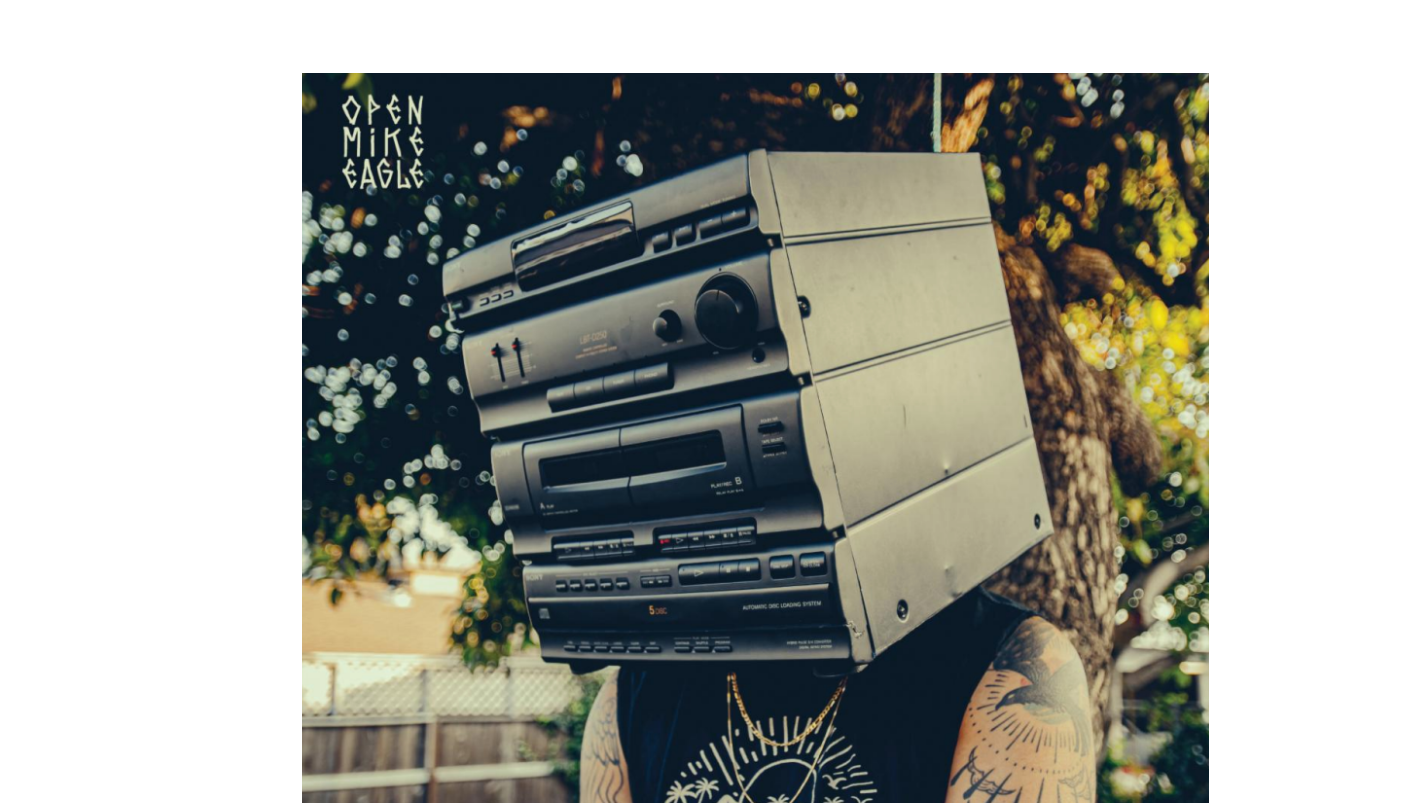 Los Angeles-based emcee Open Mike Eagle has spent the past decade displaying his lyrical ability to deliver rhymes that provide intricate wordplay, biting social commentary, and hilarious random Gen-X references at a moment's notice. Those elements have delivered some culturally loved projects from his 2010 breakout Unapologetic Art Rap project to the more recent Anime, Trauma and Divorce in 2020. By the time 2019 rolled around, the Chicago native even transitioned over to the television world through the Comedy Central musical comedy series The New Negroes With Baron Vaughn And Open Mike Eagle.
For his most recent album Component System With The Auto Reverse, Open Mike Eagle looks into the past when he first fell in love with hip-hop. The art direction making homages to Neo-Geo and once popular electronics retailer Circuit City alongside sample-rich production with the right amount of nostalgic low-end adds an incredible atmosphere to his lyrics. Released in early October, the project features collaborations with current Hip Hop greats like Quelle Chris, Madlib and Diamond D.
Speaking with BET.com, Open Mike Eagle talks about drawing inspiration for Component System With The Auto Reverse and some of the lessons he learned from the television world following his work on The New Negroes.
BET.com: Component System With The Auto Reverse is just so bar-filled. How do you constantly break creative thresholds as an emcee?
Open Mike Eagle: I can say this is the first time I think I was ever really trying to. I think in a lot of ways that my craft has just been developing kind of naturally over the years. But this time, I was definitely looking to do something a little different with craft than I've done previously. I'm not reinventing the wheel but I do think that it's like playing on expectations of what people expect me to do and going against that.
BET.com: There's a throw-back vibe to the album that's also reflected in the art direction from the cover to the music videos. Where did you draw from when putting that together?
Open Mike Eagle: Cause it's really all about 96, 97, and 95. The era when I really fell in love with Hip Hop and just in my own life, it's been kind of a healthy thing for me to do. Go back and really sit in a lot of that media and experience a lot of it. See how it makes me feel physically and psychologically. I feel like there's just so much from that era that's not accessible today. There's so much that just lives in our memories or lives on media, but people don't know about it.
Once I kind of started dipping really back into that stuff and seeing just how cool it looks,  it looks like it's in the middle of eras of digital fidelity like VHS. Everything on TV used to be that and now it looks crazy. I just think that there's a lot aesthetically that I can borrow visually and sonically to underscore some of the themes on the project. So it's just been a lot of fun to do that.
BET.com: What was your initial vision for how this album would sound through the collection of producers from Madlib on "Circuit City" or Diamond D for "I'll Fight You."
Open Mike Eagle: Working with Diamond D kind of brought it all full circle for me. I had an idea of what I wanted the album to sound like cause I based it on tapes I used to make in high school. These were different sources of songs that would appeal to me through underground radio. I didn't want to go straight old school where it sounds played out but I wanted certain elements of beats that appealed to me when I fell in love with Hip Hop.
BET.com: The "For Doom" track is a beautiful tribute to MF Doom. Can you recall the process of writing that track?
Open Mike Eagle: I took a nap on New Year's Eve day so I could be up for midnight cause I'm getting old and I fall asleep fast. I don't like taking naps because I wake up feeling disorientated. I woke and I'm getting people saying, you know, Sorry, they heard about MF Doom and sorry about MF Doom. I'm like what is going on? And that's when I got the news that he had actually passed a couple of months ago and they were just relaying the news that day. It really kind of put me in this weird head space for like two or three days. Cause you know, grieving is already one thing, but I just found it really difficult to explain to people the impact his work, his life and his legacy had on me as an artist.
It's just like, no matter how many times I tell people like there was no way to really communicate it. Then it hit me like three days after the news that I needed to write a rap about this. That was the perfect way to put all of my feelings about it into something that people could touch, feel, hear and understand. S I just sat and started writing and I recorded it. I did that to really kind of help process the feeling of loss that I had.
BET.com: It's been a while since you made your television series debut alongside Baron Vaughn for The New Negroes. What were some of the biggest takeaways from that experience?
Open Mike Eagle: It's just so different than making music, especially different to making independent music because cause my whole career I never had to answer to nobody. It's been times I wanted people to answer to. Like, I wanted feedback, but couldn't get it from anywhere. When working in tv, you gotta collaborate on so many levels. You gotta collaborate to do the creative parts. You gotta collaborate with the network execs, you know, make sure they don't blow up everything you're doing. You gotta fight with the network sometimes. There are just so many different levels of collaboration. It actually was quite draining for me to do cause I just wasn't used to operating that way. It definitely gave me a crash course on how it goes on and which parts of myself I need to bring into that if I wanna be successful.
I got a giant project man and it's right around the corner in terms of being able to be announced. I could just say that like I'm really partnered with one of the most creative producers and production companies in TV and film right now. I couldn't be more excited to be working with them. I feel like this thing we are about to announce, man. In like a month or something, I'll be able to say something, but right now I gotta keep it hush.
Open Mike Eagle: Uh, Not like that. I toured with Lizzo for the first time in like 2016 or something like that. Even then, we were doing three to five hundred capacity rooms but she already had the wardrobe changes, the background dances, the wind machine and all of that. She was preparing. Every time I would work with her or be at an event with her, I would see the level up every time. But I had no idea it would be like international megastar status. It's funny because that's the other thing about TV. We had everything shot, filmed and edited in 2018 and then everything started coming out in 2019. I swear like the show came out in April and then like June of that year she blew up. You know what I'm saying? Like, blew up big.
Listen to Component System With The Auto Reverse here.