DJ Premier On Timelessness, Hip Hop's Golden Anniversary, and the 2024 Paris Games
The iconic producer's work with Mass Appeal and Nas is just the first of several projects meant to celebrate this thing we love called hip hop.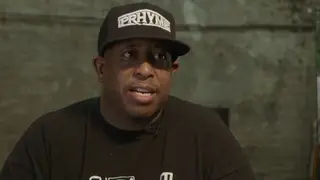 You'd be hard-pressed to find anyone saying that DJ Premier should not be on a hip hop producer's Mount Rushmore. Preemo's contributions to the culture belie a signature touch with a sound and style wholly his own, which has fueled projects by The Notorious B.I.G., Nas, Jay-Z, D'Angelo, and countless others.

As one-half of the legendary duo Gang Starr, Preemo is an ever-constant presence within the culture, and who better than him to represent the ever-growing presence of rap than him? Over the years, he has weathered the storm of controversies, style changes, and industry politics to remain a fixture and bridge that harkens back to 1520 Sedgewick Avenue.
RELATED: DJ Premier Talks New Gang Starr Album, Guru, Five Percenters And More

There's no better example of that than his new EP, Hip Hop 50: Vol. 1, which dropped last month as part of Mass Appeal's anniversary series. With that sound birthed out of the South Bronx now considered a global phenomenon, Preemo reconnects with Nas for their first song in nearly 15 years while crafting impactful beats for contemporary favorites like Joey Badass, Rapsody, the inimitable Slick Rick, and more.

And so, ahead of hip hop's golden anniversary, the prolific beatmaker sat down with BET.com on a phone call to talk about his latest project, the upcoming 2024 Olympic Games in Paris, and how he plans to celebrate the culture's golden anniversary.
---
BET.com: Now that Hip Hop 50: Volume 1 is out and kicking off the anniversary celebration, how have you felt about the feedback and reactions to the project?

DJ Premier: The reactions have been amazing from the start. I strive to always put integrity into everything I do because I'm an integrity-based producer and DJ. I don't get worried about being criticized incorrectly because that goes with the territory. Method Man famously said, "F**k a rap critic; he only talks it while I live it," and that's my mentality. I don't go looking for feedback. It gets sent to me.

I'll read it here and there or when they send me a text, but I don't let that get to me because they [the listeners] get it. When I got my first 30 or 40 comments, I remember that they were just so accurate about the direction of Hip Hop 50: Volume 1 project. Even the variety of the artists chosen let me know I was on the right track, despite being confident with them personally. Mass Appeal and the whole #HipHop50 campaign is them doing what they need to do to celebrate next year's birthday on Aug. 11.

It's just dope that they're doing this — a salute to the culture — but at the same time, donating some of the earnings to the building of the Hip Hop Museum in New York is impressive. I am a 56-year-old hip hop junkie who still gets the same type of love that a 20-year-old would get, making me happy.
BET.com: You're considered a scientist when putting these records together. How would you sum up your time in hip hop in one word, and what does that word mean to you?

DJ Premier: I'd say "integrity-ized," which is "integrity" with the "ized" on the end. That's a new word that we're adding to the hip hop dictionary [laughs]. For me, it symbolizes being true to the art form. No matter who or what I am doing, the integrity of whatever is important. I don't have to be "boom bap," I could do a trap record if I want to. But I choose not to because that lane is being used very heavily, and I don't want to be in the same lane as everybody else.

I was one of the first [producers] to start using jazz samples in hip hop. When it grew with other producers using it, it became a wave for a minute. I'd later discover that hip hop's great producers were using some classic breaks by jazz greats. I loved what Showbiz, Diamond D, Q-Tip, Lord Finesse, Large Professor, Pete Rock, and others have done with jazz sampling. They all took it to a whole other level, where now, we were all trying to have healthy competition with each other because, as friends, we would show off what we were working on.

BET.com: 1520 Sedgwick Avenue is already considered a historic landmark in hip hop. But with the 50th birthday coming up, what would you say are some other landmarks hip hop heads should consider a pilgrimage to?

DJ Premier: DJ Screw's record shop and J Dilla's house are two places people should go to. In New York, touring streets named after Phife Dawg, Big Pun, Scott La Rock, Big L, Black Rob, Biz Markie, and the Force MDs are a must. I just did a Twitch with the remaining members of the Force MDs, formally known as the Force MCs, as they are soon to receive a street named after them in Staten Island.

All those streets should be visited because they all contributed to the culture in a major way. Pun was the first platinum Latino rap artist. We already know what Phife did as part of A Tribe Called Quest. Scott La Rock, Boogie Down Productions and KRS-One, and Biz Markie with the Juice Crew have been legends since the beginning.

Despite not being as big of a platinum artist, Black Rob deserved his own street. He had major hits, and I am glad that these artists — and more — are being recognized. Heads should want to pull up to each location and post up to learn how great these talents were and still are. I will do that soon with a whole film documenting each stop, just to pay homage.

I used to live down the block from 1520 Sedgwick and Cedar Park, as I had moved to the Bronx for a year and a half. Guru, HR Rock, and I all lived in a studio apartment together. There, I met half of the Group Home members and the NYGz. They all lived on 183rd Street in the West Bronx. If you lived in that neighborhood, you know it's not called that. You call it the 3rd. Anybody that doesn't call it that is lying if they said they lived there.

That's how I met Damon [Dame] Dash. He worked with Original Flavor with Ski, Sauve Lover, and Tone Hooker. Jay-Z used to be around because that was while they were working before Reasonable Doubt. Dame would be around there a lot, and I knew Jay from Jaz-O when I lived in Brooklyn, so we knew each other way, way back. The address, 1520 Sedgewick Avenue, is such an important part of hip hop, and I'm blessed to have been around there for so many memories.
BET.com: Breaking is now an Olympic sport, with the 2024 Paris Games being another great moment in hip hop history. What does it mean to you that one of the next big celebrations of the culture — after it turns 50 — is in the Olympics?

DJ Premier: I think it is dope that breakdancing is an Olympic sport because the artform is very athletic and takes a unique skill to pull off those amazing moves. It's extremely far from easy.

BET.com: For Hip Hop 50: Volume 1, the fans are supposed to choose who will produce the tenth and final installment in the series. Are there any updates on finding someone?

DJ Premier: I'm excited to see who they're going to choose, but I don't know if they've done it yet. I hear that Swizz [Beatz] is supposed to do Volume 2, which I'm looking forward to hearing. He will always do what he's going to do, and I'm excited to hear where they go with this since I set the tone.

BET.com: What do you think the fans are listening for when it comes to who they want as the album's tenth producer?

DJ Premier: It's hard to say because I don't know. There are so many producers that aren't on the [Mass Appeal] original list of the nine that are already there. It could go any type of way. We could get someone from the South to the Midwest to anywhere, you know? Who knows? I'm curious to see who it turns out to be. I will call and ask them, 'What's the deal with how the final producer is being picked?' I'm glad I could pick who I did and narrow it down to a solid five-song EP.
BET.com: Your craftsmanship on the boards speaks to your genius music sequencing. With that in mind, will any Preemo-led TV or film projects feature you as a music supervisor or composer?

DJ Premier: There's nothing in the works at this moment. I did the scoring work for The Last OG with Tracy Morgan. I did the second season. Also, I was behind The Breaks on VH1 with Dan Charnas. It was a dope mini-series, and he did an incredible job putting that together. I do a lot of scoring for ESPN, and Gang Starr was recently featured in the NBA Finals, which was a lot of fun.

I got to take footage and make the overdubs and post-interview talks work into a beat. For TV, it is a different [beast altogether]. As soon as we got everything, they were like, 'You got to have it ready by tomorrow,' meaning they wanted it yesterday. TV is all "move, move" and is different than when I can take a few weeks to produce a song. It was dope for them to include us and show love to Guru. I love scoring, man, and [working on] TV [and] films are something I want to do more of.

BET.com: As an architect of the sound, what are you looking forward to celebrating during hip hop's 50th birthday outside of your achievements?

DJ Premier: I'm looking forward to putting more greatness into the world. That's always my focus. [Being in hip hop] is what I dreamed of as a youngster, and I've been blessed to be given this opportunity. To continue doing it and not f**k it up is great because I used to think back in my 40s that I'd move on to other things. Here I am in my 50s, and I still love it. I love turning on a drum machine, playing instruments, and sampling in an artistic format.

I love every aspect of being a producer and a DJ, so I'm not going anywhere.
---
Kevin L. Clark is a screenwriter and digital media specialist, who works at the intersection of music, film, Black pop culture, and social justice. Follow him on @IAmKevitoClark.