Father Stretch My Hands: 'Black Panther' & Raising Our Sons To Shine
Messages of manhood make it more than a movie.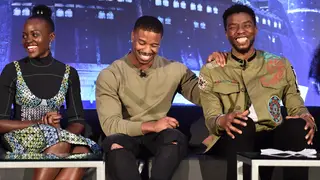 Baba, an endearment for father, is the first word we hear spoken in Marvel's Black Panther, and for good reason. Our on-screen relationship with Wakanda's Prince T'Challa began in Captain America: Civil War, where we bear witness to the intimate relationship between him and his father, King T'Chaka. 
The pure respect and adoration exhibited between the African royals was only matched by the pain and anger of their subsequent forced separation. Just as we were shown--for the first time in the MCU and the first time in forever in a theatrical release--the loving relationship between a Black man and his son, it ended just quickly. T'Chaka's murder fuels Black Panther's pursuit of his killer and supersedes any motivation we'd seen in a Marvel film thus far. He wasn't fighting for a city, a woman or even the precious metal vibranium. He was fighting to get justice for his father.
T'Challa: In my culture death is not the end. It's more of a stepping off point. You reach out with both hands and Bast and Skhmet, they lead you into the green veldt where you can run forever.
Black Widow: That sounds very peaceful.
T'Challa: My father thought so. I am not my father.
If we're being honest, daddy issues are nothing new in the MCU. Iron Man, Thor, Star Lord and Gamora have well-documented and complicated relationships with their fathers. But T'Challa's relationship with T'Chaka is the first we've seen that was not adversarial, and was easily the most intimate.  
In 2012 Chadwick Boseman, who stars as T'Challa, was filming the Jackie Robinson biopic 42 and his father, Leroy, was on set. During the repeated filming of one scene where Chadwick had to jump over another player, the elder Boseman suggested that his son should stop because he might get hurt, and director Bryan Helgeland actually stopped filming. It's the type of interference that would be twisted in a tabloid headline to paint him as overprotective or meddling. Boseman was 35, a grown man. But it didn't stop his father from showing genuine concern, and the director respected that. Boseman's father was again on set for the filming of Black Panther, but Chadwick jokes that he wasn't there for anything dangerous. 
"We laughed about that too," Boseman tells BET.com. "He definitely came to set. It's an experience where if you have your mom and dad with you, you want them to experience this thing. It's something that connects you to who you are. This is a family experience. It's a family movie."
Boseman drew upon his relationship with his father to inform the emotional growth that T'Challa must undergo on his path to the throne.
"T'Challa looks up to his father almost to the point of deifying him. At the same time I think T'Chaka looks up to him," says Boseman. "The ancestors look up to us because they know that we have the opportunity to go further even than they did in terms of their advancement. And I think that's essentially the principle of Wakanda's evolution. It's why they are who they are. And I have to draw upon that in this movie. There is real life when you find out that your father is not perfect, that he makes mistakes. And that helps you to reckon with where you are and the type of growth you can reach in your development. So I feel like T'Challa is coming into his own in this movie and trying to figure out what type of ruler he is supposed to be. He has to use his father's successes and his failures and come to terms with the fact that he can challenge even the greatest of his ancestors."
While Kendrick Lamar may be the purveyor of the Black Panther soundtrack, Jay-Z's song "Legacy," from 4:44, is an ideal companion piece for the journey of T'Challa. We might start a society within a society. Wakanda is facing the challenge of defending its legacy of technological advancement against the encroachment of the outside world. And the birthright is not just generational wealth in the form of land and precious minerals, it is literally the blood that flows through their veins. This is the legacy the King has gone through pains to preserve.
"T'Chaka groomed his son and gave him the wisdom and the knowledge that he had so that he'd be able to bear the world that he lived in," says Forest Whitaker, who plays T'Challa's elder Zuri. "And to be able to excel, exceed and have a purpose. That's what he offered him. And even in the film you hear him say I would have failed if I didn't do that for you."
It's impossible to watch this film and not think about how the legacy of slavery and poverty that has impacted the Black family on both a macro and micro level. While the film is based in fiction, it manages to discuss how even a nation as rich in resources as Wakanda copes with the loss of life that war has wrought. And how those in the diaspora without those same resources have faired in comparison. 
"We see what manifests without the presence of a strong father in a child's life, particularly, especially in a boy's life. It can't be underestimated," says Angela Bassett, who plays T'Challa's mother, Queen Ramonda. "To see how harmed his spirit is and what imprints on his life from the lack of that loving, nurturing, guiding force, presence, hand…example."
But while the sudden absence of a father has real ramifications, both on screen and in life, according to Daniel Kaluuya, the flip side of that experience deserves some exploration as well.
"I think it's a narrative in the Black community that everyone experiences but not a lot of people talk about," Kaluuya says of the relationship between Black fathers and their sons. "There's not a lot of in-depth conversation about how that forms who you are, whether they are present or not. I find it interesting when Black men who have had present fathers feel kind of alienated from what people call 'The Black Experience' because their father is present. There's not conversation about how that impacts you as a person. We can't really go into it much but when the Killmonger situation and the T'Challa situation, at what ages they experience that pain informs which men they become. That's fascinating to me."
"Being blessed to watch my parents get older, you find that the role and relationship changes. My baby brother, Keenan, has been my assistant, he coordinated my parents travel for the premiere. I had 50 family members coming down and he was the one booking hotels and getting cars arranged. And my mom said it's crazy that Keenan is handling my flights and all this stuff. He was the baby of the family. But when they come to L.A., we're the ones who have to take care of the elders. Something happens over time and it switches. You see that in this film. He has to step into his father's shoes, and those are big shoes to fill."
"It's a pretty interesting nuanced presentation of Black fatherhood and their relationship with Black children," says Winston Duke, who plays T'Challa's adversary M'Baku.
As movies go, Black Panther hits all of the notes of heart, action, suspense, drama and visual appeal, but what will be most endearing is how these super humans remind us that the ties that bind keep us grounded, but ultimately give us the confidence to fly.