LL Cool J Pays Respect to the 50th Anniversary of Hip-Hop
The multi-talented hip-hop icon talks about celebrating the culture with an exotic cruise, wellness products, and his own longevity.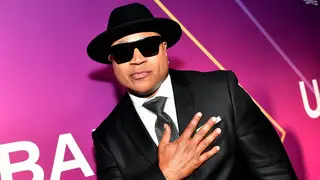 With close to four decades under his belt as a trailblazing entertainer, LL Cool J remains true to his commitment to take and elevate hip-hop culture to new heights.
LL Cool J, born James Todd Smith, was recently presented with the Urban One Honors Entertainment Icon Award in Atlanta, which airs on TV One this coming MLK Day at 7:00 p.m. The 55-year-old rap legend, behind classics like "I Need Love," "Hey Lover" and "Headsprung," joins this year's honorees Pharrell Williams, David and Tamela Mann, Bobby Brown and Congresswoman Maxine Waters (D-CA).
LL Cool J, who was the first and only rapper named a Kennedy Center honoree in 2017, was presented with the award from rap icon Reverend Run. Receiving the accolade from one of his own heroes is something the co-creator and executive producer of the family dance competition show Come Dance With Me considers both a personal career milestone and a blessing.
"It's amazing, and I'm very thankful," the Rock and Roll Hall of Famer told BET.com ahead of the show. "We have people from all walks of life that are trying to move up that ladder of success in their world. It just shows you dreams come true, anything is possible, and the possibilities for other people that are trying to do things in their respective fields."
The two-time Grammy winner's digital hip-hop preservation platform, Rock the Bells, is hosting the first ever exclusive hip-hop-themed cruise from Miami to the Bahamas that's already sold out from November 13-17 to commemorate the 50th anniversary of hip-hop. Passionate about paying homage to the culture that made him successful, the former host of Lip Sync Battle also revitalized the Rock the Bells Festival as a day-long music and culture festival in his hometown, Queens, New York, last August.
"Hip-hop has to go to different levels and level up," LL Cool J, who launched Rock the Bells Radio originally as BackSpin on Sirius XM in 2018, said. "It's pure. No one has ever taken a whole cruise ship and committed it to the culture, lifted it up, given our people a chance to party, really embrace who we are and what we love without mixing in anything else."
Rock the Bells is also venturing into the cannabis industry with its own strain, Strictly OG, in collaboration with House of Kush and American Cannabis Company. The new health and wellness lifestyle brand will carry THC and CBD products in classic hip-hop packaging along with artist-inspired lines and custom apparel that are expected to launch this year.
Pivoting Rock the Bells into the cannabis space is rooted in LL Cool J, the project's creative advisor, thinking back to his youth when his father and aunts would regularly consume cannabis to deal with various health issues and ailments they experienced. The best-selling author, philanthropist and actor who portrays Special Agent Sam Hanna on NCIS: Los Angeles hopes to eliminate stigmas around cannabis consumption by concentrating on the benefits versus recreational use.
"We were looking for something that could be good for people's health," LL Cool J said. "There's so much negative energy around the world of cannabis, but I feel good and comfortable with it. If I can do it in a healthy way and help people be responsible with it, then it's all good for me."
The emcee who hosted the Grammy Awards five consecutive years recently completed another collection of music fully produced by Q-Tip. He admits that he's wrapped and shelved "around seven or eight" studio projects throughout his career but credits the Tribe Called Quest founding member's ear and attention to detail as what fueled him to go back into the booth. LL Cool J hasn't announced an official release date yet.
"It's been a long time, and I'm feeling it," he said. "It's really innovative. What Q-Tip did deserves to get some shine, and people need to hear it. I'll decide if I'm going to drop it or not this year, but it's complete. We gon' see."
LL Cool J appreciates having the type of longevity across hip-hop and entertainment that most rappers crave. He's determined to use his legendary status to keep hip-hop culture evolving. Reiterating how honored he is to receive any accolade, LL Cool J is proud that he's still a relevant, viable voice for the culture.
"It's all love, baby," he said. "I'm happy to be here doing what I do like I'm doing it for TV."