#OnTheVerge: KayCyy Is Using 'Donda' Lessons To Unleash His Brand Of Unique Music
The Kenyan-born, Minnesota-based singer's new project 'TW2052' is just a taste of what's to come from this budding star.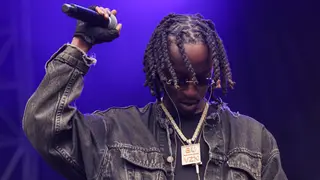 The casual hip-hop and r&b fan may recognize the name KayCyy from time to time but need to learn who he is and what he does. To his fans, though, he's the best-kept secret, ready to make an enormous splash in the music industry.
The Nairobi, Kenya-born and St. Paul, Minnesota-based singer has largely attained much of his recognition behind the scenes. A major production player on Kanye West's 2021 album Donda, KayCyy, providing vocals for songs like "Keep My Spirit Alive pt 2" and even winning a Grammy Award for his contributions to "Hurricane." That level of exposure and immense experience has him moving fast in 2023.
Last month, KayCyy dropped TW2052, his second project with producer Gesaffelstein, which continues to build on a very mysterious sound, full of vocal harmonies contrasted with rapping that often sounds otherworldly. The effort is something he says came together simply through reconnecting with old friends and the melody bag they were able to capitalize off of the first time around.
Now, KayCyy is working on his official debut album, Who is KayCyy?, a project that has been in the works for a long time and something he's previously described as wanting to be as impactful as when Kendrick Lamar dropped good kid, m.A.A.d city in 2012. That's a big statement. However, that focus and patience to know what you want help set KayCyy apart from his peers.
BET recently spoke with KayCyy about his latest music, growing up in both Nairobi and St. Paul, his WHO ELSE?! summer international tour he's just about to embark on, and how Michael Jackson and the Jackson 5 inspired him to become a multifaceted musician.
BET: You're from Minnesota by way of Nairobi. How did those places inspire you to start making music?
KayCyy: Growing up in Kenya, it taught me a lot of discipline. First, it showed me culture. I speak my native language there, Swahili, and my other language. So those helped with music in a way where it's like I can be more flexible and versatile with certain things I do with music. Many of my melodies come from my Kenyan roots, stuff I'd listen to growing up. A lot of it is just an influence because I still carry on many of my Kenyan culture and habits and the way of life.
BET: You just released your EP TW2052 [with Gesaffelstein]. A unique project and an excellent listen. How did that come together?
KayCyy: It was put together on some like friends linking back up, what have you been up to-type of vibe. [It was just] sending each other vibes – I was sending him kind of what I'm working on next. We finished this project in a super fast time frame. We also had two songs that we saved in the cut from before, so it all aligned. It all happened from just texting each other.
BET: Loved your video for "TIMELESS" that you dropped last week. What was shooting like, and the inspiration behind it?
KayCyy: Shout out to 91 Rules, the directors like that brought the vision to life. We shot the two videos both in one day, "ROLL THE DICE" and "TIMELESS." "TIMELESS" just gave me a vibe of like when [Kanye West] did the BRIT Awards, the 300 people on stage or even like coming from the era that I was just in, the Donda era. That was kind of like, Hey, I'm showing you a little bit of that in the way and the aesthetics and stuff like that. I feel like It was dope. The outfit I had was all white and it just made me stand out, to be pure and like maybe in the darkness sounds that matched with jazz sounds with my voice and stuff. So I feel like that video symbolizes that.
BET: You also recently announced your WHO ELSE?! summer international tour, which is about to kick off. You will hit every main city in America, including London, Paris, Amsterdam, Australia. How excited are you about this?
KayCyy: I'm super excited about it, I'm not gonna hold you, but I'm also nervous and wanting it to go very well. Me and the team just coming up with how we want to set up and who we're gonna have perform and stuff like that. And that's just all part of the whole show that's gonna be dope. I never actually went on my own tour, so this is the first time and I'm trying to hold myself down from geeking out.
BET: You won a Grammy Award for Best Melodic Rap Performance over your contributions to "Hurricane." You were nominated for other Grammys too. What did that mean to you, especially since you're still so young in the game?
KayCyy: I was dope. I can't lie that I wasn't excited about it. It was even super dope to bring it back to my mom's house and leave it there. Visually it's more fuel to keep going, and just that song, even "Hurricane" it was just dope for me to be really hands on with it, and even bringing Lil Baby on the song. I felt like I was an A&R on part of that song.
I think we almost won the Album of the Year, so to have that certificate at the crib just gives you motivation for the odds actually to get the trophies and stuff and understand the Grammys more because I used just to watch it.
BET: How is Who Is KayCyy? coming along because you've said it means a lot to you as your official debut album in the past?
KayCyy: It's coming along great. That's what I'm working on now the most because it's actually a project that I'm putting out before that one that's going to be a full length album, rather than like a EP, which kind of embodies that whole sound of the song I got called "My Jeans" that the fans want really bad. It's live drums, really like using my voice a lot, like singing throughout the project. That's gonna introduce Who is KayCyy? in a way. It gives me enough time to kind of like mesh everything together because I have a lot. So it's been trying to get it as perfect as possible.
BET: Michael Jackson is a huge inspiration of yours. Did you start listening to him in Kenya before moving here and talk about that inspiration?
KayCyy: I think it was definitely in Kenya, but then I started doing more research once I came to America. That Jackson 5 movie really sparked a lot of stuff. I was watching that a lot, like 100 times and learning those songs and what they were doing. Then that gave me more insight on what Motown is and learning about more people that was older than them – The Temptations and all those people, Diana Ross, and all those people.
I felt like I could be a kid singing in Motown or something. I was just picturing myself like a young Michael that's on my journey. It made me start forming a group in Minnesota and St. Paul. We all had singing groups and that's how I started doing music through practicing with them, opening up shows and stuff like that, and so forth.
BET: What is your creative process like when you hit the studio?
KayCyy: It's more get there and do it there [when I'm writing for someone else]. I've been more into trying to live a little bit and find the inspiration. So I like to maybe step outside a little bit or I'm seeing different things, traveling. I don't like to stay in one state too long. Maybe I'll go somewhere else. That's why I love New York because I might be around walking. I like walking a lot so I do that. But sometimes I'll do voice notes on my phone that turned into real songs and or I'll record little stuff or record anybody. It's like if I'm writing for somebody, I record them if they feel something.