Grammy Award-Winner Jon Batiste on His Music Evolution, Video Game Inspirations, and His Leap into Acting
Batiste discusses his dynamic journey from jazz musician to the lead artist for Coke Studios' second season.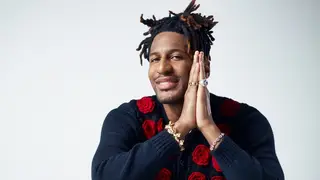 New Orleans' own Jon Batiste reached a new pop culture peak last year when he received an Album of the Year Grammy (among other top tier awards) for his 2021 sixth studio album We Are. The album is celebrated for singles, including "Freedom" and "Show Me The Way" all displayed how much of a dynamic musician he has evolved into. That doesn't even count the seven years he spent as the bandleader of The Late Show with Stephen Colbert all the way until 2022. Honestly, he may be the most recognizable millennial in jazz music.
This year alone, he's also accompanied Trombone Shorty for Juvenile's NPR Tiny Desk while setting the stage for his We Are follow-up titled World Music Radio.
Speaking with BET.com, Batiste talks about his collaboration with Coke Studios, his follow-up to We Are, how much video games inspire him, and his upcoming role in the new The Color Purple film adaptation.
BET.com: You accompanied Trombone Shorty for Juvenile's NPR Tiny Desk last week. What do these moments say about how unified New Orleans' music scene has been in terms of collaborations?
Jon Batiste: We all come from this incredible place and have the same beliefs and values as artists. Even if we come at it from different styles of music, it's more unified than anything else. So I am glad that the world gets to experience it with moments like this.
BET.com: You recently dropped "Be Who You Are (Real Magic)" through your partnership with Coke Studios Showcase with JID, NewJeans and Camilo. Can you recall the process of getting everyone involved and creating a cohesive sound with artists coming from vastly different genres?
Jon Batiste: I was thinking about that already. I was making an album with my collaborator Jon Bellion and the concept was about having eclectic, world music that was genre breaking. Then Coke called and was like we want you to do this eclectic world music campaign. It just so happened I was working on the song "Be Who You Are (Real Magic)" and we played them the song.
It became the driver of the campaign which was cool because they not only wanted me to be in the campaign and lead the campaign but wanted to do something innovative and make it like a music campaign. The song was already kind of in progress and all we had to do was really continue to write the song and then bring in these incredible collaborators and launch Coke Studios. We just got to the round table discussion and started the talks about who could fill in those roles and that was it.
BET.com: Last month, you dropped "Calling Your Name"  and announced your World Music Radio album set for release on August 18th. What's been musically inspiring you lately and how will that be reflected on the project?
Jon Batiste: I've been traveling a lot. I've had a lot of incredible moments and a lot of really, really tough moments as well. These happened over the last couple years. I took some time before I started working on this project just traveling with my family, my wife and all my collaborators in these different locations and just reflecting. Then I started to work on this project and I just have this vision that really eliminates the idea of genre and expands to what music is. It's just human music and human expression.
I studied music my whole life and I've played in all of these incredible scenarios whether it's with Juvenile, Prince, my own band or playing in Brazil. It's a range of experiences. I'm just at a point in my artistry where I can really just flex and put it together in all these different ways I never even was able to think about before. This next record in one sentence is really to just expand popular music.
BET.com: The track sequencing of "Show Me The Way" and "Sing" still is pretty much my favorite musical moment of the decade so far. Did you think when you were creating We Are that it would be so well received the way it was when released in 2021?
Jon Batiste: Looking back, we just wanted to make something that represented the heroes who we stand on the shoulders of and represented me and my artistry first and foremost. It was really just an offering to the people and it's always a goal to reach people and touch people. We wanted to create something that is respected by our peers and by all of the folks who you really consider to be mentors.
Like the great Quincy Jones writing the liner notes for that record was already an award to me. It was just like wow. Then for that to extend to the way the album resonated and then the Grammys and all that, don't do it for that. You can't really predict that. It's amazing when your intention reaches that far.
BET.com: You're making your on-screen debut for The Color Purple remake at the end of the year and you composed The Light Shines Brightest In The Dark from the Marlowe soundtrack. Can you describe the transition from being known as a musician and film composer to an actor?
Jon Batiste: Speaking of Quincy Jones, that's who called me. He had The Color Purple as one of his projects that he was working on and he said that he wanted to get "Miss Celie's Blues" from the first adaptation in the new one. He asked if I would come, play it and arrange it for the new film. He asked me to do it on camera as a performer. Then that turned into Jones talking about how great the chemistry was with the cast. After that, Jones asked if I would play the role of Grady and if they could write this performance into Grady's role. So this time, Grady will be a musician in this version of The Color Purple and I'll play "Miss Celie's Blues" in one of the scenes as Grady. It was just that organic. Whether it was my time on late-night television or my time on HBO's Treme, I played myself.
I've been around it working in the industry and obviously had a sense of what it would be like. This is a great entryway into feature film acting because I don't have to carry the film but, it's a really serious set also. Many of the actors on the set went to Juilliard with me and we're still friends. There was a comfortable environment with Danielle Brooks and Corey Hawkins as these are people who I hung out with in college. It was just cool to just have this be my first one and I definitely want to do more.
BET.com: I remember reading that some of your first musical moments as you developed your piano skills were transcribing game soundtracks like Final Fantasy VII and Sonic The Hedgehog. Are there any current game soundtracks that you've been digging recently and do you even have time to game?
Jon Batiste: Oh my goodness. What's crazy is that Final Fantasy XVI just came out and I can't wait to hear the soundtrack. To me, that's always the top-tier soundtrack of any game and classics like Sonic The Hedgehog of course. To answer your question, I still have time to game in my travels. Even when I'm back home working on a project and I need to decompress or I really need to let my conscious mind run free, then I'll put my conscious mind into gaming. Once I've finished a game, an idea or a composition will usually be done in my head.
So it's been a change as gaming's role for me in my adult creative life has shifted but it's still actually something that is a part of my creative process. The Nintendo Switch is amazing because you got all the old games I grew up with. I'm classically trained like the T-shirt says. I have all the games you can imagine from growing up on one device. It can fit in my suitcase and can be connected to my television. It's just super easy to just take the Switch around. Although I would prefer to have my PlayStation because I love to play Fortnite, I can't take that with me everywhere. That's why the Switch is kind of my go-to for this phase in life.