These Two Celebs Are Allegedly Feuding to Be Godmother to Chyna's Baby
Dream Kardashian has a lot of love around her.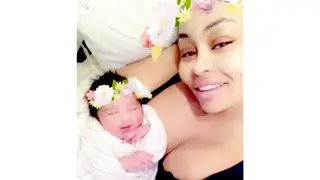 The Kardashian clan has a new addition to their family in Rob and Blac Chyna's new baby girl, Dream, and there is already competition as to who should be her godmother. According to reports, the engaged couple is torn between two ladies to fill the role: Rob's sister Khloé Kardashian and Chyna's BFF Amber Rose.
"Rob and Blac Chyna are torn right now on who to choose as a godmother for Dream," an insider told Radar Online. "Khloé or Amber."
Both Khloé and Amber have butted heads in the past, but they really think one of them would be the best woman for the job.
"They both know how much Khloé wants to be Dream's godmother because of how close she has always been with Rob, but at the same time, they know that Amber would also make a great choice because Blac Chyna is like a sister to her," the source added.
While the choice for Dream's godmother is still up in the air, the role of godfather is already filled, and it was apparently a no-brainer. The couple agreed that Kourtney Kardashian's three-time baby daddy Scott Disick would be the perfect choice.
See how Chyna and Rob cashed in on the birth of their daughter in the video above.