Ghetto Gods Rise: EarthGang Speaks On New Album and the Power of Positive Thought
The ATL duo's new album is out now, Feb. 25, on all streaming platforms.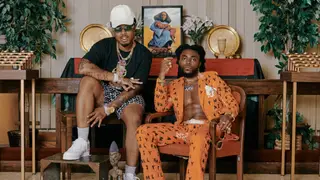 EARTHGANG's new sophomore album Ghetto Gods mixes soulful braggadocio with celebrating Blackness that hypes up crowds as well as educates. Members Olu and WowGr8 have been heralded as a "reimagined OutKast" by numerous critics, but the truth is that the Atlanta duo are their own creation that represents and celebrates its greater community of Black creatives and advocates.

Signed to J. Cole's Dreamville imprint in 2017, EARTHGANG has realized its own potential with stellar projects like Royalty, Mirrorland, and Spilligion, which boasts the popular singles, "Baptize" and "Shiva." Add in tours with Billie Eilish and the late, great Mac Miller, EARTHGANG has proven how resilient they and their people are amidst obstacles ranging from systemic racism to police brutality to coronavirus.
With how challenging the past few years have been, Olu and WowGr8 showcase why they're one of the most formidable talents in hip hop on Ghetto Gods. Out now on Feb. 25, the Spillage Village co-creators offer a generations-spanning look at Atlanta's great lineage of artists from Future (on "Billi") and CeeLo Green (on "Power") to DC Young Fly (on "Hey Boo") and Baby Tate ("Black Pearl").
BET.com was able to speak to the shining Black kings about the planted seeds that inspired Ghetto Gods, the artistic lessons meant for the next generation, and why all good things start with the power of positive thought.
---
BET.com: For those getting acquainted with EarthGang and their music, what is the concept behind this new project, Ghetto Gods?

Olu: The concept of [Ghetto Gods] was birthed out of us being back home [in Atlanta] during the throes of the pandemic. We were just seeing the lives of the people that we love and seeing how they used this time to find what truly matters to themselves. This was interesting to us since we were experiencing a lot and despite the challenges in front of us all, they were able to just come out of it better and stronger.
BET.com: Who were some Ghetto Gods that inspired EarthGang and why?

WowGr8: [Laughs] Yeah, bro, there are so many! From James Brown to Charle Murphy to Betty Davis, we were inspired by all of the Black excellence. You think of someone who has impacted the culture — Lisa Franklin, Monica — and just know we talked about it. O [Olu] put forth the idea of shining light on all of the diamonds in the rough and how we feel like we are one-of-one, and it just led to wonderful moments that came out in the studio.

BET.com: Ghetto Gods plays like it harkens back to not only paying homage to Black folx who've inspired EarthGang, but also in re-routing some lessons you both picked up to the next generation.

Olu: To be frank, it doesn't even start with just paying homage. It is a continuation. Being Black and excellent didn't start with Aretha Franklin and them, it started way before them and it is not going to end with us. It's going to start again after our grandchildren and their grandchildren come into the world.
Hopefully, we can live on to see them and others not living in the ghetto any more. But even if it happens one hundred years from now, God will still be wherever we and they are. Even if we were born in Antarctica, God is still going to be there.
That's basically the message within Ghetto Gods: No matter where you start, it is what was put in you at the start that will be bestowed upon the world.

BET.com: There are a few lyrics within Ghetto Gods that inspired these next batch of questions. "Tell me that heaven ain't Black," which appears on the album, and I interpreted it as in-line with the healthcare issues being faced in hip hop…
WowGr8: Wow, bro, that's a beautiful interpretation. That's not what I was speaking to, but I like that interpretation. One of my favorite things about making music is not telling people what I meant and hearing how they received it after listening to it. Initially, what I was saying was an extension from one of the first mixtapes done, where I rap that God is Black. I never miss a chance to shout out a Black entity on a track.
BET.com: The next one is "Hard being a n***a, it's worst being po'." This brought up the idea of the approaching midterm elections and the failed promises this country has made to Black people. With that said, are there any plans to associate being Ghetto Gods with any voter drive initiatives?

Olu: With politics, it is really about working with people who prove to be true with what they say. I don't f**k with liars, we don't rock with liars, and we only work with people who do as they say. So, to us, [the lyric] is about the beauty of being the god inside of yourself. If you believe that about yourself, you can do for yourself and for your people. You got the power within you to go out and do it, making these the only type of people that we're aligning ourselves with.

WowGr8: Yeah, for those who are on the ground-level doing the work on themselves and helping others is our interest. If you want to make a change, politically, it starts with working with the people whose mailboxes are close to yours. That is the only way to genuinely make any type of difference. [Laughs] Personally, I didn't even really think about any political impact with this album or anything.

Olu: I think that Ghetto Gods is political. We're talking directly to the people. The people are the politics, not the folks in office. Instilling power to the people and within the community is more important than giving all the power to politicians just by voting for them.
Instead of doing that, we should focus on giving the power to the people by uplifting them and showing them that there is so much more that is waiting to be discovered. That is what Ghetto Gods is about. That, to me, does so much more than just going outside to say "vote for so and so." Because in speaking to people who are trying to do the right thing — that's power to me.

BET.com: Speaking of power to the people, I wanted to ask about your working chemistry with Smino and Baby Tate on Ghetto Gods. How did you guys come together to create strong tracks such as "AmBeyoncé" and "Black Pearls"?

WowGr8: Those are the homies, you know. We've known them for a long time and they're family. We came up with both of them. I remember seeing Baby Tate years ago when she had the "Yung" in her name and was on the small stages during certain festivals happening in the A. Smi, man, we've been on the touring circuit for a long time and that's our brother. As we're all elevating our careers, it only makes sense that we ain't going to stop cooking up [songs], you know?

Olu: Baby Tate's growth as an artist is just a result of being consistent with the process. Over the last few years, she's played stuff for us that would make anyone surprised about the talent that she has. And add in the consistency and you see what shapes and molds into the music she has delivered to the people. She has the work and effort to stand the test of time, for sure.

BET.com: What are some songs or lyrics that EarthGang hopes the listeners take away once they press play on Ghetto Gods?

Olu: The two you mentioned were great. For me, I appreciate the check-in vibes on "Strong Friends," I really appreciate what that song is saying and it can resonate with so many people. I think that everything that we are saying on this project is very potent and can be attributed to different phases of one's life that enhance the quality of life and the overall human experience.
BET.com: How does the power of positive thought apply to being a Ghetto God?

Olu: Positive thought is the mustard seed. Everything follows after that, but it starts with a positive thought about yourself. Growing up in the ghetto or impoverished places can make it very easy for you to develop a negative self image. If everything around you is dilapidated, schools don't have the adequate resources, and the people around you are living in despair — it makes that journey towards positivity a hard one to traverse.

If you don't see yourself represented in media, music, or have a hard time finding positive stories that feature characters that look like you, then it is easy to develop a negative self image. So, the first step is to have a positive thought about yourself at all times and no matter the cost. Everything else stems from that, which makes that the premise behind this album. Developing positive thoughts about yours, but also having fun while you do it makes up how listeners can enjoy Ghetto Gods.
WowGr8: We're addressing the concept of growth and Black vulnerability. [Laughs] I might even get clowned for opening up now to say all that, but that's cool. I'd rather get all of this off my chest and inspire others to develop their own processes than to let it sit within and become stale or stagnant. There are so many people who use their platforms as a primary resource to get money or put themselves up on a pedestal that if you step outside of approval and likes, you can learn about self-care, the importance of taking care of your family, and help them to do things differently.
---
EARTHGANG's Ghetto Gods is available via Dreamville Records on Spotify, Apple Music, YouTube Music, and other digital streaming platforms.
Kevin L. Clark is a screenwriter and entertainment director for BET Digital, who covers the intersection of music, film, pop culture, and social justice. Follow him on @KevitoClark.