Twitter Debates Backlash Over New MLK Statue 'The Embrace'
The uniquely designed artwork depicts only the couple's arms and hands in a warm embrace.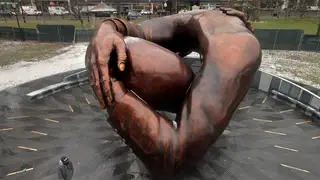 The artist who created "The Embrace," the new statue celebrating the love and partnership between Dr. Martin Luther King Jr. and his wife, Coretta Scott King, is defending the monument from social media trolls days after it was unveiled Jan. 13 at Boston Common public park.
Hank Willis Thomas, who is Black, appeared Monday on CNN's This Morning and pushed back against the harsh criticism and memes popping up on Twitter.
His bronze 22-foot tall sculpture depicts only the arms and hands of the slain civil rights leader and his wife as they embraced each other after he won the Nobel Peace Prize in 1964.
Many critics commented that from a certain angle they see a phallus when viewing the statue, an insult to the couple that devoted their lives to the civil rights struggle.
Thomas said he cares what people think of his sculpture, which Bostonians chose from among 126 submissions by casting ballots in voting booths set up at city hall, libraries and post offices around town.
But people will interpret art in their own way, Thomas told CNN. "When you put art in the world, you can't control what people see," he added.
Seneca Scott, a cousin of Coretta Scott King, is one of the critics who received a lot of attention.
"By now, I'm sure you've seen it. The new Boston sculpture 'honoring' Dr. Martin Luther King and his wife, Coretta Scott King, looks more like a pair of hands hugging a beefy penis than a special moment shared by the iconic couple," Scott wrote on the Compact Magazine website.
Here's a sample of other criticisms:
In defending his artwork, Thomas said he envisioned visitors having an experience when walking into the heart of the sculpture's high arch. "I wanted to embody the feeling of love in their relationship," he stated.
He also had his defenders on social media, saying his work embodied the relationship between King and his wife.