Another Philly Rapper Picks #TeamDrake
AR-Ab drops Meek Mill diss over "Back to Back."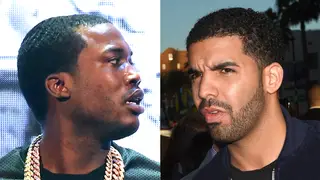 One of the guys who came up with Meek Mill during his battle rap days, AR-Ab, dropped a freestyle over Drake's "Back to Back" instrumental this weekend, and he started it by saying, "f**k Meek."
"He got with Ross and he just took off," AR-Ab told the guys of The Brilliant Idiots podcast, Charlamagne Tha God and Andrew Schulz, not long before his version of "Back to Back" dropped.
Ab runs a studio in Philly, and says that though he came up with the Dreamchasers founder, he's the one who really runs the streets there, and he wasn't mad that Drake pulled him into their most epic beef –– like he did with Will Smith –– when he mentioned him on the original diss ("I drove here in the Wraith playin' AR-Ab," Drizzy raps).
"I never talked to Drake one time in my life," Ab revealed, "but he said my name and everybody just went crazy." People were hitting him with "congratulations" messages and rumors circulated that he was signing to OVO (he hasn't).
That was before Meek caught wind of Ab talking trash about "Wanna Know."
"F**k AR-Ab," Meek announced on stage during The Pinkprint tour.
So Ab responded with his freestyle, and by the end of the weeknd, Dreamchasers' own Omelly retaliated with a diss aimed at Ab over the same beat. 
Listen to the new versions of "Back to Back," and watch the clip of The Brilliant Idiots, below.
BET.com is your No. 1 source for Black celebrity news, photos, exclusive videos and all the latest in the world of hip hop and R&B music. 
Click here to enter the #LookYourSundayBest contest for a chance to win FREE natural hair-care products.
(Photos from left: Neilson Barnard/Getty Images, Kevin Winter/Getty Images)