Nail-Biting Women's 2023 NCAA Tournament Comes Down To A Final Four With History Written All Over It
Dawn Staley and Kenny Brooks, already college basketball coaching legends could be the first Black head coaches to face each other in a championship.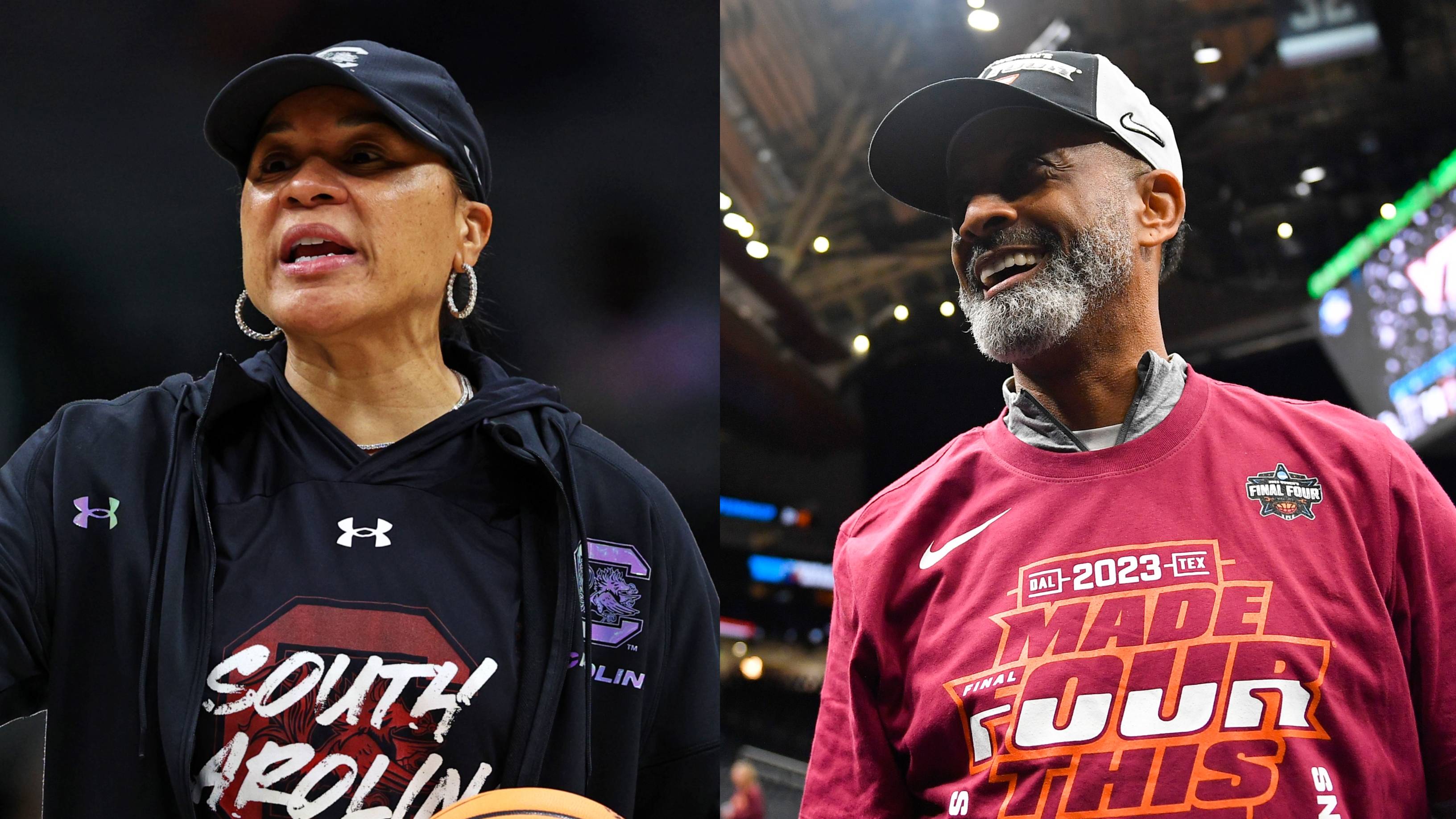 The 2023 NCAA Women's Basketball Tournament has been a nail biter over the past two weeks, but the FInal Four could hold another history-making moment at its finish.

On Friday (March 31), two Black head coaches will once again lead their teams into the Final Four. South Carolina's Dawn Staley takes the Gamecocks into a matchup with Virginia Tech coach Kenny Brooks and the Hokies. If South Carolina and Virginia Tech can win each of their matchups on Friday, fans will see another first; two Black head coaches facing one another for the National Championship, something that has never happened at the Division 1 level in men's or women's college basketball.

The women's hoops Black history moment is not without precedent, though. The first NCAA Women's Final Four after the pandemic in 2021 was headlined by a major upset. No. 3 Arizona Wildcats shocked No. 1 UConn Huskies 69-59 to advance to their first National Championship Game in school history. Meanwhile, Staley and South Carolina faced Stanford but narrowly lost 66-65
It was the first time in NCAA women's tournament history, two Black women were head coaches in the same Final Four. Arizona's coach Adia Barnes matched up against Stanford, which went on to a championship victory.

The next year, South Carolina battled all the way back to the championship to beat UConn 64-49 to take the 2022 NCAA women's title.
Friday's contest will be the eighth time a Black head coach has guided their team to the national semifinal. Five were Black female coaches and three were Black male coaches.
Staley and Brooks represent conferences that have the most head coaches of color to lead its women's basketball programs. Both the Atlantic Coast Conference and the Southeastern Conference has five head coaches of color leading their women's basketball programs. Brooks is the only Black male head coach of a women's team at a Power Five school.
According to NCAA Race and Gender Demographics Database, in 2022 there were 73 Black female head coaches and 27 Black male head coaches in Division I women's basketball. In other words, 21 percent of the female coaches at the Division 1 level are Black and eight percent are Black men. Black players make up 44 percent of all women in college basketball, the largest demographic.
"There is an influx of Black women getting opportunities," Staley told the Associated Press last November. "Black women are getting more chances to be the head honcho of their programs. I hope we can continue to be successful."
C. Vivian Stringer became the first Black women's coach to advance to the national semifinal with Cheyney University in 1982 (where Staley played in that championship year). She would do it again three more times with Iowa in 1993 and Rutgers in 2000 and 2007. The other women were Carolyn Peck, who was the first Black woman to win a national championship with Purdue in 1999, Pokey Chapman at LSU in 2005 and 2006, Staley (2015, 17, 21, 22, 23) and Barnes (2021).
On the men's side, Winthrop McGriff led Cheyney University to the national semifinal in 1984, Quentin Hillsman with the Syracuse Orange in 2016, and Brooks (2023).
Staley, who was recently named as the Naismith Coach of the Year for the second time, is the only Black head coach with two national titles in Division I men's or women's basketball. She now has a chance to win her third as her undefeated South Carolina team is looking to become the 10th to finish the season unbeaten and be the first to repeat as champion since UConn won four in a row from 2013-16.
If her team is able to cut the nets in Dallas, she would also become the first Black head coach to lead her team to an undefeated championship at the Division 1 level in men's or women's basketball.
Brooks, a former basketball player at James Madison University, has already made history at Virginia Tech this season, leading the Hokies to their first No. 1 seed in the NCAA Tournament, first ACC Tournament Championship, and now its first Final Four appearance.
"Because of the name on the front, because it hasn't had a history like a Tennessee or a UConn had, people are really quick to doubt you," Brooks told the AP. "Our kids have seen that. I love the way they've handled it. They're not angry like, 'We're going to prove you wrong.' They're so confident in themselves, 'OK, we're going to prove ourselves right.' We know how good we are."
To make it to their first National Championship Game, Virginia Tech will have to defeat No. 3 seed LSU Tigers, coached by three-time title winner Kim Mulkey. The last time Brooks faced Mulkey was two seasons ago when her Baylor Bears defeated Virginia Tech by 42 points in the second-round of the NCAA Tournament in 2021.
No. 1 overall seeded South Carolina will face No. 2 Iowa Hawkeyes and Naismith Player of the Year and Associated Press Women's Player of the Year Caitlin Clark. It will be strength vs strength as Iowa has the top scoring offense while South Carolina has the third-best scoring defense in women's basketball.

LSU takes on Virginia Tech starting at 7 p.m EST on Friday, March 31. South Carolina plays Iowa starting at 9:30 p.m. EST. The championship takes place Sunday, April 2 at 3:30 p.m.