Celebrating Libra Season With The Ultimate Playlist: Snoop Dogg, Eminem, and Cardi B
Plus, Usher, Lil Wayne and Will Smith.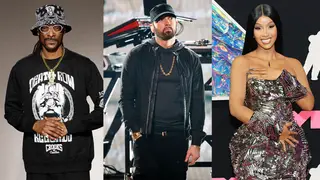 As the sun transitions into the sign of Libra, it's time to celebrate the harmonious and balanced energies that this astrological season brings. Libra season, from September 23rd to October 22nd, is known for its emphasis on beauty, social connections, and the pursuit of harmony. What better way to set the mood and embrace the Libra vibes than with a playlist featuring some of the most iconic artists of our time?
We've blended Snoop Dogg, Eminem, Cardi B, and others in this playlist. These artists resonate with the Libra spirit and offer a diverse mix of tracks that will keep you grooving throughout the season. So, whether you're looking to serenade your Libra friends, host a chic gathering, or bask in the Libra energy all on your own, let this playlist be your soundtrack to Libra season.
Snoop Dogg - "Gin and Juice" (1993)

Eminem - "Lose Yourself" (2002)

Bruno Mars - "24K Magic" (2016)

Will Smith - "Men in Black" (1997)

Usher - "DJ Got Us Fallin' in Love" (feat. Pitbull) (2010)

Lil Wayne - "Lollipop" (2008)

Cardi B - "I Like It" (2018)