The Gag Is! White Lady Calls 911 On Black Boy For Mowing Lawns But Now His Business Is Booming
Reggie Fields now has enough money for new equipment and gets 15-20 customers a week.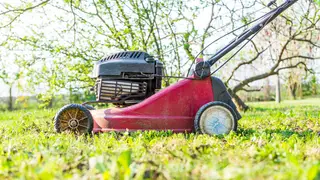 12-year-old Reginald Fields is known in his Ohio neighborhood as the owner of Mr. Reggie's Lawn Cutting Service. One day when Reggie was mowing the lawn of a women in the neighborhood, a white neighbor called the police for cutting grass on their property line. After a video of the incident went viral, Reggie's business has doubled and the white couple have been called out for their intolerance.
At the end of June, Lucille Holt-Colden posted a video to Facebook titled "This is RIDICULOUS!!!" In the video, a police vehicle can be seen in the background after a neighbor called to complain that Reggie had cut the grass on his side of the property line.
Holt-Colden told the New York Times Reggie and his siblings had only been working for about 30 minutes when the police showed up.
"I thought they were going to punish me for cutting the grass," Reggie told the Times.
After the police arrived, Holt-Colden said she knew exactly who made the call. Holt-Colden said her white neighbors have called the police on her at least five times since she moved in October.
Some of the reasons for 911 calls included snowball fight with her children and when her son parked his car on the grass in her backyard.
"I did not know I was getting the neighbors from hell," Ms. Holt-Colden said.
Linda Krakora, who is white, lives in the house with her husband, Randy. Not only do they find nothing wrong with calling police on Black people for living their life, but she said it's the only way they communicate with Holt-Colden because of their tense relationship.
"The police were not called on the young boy — the police were called on the garbage I have next door," Linda Krakora told the New York Times. "We called the police to ask the woman to have the kids stop mowing on our property because we can't talk to her."
One outcome the Krakoras probably didn't see happening was the incredible exposure Reggie received as a result of their police charade. After her video went viral, Holt-Colden began receiving messages from people who wanted to help. As a result, she started an online fund-raiser to help Reggie expand his business and buy new tools.
"It feels excellent," Reggie said. After the video, Reggie now gets 15 to 20 calls per week, whereas he was only getting four or five before the encounter.
A spokesman for the police in Maple Heights confirmed that officers responded to Holt-Colden's home but said that no action was taken.