Ice Cube Wants Cops to 'Get Their Dignity Back'
We talk to the Straight Outta Compton producer about the state of police brutality.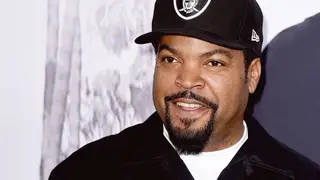 Straight Outta Compton is a throwback to the birth of gangster rap, but the message of the film — fists up against police brutality and oppression — is as relevant today as it was back in the late 1980s and early 1990s, when N.W.A was in its heyday. 
We sat down with Ice Cube and DJ Yella, two of the original N.W.A posse and producers of Straight Outta Compton about Black Lives Matter and what's changed — and what hasn't — in the nearly 30 years since they first coined the phrase, "F**k the Police."
"Just the fact that you gotta say 'Black Lives Matter' let's you know how big the problem is," says Cube. "To me, it's insulting a little bit that we have to remind people in this country that any life matters, so all lives do matter."
The solution, he believes, lies within the police department. "My appeal is to the good cops. That's where the problem lies. The good cops won't report, tell, snitch on the bad cops," he says. "They talk about us and that we have a no snitching policy in our neighborhoods...but they got the same no snitching policy in the police department. We appealing to the good cops...get your dignity back. Get the respect of the community back."
Watch our interview with the two hip hop giants below, and click here to see director F. Gary Gray recall the one ground rule he laid down before working with Whitney Houston.
BET.com is your No. 1 source for Black celebrity news, photos, exclusive videos and all the latest in the world of hip hop and R&B music. 
Click here to enter the #LookYourSundayBest contest for a chance to win FREE natural hair-care products.
(Photo: Kevin Winter/Getty Images)